The Quadrilateral Security Dialogue (QUAD) was an informal strategic forum between India, US, Japan and Australia initiated in 2007
| | |
| --- | --- |
| | The Author is former Director General, Army Air Defence and was a member of Integrated Guided Missile Development Programme. |
PRIME MINISTER NARENDRA MODI ADDRESSING THE FIRST QUADRILATERAL LEADERS' VIRTUAL SUMMIT, IN NEW DELHI ON MARCH 12, 2021.
China's policy of belligerence
China has a history of having border disputes and also being aggressive whenever there is a conflict of interest. China's border disputes are with about 10 countries including Vietnam, Bhutan and India. The problems with India are many fold due to India's claim on Aksai Chin which is administered along with Xinjiang and Tibet autonomous regions by China and constitutes the eastern portion of the larger Kashmir. China took over Xinjiang in 1949 which is rich in natural resources and has a large Uyghur Muslim population. In the recent infringement of the LAC, China had deployed troops in Ladakh including Galwan Valley, Hot Springs and Pangong Tso. They have withdrawn from Pangong Tso but are still holding on to Galwan region. China's claims in the South China Sea (SCS) are well documented. At present, China has had a miraculous economic growth, has acquired niche technologies and is fast gaining ground on space technologies and Artificial Intelligence.
The advent of QUAD
The Quadrilateral Security Dialogue (QUAD) was an informal strategic forum between India, US, Japan and Australia initiated in 2007. QUAD involved frequent interactions of senior leaders, exchange of information and joint military exercises like Naval Exercise Malabar. It was an attempt for "soft containment" of China through strategic partnerships with democracies around China. The first 'Malabar' exercise was held jointly by the navies of India, US, Japan, Australia and Singapore during September 2007. China viewed it as ganging up against it and issued diplomatic protests to members of QUAD. Australia thus withdrew from QUAD in 2007 but in 2014 this decision was reversed by Prime Minister Tony Abbott.
QUAD lost its momentum in between but during the November 12, 2017 ASEAN Summit in Manila, it got revived when India's Prime Minister Narendra Modi, Australia's Prime Minister Malcolm Turnbull, Japan's Prime Minister Shinzo Abe and US' President Donald Trump agreed to move on QUAD due to China's aggressive posture in SCS and in the Indo-Pacific region. In November 2017, Japanese, Indian, Australian and US officials met to continue security cooperation ahead of the ASEAN and East Asia Summits. Representatives of the QUAD nations met five times between 2017–2019 to make Indo Pacific region free and open from China's aggressive posture in the SCS. Responding to the reconvened meeting of "QUAD" in November 2017, a Chinese foreign ministry spokesperson said that "these visions and proposals should be open and inclusive."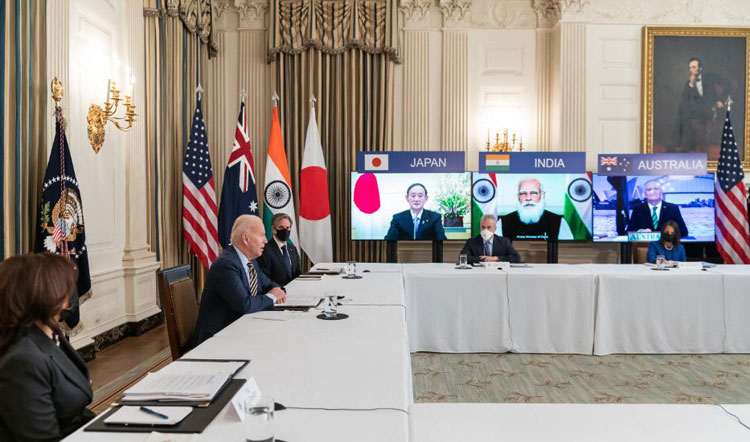 US PRESIDENT JOE BIDEN SPEAKING AT QUAD SUMMIT
Prime Minister Narendra Modi, in order to assuage Russia's concerns, said that, "It is normal to have partnerships on the basis of shared values and interests. India, too, has many in the region and beyond. We will work with them, individually or in formats of three or more, for a stable and peaceful region. But our friendships are not alliances of containment."
QUAD picks up in 2019
Dialogue amongst the QUAD members picked up in 2019 and after the ministerial-level meeting in New York on September 26, senior officials from the QUAD met in Bangkok "for consultations on collective efforts to advance a free, open, and inclusive Indo-Pacific." The Bangkok meeting focused on "advancing practical collaboration on counter-terrorism, cyber, development, finance, maritime security, humanitarian assistance, and disaster response." In a separate statement, the Indian Ministry of External Affairs said the four parties "reaffirmed their commitment towards a free, open, prosperous and inclusive Indo-Pacific Region based on shared values and principles and respect for international law."
QUAD Plus
It was reported on March 20, 2020 that the "QUAD" countries met via video teleconference to help each other amid the Coronavirus pandemic. Some non-QUAD, countries like New Zealand, South Korea, and Vietnam were included in the call which was then termed QUAD Plus and met again on March 27 at the Vice-ministerial level and the group discussed not only Coronavirus remedies, but also how to revive their economies once the threat subsides.
Economic benefits of QUAD will grow gradually if pursued vigorously by all member countries. The question is will China get cowed down by the QUAD nations flexing their muscle in the Indo-Pacific region?
Other Developments
The foreign secretary of Sri Lanka raised concerns in October 2020 about the militarisation in the Indian Ocean. China called QUAD an Asian NATO. Japan, US and Canada held a joint naval exercise called Keen Sword in October, in the Taiwan straits although Canada has yet to spell out its Indo-Pacific strategy. France, Germany and Netherlands have published their Indo-Pacific vision and EU is in the process in doing the same. France has a special stake in Indo-Pacific as its Reunion Island falls in this region. On September 16, 2020, France, the UK and Germany together submitted a Note Verbale to the UNO, which reaffirmed that the integrity of UNCLOS needs to be maintained in view of China's claims on SCS. This was due to the arbitration case Philippines brought against China under the United Nations Convention on the Laws of the Sea (UNCLOS) and the Special Tribunal ruled in favour of Philippines but China rejected the ruling.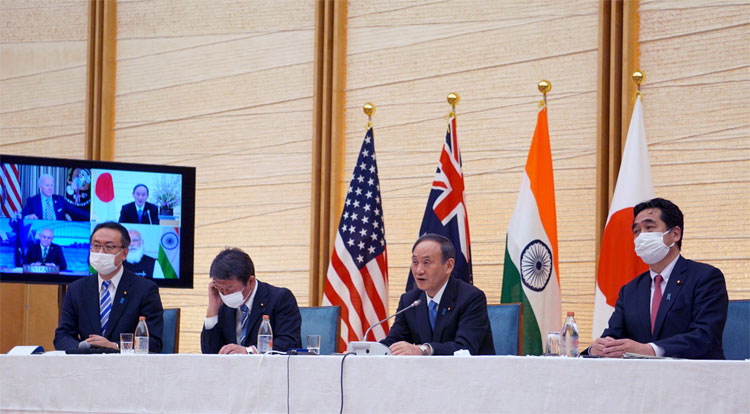 JAPANESE PRIME MINISTER YOSHIHIDE SUGA SPEAKING AT QUAD SUMMIT
On March 15, 2021, US Secretary of State Antony Blinken and Defense Secretary Lloyd Austin arrived in Tokyo and participated in a Security Consultative Committee (SCC), called "two-plus-two", with Japanese Foreign Minister Toshimitsu Motegi and Defense Minister Nobuo Kishi. On March 19, 2021, US Defense Secretary Austin arrived at India, and met with Prime Minister Narendra Modi, Indian National Security Adviser Ajit Doval and Defence Minister Rajnath Singh.
Summit with the new US President Joe Biden
A virtual meeting of the leaders of the QUAD was held on March 12, 2021 attended by PM Narendra Modi, Japanese PM Yoshihide Suga, US President Joe Biden and Australian PM Scott Morrison. During the meeting they discussed a variety of issues ranging from development, cooperation in the Indo-Pacific region and COVID-19 vaccination programme. President Biden also said that they are launching a new pact for the manufacturing of COVID-19 vaccines and "we will ensure that our pact is governed by universal laws."
PM Modi said, "I see this positive vision as an extension of India's ancient philosophy of 'Vasudhaiva Kutumbakam', which regards the world as one family. We will work together, closer than ever before for advancing our shared values and promoting a secure, stable and prosperous Indo-Pacific. Today's meeting shows that QUAD has come of age. It will now remain an important pillar of stability in the region." He also thanked President Biden for this initiative and our commitment to make the QUAD a force for global good.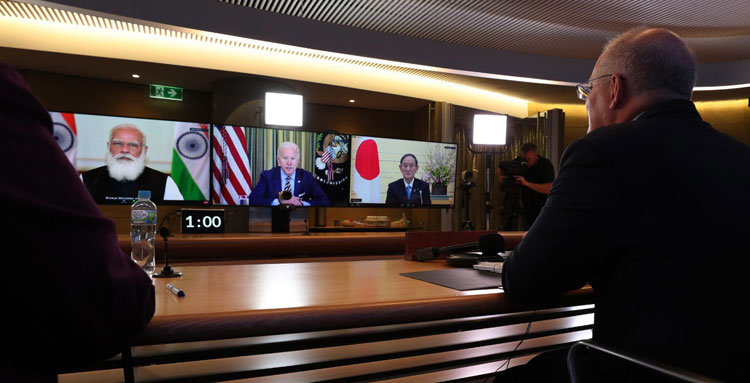 SCOTT MORRISON, AUSTRALIAN PRIME MINISTER SPEAKING AT QUAD SUMMIT
US President Joe Biden said that, "a free and open Indo- Pacific is essential to each of our future of our countries. The US is committed to working with you, our partners and all of our allies in the region to achieve stability."
Australian PM Morrison said that, "we join together as QUAD leaders of nations to welcome what I believe to be a new dawn in the Indo-Pacific".
Japanese PM Yoshihide Suga said that, "I do feel emotional about this summit. With the four countries working together, I wish to fully advance cooperation to realise a free and open Indo-Pacific."
Members of QUAD have offered assistance to India during its COVID crisis. US has offered aid in terms of equipment and material for the production of vaccine, Japan has provided necessary equipment and pledged $50 million in grant aid. Economic benefits of QUAD will grow gradually if pursued vigorously by all member countries. The question is will China get cowed down by the QUAD nations flexing their muscle in the Indo-Pacific region?