The projected requirement would be a minimum of 1000 guns in a phased manner and it is obvious that 6000 crores is not enough. More funds will be allotted depending on the success of the project.
| | |
| --- | --- |
| | The Author is former Director General, Army Air Defence and was a member of Integrated Guided Missile Development Programme. |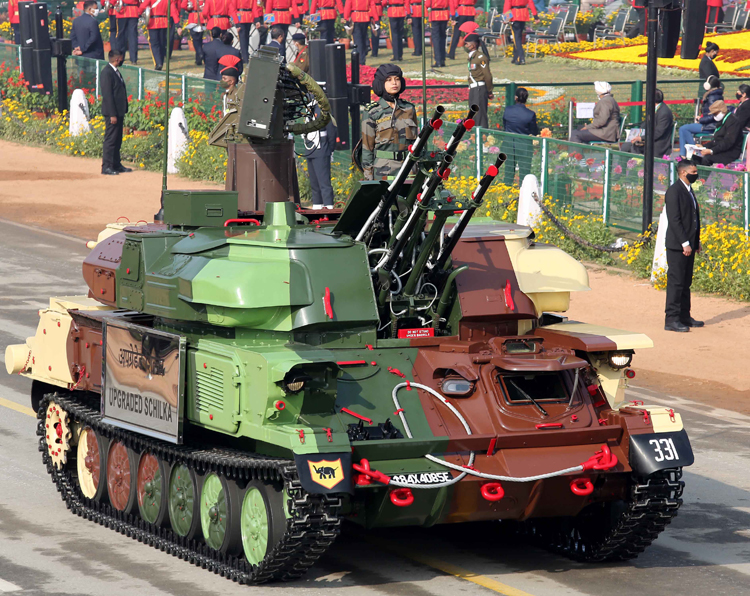 Upgraded Schilka Weapon system
Defence Acquisition Council (DAC) approval for AD guns
There has been a long pending need of the Indian Army for modernisation of its Air Defence (AD) gun systems due to their vintage. With the continued thrust of Ministry of Defence towards 'AtmaNirbhar Bharat' and 'Make in India', an enthusiastic response from the Indian private companies was received for every acquisition programme announced. Accordingly, the DAC accorded approval of procurement of AD Guns and ammunition at an approximate cost of 6,000 crore under the Buy & Make (Indian) category on June 04, 2021.
Current Gun Systems in the Army Air Defence (AAD)
40mm L/70. The L/70 Gun System provides Air Defence to strategic assets like major air bases, nuclear plants, oil refineries etc., and to assets in the Combat Zone like gun areas, Armour/troop concentration areas, logistic nodes, Command and Control Centres etc. The Combat Zone is generally defined as the rear boundary of the Corps Zone.
Original L/70 Gun. This gun has been the mainstay of AAD since 1964 with marginal upgrade of rate of fire increased to 300 rounds per minute and the original fire control radar Super fledermaus of Contraves being replaced during 1985 by the improved Flycatcher of Signaal (now Thales Nederland). The ammunition has also been upgraded by including proximity fuse.
Autonomous L/70 Gun. There has also been an autonomous version of the gun developed which has an on-mounted generator, laser range finder, day and night sights, on board computer, joy stick control system and the old hydraulic drive converted into electric drive. This autonomous gun does not need a separate power source or a fire control radar. This all weather version has been developed jointly by Bharat Electronic Limited (BEL) and the Gun Carriage Factory of the OFB.
(Left to Right) L-70 Anti-Aircraft Gun Upgrade and ZU-23MM-2B at Siachen
ZU- 23mm-2 Twin Barrel Gun
This gun is solely for the AD of the field army and its all weather version is a major upgrade in its capability. This gun was inducted into the AAD around 1980 and has been the main stay of the armour formations and other field formations since then due to its high mobility and high rate of fire. However the drawback is that the gun has a simple mechanical sighting system including the drive.
Truck Mounted. Some regiments who are operating with armour formations or in the desert terrain, have mounted it on a truck with the assistance of the EME.
Modernised Version. This version includes an on-mounted generator, laser range finder, day and night sights, on board computer, joy stick control system and its original mechanical drive has been converted into an electric drive. Two launchers (one on either side) can also be mounted for firing shoulder fired AD missile as an option. This is an all weather version developed by BEL.
Self Propelled Gun Systems
There are two other self propelled gun systems namely Schilka which has 23 mm four barrel gun and its successor Tanguska which has 30mm guns along with missiles. Both these systems are outside the purview of this DAC clearance.
Criticality of Time Element
40mm L/70. The gun is about fifty five years old and the process of induction of its successor may start by 2031- a rather optimistic time frame. There are about 20 Regiments equipped with L-70 guns to be converted, thus at the scale of two regiments (about 72 guns) per year, again optimistic, it may take to the period 2041. Give a life span of 30 years as against 60 years of the current gun by default; then we are talking of a period of 2061-2071. Quite mind boggling and seems unreal but this happens with decades of neglect. To accelerate the induction, more than one manufacturer will have to be selected.
ZU-23-2 Twin Gun. This gun is about forty years old and its vintage may not be that critical and its replacement will also depend upon whether a common calibre gun is selected as the successor to both the L-70 and ZU-23-2 Twin Gun or there will be separate systems. Whatever route is taken, the process of selection of calibre and manufacturing agencies will have to be geared towards rapid production and induction.
Possible Options for AD Guns Globally
The MoD has not issued a RFI but the Indian Companies who have shown Expression of Interest (EoI)and the foreign collaborators where known.
*Thales-Nexter RAPIDFire Gun with Adani. RAPIDFire Gun leverages the combined expertise of Thales and Nexter to meet the very short-range defence requirements of the armed forces. The solution features a latest-generation multi-threat (air and surface), multi-environment (land and naval) gun system, with a cost of engagement commensurate with the value of the threats. The system is compatible with the full range of ammunitions developed for land forces as well as the new smart Anti Aerial Airburst (A3B) rounds.

(Left to Right) RAPIDFIRE KEEPING TROOPS SAFE FROM PREDATORS IN THE SKY and Naval Version of RAPIDFire
*Hanwah Defence Systems - South Korea. The AAGW (Anti-Aircraft Gun Wheeled Vehicle System) was developed by Hanwha Defence System to offer a new mobile air defence system able to destroy low-altitude air targets as helicopters, aircraft and UAVs. Mounted in a turret, the two 30-mm KKCB automatic guns are a licensed version of the 30-mm Rheinmetall Air Defence (Oerlikon) KCB gun manufactured by the South Korean S&T group. It will not be too difficult to develop a towed version.
*Rheinmetall Air Defence AG - Switzerland. Oerlikon Skyshield® – AD System is the successor to Skyguard which was offered to India earlier. It is claimed that Skyshield can counter the current AD threat as well as the C-RAM (Counter Rocket, Artillery, and Mortar) threat. It has a calibre of 35mm and fires the lethal Advanced Hit Efficiency and Destruction (AHEAD) ammunition with a reaction time of 4.5 seconds.

(LEFT TO RIGHT) ANTI-AIRCRAFT GUN WHEELED (AAGW) VEHICLE SYSTEM OF HANWAH DEFENCE AND OERLIKON SKYSHIELD
*Other Vendors. Many Indian vendors like OFB, Bharat Forge (probably collaborating with a UK AD gun system), L&T and Mahindra have also shown interest.
Buy and Make (Indian)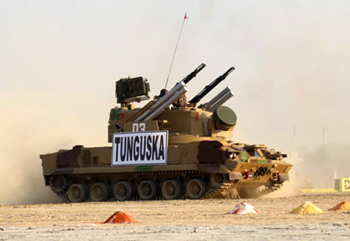 Tunguska - Live Demonstration by Indian Armed Forces
As per the DPP 2016 updated to November 01, 2019, 'Buy & Make (Indian)' category refers to an initial procurement of equipment in Fully Formed (FF) state in quantities as considered necessary, from an Indian vendor engaged in a tie-up with a foreign OEM, followed by indigenous production in a phased manner involving Transfer of Technology (ToT) of critical technologies as per specified range, depth and scope from the foreign OEM. Acquisition under this category can also be carried out without any initial procurement of equipment in FF state. This category is included in the DPP to accelerate the process of Atmanirbhar spread across armed forces systems where ever possible.
Projected requirement of AD guns
The projected requirement would be a minimum of 1000 guns in a phased manner and it is obvious that 6000 crores is not enough. More funds will be allotted depending on the success of the project.