China has launched a compulsory recruitment drive for Tibetans in the Chumbi Valley, between Sikkim and Bhutan and some other areas, so that each Tibetan household has to compulsorily provide one youth for recruitment in the PLA
| | |
| --- | --- |
| | The Author is Former Director General of Information Systems and A Special Forces Veteran, Indian Army |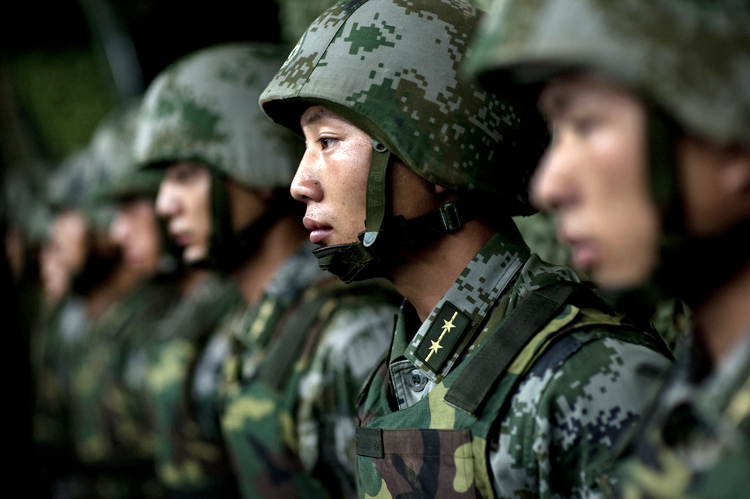 Soldiers of Chinese People's Liberation Army
China began encroaching across the Himalayas into India and Bhutan years back and more recently in Nepal. But gradual salami slicing of territories in high altitude is quite different from conducting operations with adversaries in a conflict where quick movement, speedily moving reserves and recycling of troops is involved. China realised long time back that the predominant Han Chinese troops of the People's Liberation Army (PLA) did not possess the natural physical attributes to fight in very high altitude areas of the Himalayan mountain range.
For this very reason, troops for the surprise attack on our troops in Galwan on night of June 15/16, 2021, using clubs with barbed wire wound around them and swords were specially flown in and survivors flown out after the Galwan clash. Subsequently, PLA's attempt to surreptitiously occupy the Kailash Range too were pre-empted by our troops. PLA troops could only reach some distance and fired an odd shot in desperation.
It is different issue that India subsequently vacated the Kailash Range in own territory for unknown reasons. Possibly there was some sort of threat conveyed by China through the NSA or diplomatic channels of pushing the invasion further to 'capture' certain areas, because of which our politico-diplomatic dispensation crumbled.
China recently released pictures of PLA's 'Mimang Cheton' which is a special force comprising Tibetan youth showing them undertaking airborne training in Tibet by night
It is significant to note that PLA had been undertaking research by exposing monkeys to extreme altitude to study their brains and develop new drugs to prevent brain damage. This was a priority the PLA had identified for Chinese troops operating on high plateau borders. China's Academy of Military Medical Sciences launched a four-year plan in 2012 for troops to acclimatise and adapt to the low-oxygen Tibetan plateau while stating that brain damage and death caused by high altitude on the Tibetan plateau had severely hindered national defence construction. This indicates that President Xi Jinping had already planned permanent PLA deployments along the LAC after the 2020 aggression to change the status quo.
However, subsequent PLA deployments in the new locations in Eastern Ladakh still suffered large number of high altitude-related ailments and emergency evacuations since PLA soldiers from mainland China were unable to deal with the harsh winter situation in these high altitude areas. Even the overall PLA commander in these areas was changed thrice which may have also been on medical grounds. This was despite Chinese media reports that PLA troops in the high altitude areas of the Tibetan Plateau have been provided with oxygen cylinders, as well as oxygen chambers.
It is more that evident that Xi Jinping plans to capture all illegally claimed territories by China, major portion of which are in the trans-Himalayan region including India. But Xi faces the problem of manpower. China's one-child policy has backfired and Chinese population is ageing. Moreover, the two-child norm introduced in recent years has not worked out because couples find raising a second child expensive. To top this is the requirement of manpower suited to functioning permanently in high altitudes regions in extremely low temperatures.
The Indian Army has no such problems in high altitude areas. But what have been setting the Chinese tail on fire is Tibetan troops of our Special Frontier Force (SFF) waving the Tibetan flag on special occasions, even before the Chinese aggression in 2020, in areas of Pangong Lake, and elsewhere.
It is not known whether conscription period for the Tibetan youth will be same as other PLA soldiers or more, but certainly, the PLA recruiting Tibetan youth is a new phenomenon
Taking a cue from the above, China has launched a compulsory recruitment drive for Tibetans in the Chumbi Valley between Sikkim and Bhutan and some other areas. Intelligence reports indicate that each Tibetan household has to compulsorily provide one youth for recruitment in the PLA. The Tibetan recruits are taken to the PLA training facility at Nakchu in the Tibet Autonomous Region (TAR). Trainees are allowed to make one phone call to their family back home before depositing their mobile phones at the training centre.
The training curriculum of the Tibetan recruits includes physical training, drill, arms training and maintenance of the accommodation and training areas. Majority trainers and instructors at the training centre are from mainland China with few from Tibet who help communicating with the recruits and language translation.
One month after the India-China standoff in Doklam was called off in 2017; China has not only occupied parts of the Doklam Plateau but has also built villages inside Bhutan - similar to two newly constructed Chinese villages discovered in Arunachal Pradesh.
China wants to occupy the Jhampari Ridge in Bhutan to threaten India's Siliguri Corridor connecting the northeast region. By occupying the Jhampari Ridge, China also wants to turn the Indian defences in East Sikkim. It has also been found that China has started building an alternative axis in the Chumbi Valley, closer to the Siliguri Corridor. China and Bhutan have signed a Memorandum of Understanding (MoU) on a three-step roadmap for boundary resolution. China claims the Doklam Plateau is Chinese territory.
To add to the above, China recently released pictures of PLA's 'Mimang Cheton' which is supposed to be a special force comprising Tibetan youth. The commander of China's Western Theatre Command (WTC) reportedly presented them with the Mimang Cheton ensign sometime during 2020. The Chinese propaganda is that India's SFF is no match to PLA's Mimang Cheton (sic). China says that Mimang Cheton has been undertaking airborne training in Tibet by night and their role is to capture high altitude passes on Indian Army routes so that they will not be able to flee to Bhutan like in 1962.
China has permanently changed the alignment of the LAC throughout, legalising its illegal intrusions while it continues with more illegal territorial claims
Chinese propaganda further says that Indian airborne forces don't have the capability for heavy dropping tanks and armoured vehicles whereas India has had this capability since the past two decades. It is not known whether conscription period for the Tibetan youth will be same as other PLA soldiers or more. But certainly the PLA recruiting Tibetan youth is a new phenomenon that needs to be taken note of. Their deployment should be expected in other regions also, not just in the area of Chumbi Valley.
The above needs to be linked to China's new Border Law which largely targets India especially since it was proposed after the Chinese aggression in Eastern Ladakh last year. The law demands that China should speed up construction of civilian and border infrastructure. But even before this law was enacted, Beijing had been developing civilian and military infrastructure in 112 border towns of the TAR including speedily improving the road and rail connectivity to these border towns.
China's Border Law states that China's sovereignty and territorial integrity is inviolable and the state shall take measures to safeguard them. It establishes a legal framework for the PLA, the People's Armed Police (PAP) and border defence units to counter invasion, infiltration, encroachment or provocation across the land border. There should be no doubt that China has permanently changed the alignment of the LAC throughout, legalising its illegal intrusions while it continues with more illegal territorial claims.
New Chinese villages already constructed with more in the offing are to serve as advance cantonments for the PLA. There are inputs that China is giving a monthly salary of Yuan 9000 to locals settling in these villages which naturally will include Tibetans including those that have already served in the PLA or are still serving.