By Lt. General P.C. Katoch (Retd)


Former Director General of Information Systems, Indian Army
On June 7, China conducted the fourth test in 18 months of a hypersonic nuclear delivery vehicle (dubbed WU-14 by the US) is capable of maneuvering during flight while travelling at the edge of space, and so is extremely difficult to shoot down as US missile defenses can only counter ballistic missiles and warheads that have predictable trajectories. But this is about ISRO which is all set to make India proud again by launching its AVATAR – Aerobic Vehicle for Trans-atmospheric Hypersonic Aerospace Transportable Reusable Launch Vehicle. Also being termed AVATAR RLV by some, AVATAR is an experimental unmanned advanced hypersonic space shuttle. This will make India the second country in the world to have reusable spacecraft. As per unofficial sources, the first flight is expected to be launched around July 2015. It may be noted that launching satellites is quite expensive, the cost globally being around US$ 20,000 per kilogram of weight. In sharp contrast, in India satellites launching cost using indigenous launchers has been just US$ 5000 per kilogram. It may be recalled that ISRO's indigenous Mangalyan cost just US$ 74 million compared to NASA's own MAVEN Mars orbiter costing around US$672 million. It was also India's first attempt to reach Mars orbit, second only to Europe's ESA making it to Mars on its first attempt. But ISRO now has achieved the superlative feat by in developing AVATAR, the revolutionary spacecraft that would dramatically reduce the cost of launching satellites to just US& 500 per kilogram. The added feat is that this reusable space transport has been developed taking just six years from conception.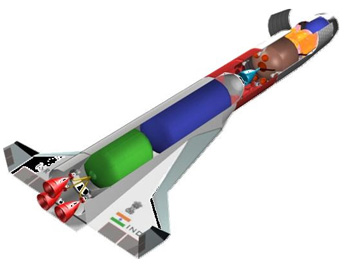 AVATAR
Photo Credit: NAL
The AVATAR is very different from a space shuttle, each being different in terms of technology and technical capabilities. ISRO's AVATAR is quite different from NASA's Space Shuttle; in terms of design, engine, maneuverability and overall costs. Unofficial estimates say the overall cost of launching the AVATAR RLV may be 80 to 90 times less, the cost of launching the Space Shuttle being in the region of US$ 1 billion. This incredible saving is because AVATAR does not need to carry its own fuel supply, which also contributes to reducing the overall weight of the spacecraft. NASA'a Space Shuttle uses a liquid hydrogen or liquid oxygen rocket engine whereas the AVATAR uses an air breathing scramjet engine that collects and uses atmospheric oxygen. It is also significant that while the Space Shuttle is semi automatic, the AVATAR RLV is fully automatic.
The development and employment of space-based systems throughout the 1960s and 1980s provides compelling proof that orbital hardware was instrumental for solving the problems of global information support and communications. Such systems have no alternative today as for their functional capabilities, as has been demonstrated in the post 1990's era. Though the race for weaponization of space is raging clandestinely, space also has numerous peaceful uses. These range from terrestrial resources and environmental mapping, navigation (on land, sea and air), communications, weather forecasting and early warning for natural disasters etc. over 5000 satellites have been launched into space, of which about 10 percent are presently functional and a large number more get launched annually. Satellites provided a host of communications including radio, TV, internet, plus navigation facilities in terms of Global Positioning System (GPS), which have transformed the world we live in. Networking of multiple satellites is an efficient method of sharing communications and lowering the cost of communications, providing better interoperability and data integration. However, without modulations the costs of such communications can be expensive and security breaches can be expected. Then there is also the critical limitation on the raw data sent to the ground with current space communications architecture. Therefore, the requirement is to introduce powerful space-borne processing and compression technology for raw data, which can alleviate the need for expensive and expansive downlinks. A space-based information network backbone can act as the transport network for mission satellites as well as enable the concept of decoupled, shared, and perhaps distributed space-borne processing for space-based assets. US and Russia lead in the development of military space systems, with the US accounting for some 90 percent of world military space spending. After the success of Chandrayan in 2008 and Mangalyan in 2014, latter catapulting India into the elite club of Mars explorer countries, the launch of AVATAR RLS will be another feather in India's cap. ISRO also has plans for manned versions of the AVATAR RLV. This implies that India would use the RLV for launching humans as well as using it as a supply vessel to a space station in the future. Without doubt, ISRO will continue to make India proud.