The QUAD must prove that it can be an effective body, both to demonstrate its utility to its own members and to show to the regional community that it is capable of solving regional problems
| | |
| --- | --- |
| | The Author is Former Chief of Staff (COS), Central Command, Indian Army. He is an expert on Siachen and Ladakh with experience in counter insurgency operations in J&K and North East and is also an expert on Information Warfare. |
Leaders participating in the QUAD meeting - (Clockwise from top left): Joe Biden, President of the United States of America; Narendra Modi, India's Prime Minister; Fumio Kishida, Prime Minister of Japan; Anthony Albanese, the new Australian Prime Minister
In 2017, when Australia, India, Japan, and the United States restarted their informal, four-way dialogue known as the QUAD, many were skeptical. After all, the QUAD's hiatus had been prompted by Australia's decision in 2008 to withdraw in order to protect its own ties with China, and it was far from clear that the four parties would hold together this time, either. Almost five years later, the QUAD has made demonstrable progress. The group has survived major leadership transitions in the United States and Japan, as well as internal differences on topics such as the Russia-Ukraine war. Moreover, the QUAD has grown in profile and widened its scope to include critical and emerging technologies, COVID-19 vaccines, and humanitarian assistance. Far from being a marginal body, the QUAD is now described as "a premier regional grouping . . . on issues that matter to the Indo-Pacific."
Nonetheless, as the leaders of the four countries gear up for their second in-person summit in Japan on May 24, the group has much more that it needs to do. Despite the real progress the QUAD has made on issues including technology, health, cybersecurity, and climate change, it must do more to deliver on its core security goals. Thus far, the group has prioritised a range of critical non-security or security-adjacent functions, such as technology and public health, over security-related efforts—an emphasis motivated in part by sensitivities in other Indo-Pacific countries about heightened military competition. To have a lasting effect, however, the QUAD must ensure that it can adapt to fast-moving crises such as regional military conflicts and natural disasters, and manage expectations regarding what it can achieve.
The group must also do more to cooperate on shared security concerns in the Indo-Pacific. While the QUAD has made meaningful progress, China's growing assertiveness demands that the group move with greater urgency. With renewed concerns about China's possible designs against India, Taiwan, or in the East or South China Seas, the group's mission to ensure collective peace and stability in the region will only become more critical. It is past time, then, for the QUAD to live up to its potential. While the May summit will have several items on its agenda, including multilateral economic projects such as the Indo-Pacific Economic Framework and regional developments ranging from instability in Sri Lanka to China's recent agreement with the Solomon Islands, it will also be a crucial opportunity for the group to accelerate cooperation on security.
Despite the real progress the QUAD has made on issues including technology, health, cybersecurity, and climate change, it must do more to deliver on its core security goals
The QUAD has made significant strides since its resurrection in 2017. With the endeavour of Prime Minister Modi, especially since his second term in office and with U.S. President Joe Badin in office, it has taken on far more of an institutional identity. In its previous iteration, the group had only met at a relatively junior bureaucratic level and conducted a one-off naval exercise. Now, the QUAD involves meetings of the four members at multiple levels, including leaders, ministers, senior officials, and subject matter experts, and regularly issues joint statements outlining common positions. All of this would have been inconceivable five years ago, when officials even spoke of exploratory and informal gatherings with caution. The group's consolidation has also accelerated through more frequent meetings: the four countries' leaders first met virtually in March 2021, and later held their first in-person summit in September 2021—a rare face-to-face encounter of world leaders amid the COVID-19 Pandemic. They met again virtually in March 2022, following the start of the Russia-Ukraine war, setting a precedent of conferring on major global developments.
The four governments have also expanded the group's scope by establishing formal cooperation on a growing range of issues. Initially, they created working groups — meetings of designated working-level officials from relevant agencies in the four countries — to address critical and emerging technologies, COVID-19 vaccines, and climate change. The QUAD has since added many more such working groups, and they now encompass such varied issues as supply chain resilience, regional infrastructure, STEM research and innovation, humanitarian assistance and disaster relief, clean energy, maritime security, cybersecurity, counter terrorism, and space.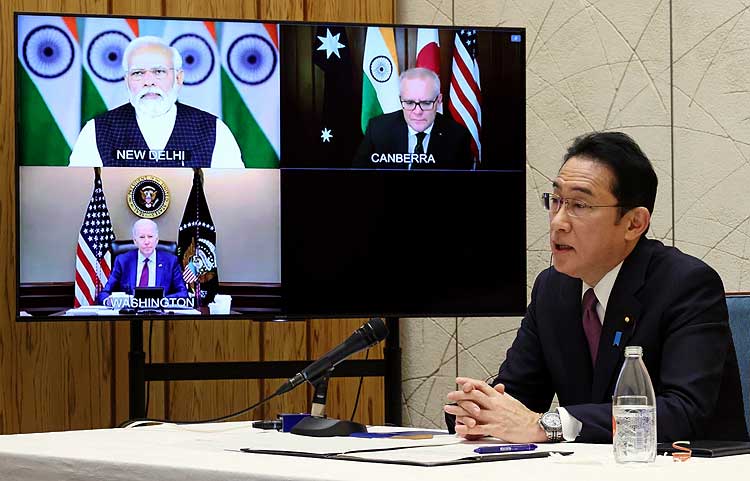 (File photo) Leaders of the 4 nations participating in the last QUAD meeting held virtually in March 2022.
The QUAD governments have also sought to use the group to provide solutions on a range of policy issues across the Indo-Pacific—steps that have proven to be popular in the region. These regional initiatives build upon the four countries' complementary strengths: one ambitious public health initiative, for instance, involves combining U.S. technology, Japanese financing, Indian production capacity, and Australian logistics to deliver COVID-19 vaccines to the Indo-Pacific and has contributed vaccines to countries including Cambodia and Thailand. The QUAD recently unveiled a STEM fellowship that aims to build scientific and technological collaboration and capacity. The group has also established a disaster relief and humanitarian assistance mechanism, which will help regional governments respond more rapidly and effectively to emergencies.
On the Security front, the group has consulted at the highest levels on the strategic risks posed by China and it has discussed issues ranging from maritime security in the broader Indo-Pacific to instability in Afghanistan, the military coup in Myanmar, and the nuclear aspirations of North Korea. QUAD members have made good faith efforts toward security cooperation and progress: in September 2021, the four countries' intelligence leaders took part in a Quadrilateral Strategic Intelligence Forum, and senior cyber security coordinators from all four countries convened in Australia in early 2022. The Malabar naval exercise that began as a bilateral operation between India and the United States aiming to increase interoperability between the two naval forces now regularly involves the four countries' navies. Separate anti-submarine warfare exercises often include other partners such as Canada and South Korea. The QUAD has also conducted other military exercises with France and the United Kingdom on an ad hoc basis to build additional capacity for military cooperation.
With renewed concerns about China's possible designs against India, Taiwan, or in the East or South China Seas, the group's mission to ensure collective peace and stability in the region will only become more critical
Though not strictly part of the activities of the QUAD itself, relations among several of the group's members have been enhanced through other new agreements over the past two years. Japan and Australia, for instance, concluded a reciprocal access agreement that allows the two countries to station troops on each other's soil. India and Australia signed an interim free trade agreement—a major breakthrough for New Delhi. Most dramatically, Australia, the United Kingdom, and the United States entered into the security partnership known as AUKUS (a trilateral security pact between Australia, the United Kingdom and the United States, announced on September 15, 2021) to facilitate the exchange of nuclear propulsion technology for submarines and share other critical advanced technologies.
The QUAD has faced some headwinds that have complicated its advances on security. The conflict in Ukraine, for instance, has illuminated divergences within the group: Japan and Australia have hewed close to the United States and its NATO allies in condemning Russian aggression and sanctioning Moscow. India has adopted a more cautious approach to the war because of its decades old ties and standing friendship with Russia and concerns about pushing Russia over to China's side on matters of concern to India. Instead of fueling tensions among the QUAD members, however, the Ukraine conflict has provided an opportunity for the group to serve as a platform for the four leaders to discuss their differences. At the QUAD virtual summit in March 2022, the four leaders shared perspectives on the crisis and its implications for the Indo-Pacific.
The group has also provided a platform for the four countries to collectively confront the challenge of emerging resource and capability constraints in the region—and not just those of Australia, India, and Japan. The group's durability hinges on its ability to deliver on its promises. The QUAD must prove that it can be an effective body, both to demonstrate its utility to its own members and to show to the regional community that it is capable of solving regional problems.
The Way Ahead
In the months ahead, the QUAD will have to focus on consolidating and delivering on its existing initiatives, as well as diversifying its engagement with other like-minded partners and organisations. The QUAD does not need to add more members to accomplish this; it could instead involve other countries in existing QUAD activities based on their needs and comfort levels or participate in their initiatives to enhance regional security and resilience.
The QUAD members must also be flexible, and prepare for fast-moving global developments that call for seamless collaboration among them. The emergence of highly contagious COVID-19 variants alongside bigger regulatory hurdles, for instance, are already requiring the QUAD to narrow the focus of its global vaccine initiative toward specific countries and vaccine options. The QUAD should also take into account that crises may reshape the group's priorities. For instance, supply chain constraints fueled on energy, fertilizers, and grain availability due to the Russia-Ukraine war, have reinforced pre-existing concerns about economic vulnerabilities stemming from over dependence. These overlapping upheavals have highlighted the importance of global supply chains for the QUAD, and its efforts to shore them up may have long-term implications for the member states' economic and strategic relations.
The QUAD should focus on deepening its security engagements with other states in the Indo-Pacific. Without progress on this front, the member states will be less effective in delivering benefits to the region as a whole.
The QUAD should also focus on deepening its security engagement. Other states in the Indo-Pacific may harbor concerns regarding QUAD security cooperation, namely that closer collaboration within the coalition could exacerbate existing tensions. But without progress on this front, the member states will be less effective in delivering benefits to the region as a whole, including deterrence, freedom of navigation, capacity building, security assistance, and help in tackling challenges such as natural disasters or illegal fishing. Moreover, the QUAD itself needs to be prepared, given the urgency of the challenges it faces, particularly when it comes to China. Beijing's entry into a security agreement with the Solomon Islands, which could allow China to establish naval bases and its reach in the region, is just the latest reminder of its growing military ambitions in the Indo-Pacific, which long predate the QUAD's revival.
The QUAD should accelerate cooperation in areas where it currently operates bilaterally, such as maritime security. Although progress on that front is complex and would involve improving awareness of the maritime domain through satellites, reconnaissance aircraft, drones, and submarine sensors, and establishing information and intelligence networks, it is well within the QUAD's power to make significant advances and reposition itself so that it is not caught flat-footed in the event of a maritime crisis. Improved regional security also requires all four countries to expand their operational reach through cross-servicing, resupply, and replenishment at sea; making arrangements for ship repair; and making better use of common equipment such as maritime patrol aircraft and helicopters.
But the QUAD's security cooperation should also extend beyond the maritime sphere. Although the QUAD has engaged in significant formal dialogue involving the foreign ministries, national security councils, and armed forces, it must work to build contacts among civilian defence ministry officials, which will help strengthen trust and habits of cooperation. The group should create mechanisms and rapid response units for crisis management, undertake contingency planning, and engage in war-gaming activities. As the QUAD looks to cooperate and coordinate in the face of mounting global crises, and as China increases its military presence and assertiveness across the Indo-Pacific, the QUAD must develop a more robust security agenda if it seeks to sustain itself—and the region—in the coming years.