On June 30, 2022, ISRO in a flawless lift-off, launched its PSLV-C53 rocket from Satish Dhawan Space Centre (SDSC), Sriharikota. Its primary mission was to place three Singaporean satellites in their orbits. The largest is a 365 kgs DS-EO, an Earth-observation satellite to provide multi-spectral images, with 50 cm resolution. Other satellite was NeuSAR, a 155 kg commercial satellite equipped with synthetic aperture radar for providing images in day, night and bad weather conditions. The third was Scoob-1, a 2.8 kgs spacecraft, developed by students at Nanyang Technological University (NTU) of Singapore.
The stages fired and separated faultlessly as planned with payload separation of the DS-EO satellite taking place in its precise orbit of 570 kilometer with a 10-degree inclination.
The Polar Satellite Launch Vehicle (PSLV) is a four stage, 44.4 m tall rocket, one of the most reliable and versatile workhorse of ISRO. PSLV earned its title 'the Workhorse of ISRO' through consistently delivering various satellites to Low Earth Orbits (LEO), particularly the Indian Remote Sensing (IRS) satellites. It can take up to 1,750 kg of payload to Sun-Synchronous Polar Orbits of 600 kms altitude.
Due to its unmatched reliability, PSLV has also been used to launch various IRNSS constellation satellites into Geosynchronous and Geostationary orbits. Besides, the PSLV has also successfully launched Chandrayaan-1 in 2008 and Mars Orbiter Spacecraft in 2013.
This was its 55th mission to date. It's the 15th launch using the Core Alone variant. Commencing 1999, the PSLV has so far launched 345 foreign satellites, belonging to 36 countries.
One of the most significant development of the latest PSLV launch has been the demonstration of utilisation of the spent fourth stage (PS4) of the PSLV as a stabilised platform for scientific payloads and first launch by Indian SpaceTech start-ups from PSLV.
In prevailing highly competitive globally commercial space environment, Elon Musk's SpaceX has mastered the art of successfully recovering the first stage of its launch rockets, thereafter, re-using it for subsequent launches. It has its own inherent advantage of bringing down the launch cost and reducing the space debris to a great extent. ISRO in this launch has used the fourth stage of PSLV, with similar advantages.
It has termed the fourth stage re-use as POEM, an acronym for PSLV Orbital Experimental Module, powered from the solar panels mounted around the PS4 tank and a Li-Ion battery. POEM navigates using four sun sensors, a magnetometer, gyros &NavIC. Attitude stabilisation is achieved using a dedicated NGC system. It carries dedicated control thrusters using Helium gas storage. POEM is enabled with tele-command feature.
The POEM has facilitated the carriage of light weight experimental payloads. The opportunity has been utilised by Indian commercial SpaceTech start-ups to undertake certain tests and prove space worthiness of their payloads.
In this launch, the POEM has carried two special experimental payloads from Indian Space Start-ups DigantaraReserch and Technologies of Bengaluru and Dhruva Space of Hyderabad. All this has been enabled by authorisationfrom recently launched Indian National Space Promotion and Authorisation Centre (IN-SPACe), the nodal agency that permits and regulates space activities of private space companies. This mission will be remembered for this remarkable feat. They are first set of space start-ups to receive the authorisation from IN-SPACe, heralding the commencement of private sector launches within the country, an Atmanirbhar event.
This was highly appreciated by Prime Minister Modi. He tweeted, "The PSLV C53 mission has achieved a new milestone by launching two payloads of Indian Start-ups in Space. Congratulations @INSPACeIND and @isro for enabling this venture. Confident that many more Indian companies will reach Space in near future". Both the start-ups were highly buoyed by the fact that the PM also mentioned their achievement during the latest episode of 'Mann ki Baat' broadcast.
In order to get firsthand information about the event, Air Vice Marshal Sanjay Bhatnagar (Retd) of SP's Aviation approached the Head Strategy, Shreyas Mirji of Digantara and Kranthi Chand of Dhruva. The excerpts are covered below.
SP's Aviation (SP's): Can we request you to take us through your journey from the date of incorporation till now?
Shreyas Mirji (Mirji): Digantara is incubated at IISc, Bangalore. It was founded in December 2018 (by Anirudh Sharma and Rahul Rawat), as a spin-off from the university student satellite team. The founders decided to provide a solution to the problem of space debris and provide an end-to-end Space Situational Awareness (SSA) platform that will transform the way the operations are carried out in the space sector.
Digantara has recently received one of the first authorisations for space activities in India from IN-SPACe and launched the world's smallest payload called ROBI.
SP's: What exactly is Digantara aiming to achieve through the POEM on-board the PSLV-C53?
Mirji: ROBI stands for ROBust Integrating proton fluence meter, it is a digital space weather instrument for monitoring space weather on a near real time basis. As of July 4, 2022, Digantara has successfully established connection with ROBI and has started receiving data.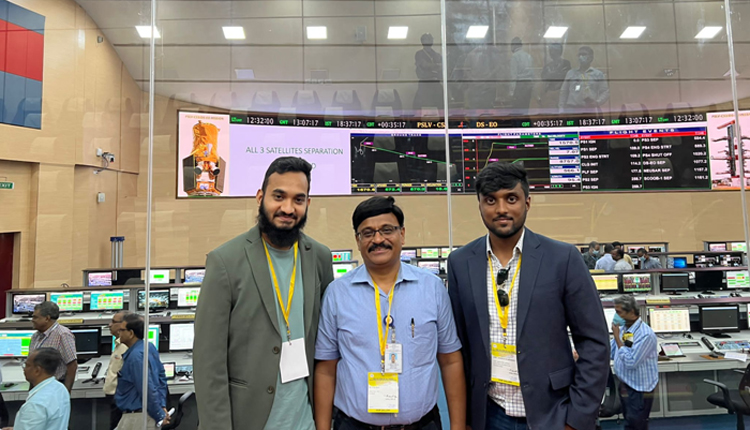 Post launch of ROBI onboard PSLV-C53 POEM, (Left to right), Tanveer Ahmed, CTO Digantara, Dr. PK Jain, Director - Programme Management and Authorisation, IN-SPACe and Anirudh Sharma, CEO Digantara.
Measuring Space Weather not only aids in the protection of space-based and terrestrial systems against space weather, it is an important component of SSA. The near real-time data from ROBI will allow Digantara to develop higher fidelity models through which it plans to assist stakeholders in making informed decisions using Digantara's proprietary software called the Space–MAP.
SP's: How's been the journey so far with respect to subscription from investors?
Mirji: In 2021, Digantara raised $2.5 million from Kalaari Capital towards demonstrating its technological capability. Towards non-dilutive funding, we have raised required amount of money through government grants and contracts.
SP's: You are a pretty young start-up, what's been the achievements in past one year?
Mirji: In less than a year since funding has designed and deployed ROBI to space.
Digantara has been actively working in the domain of SSA, throughout the world, by understanding the requirements of various stakeholders to policy making. We have been actively contributing in various global, working groups on SSA, towards building sustainable space. It has won innovation challenges with OneWeb, Airbus and OHB and is currently partnering with them.
Digantara has also started building a multimodal SSA data pool to complement its space-based capabilities.
On the software end, Digantara's proprietary orbital data processing software, orbital engine called OrEng and demonstrated its capability with a Minimum Viable Product (MVP), the same has further been extended to its defence applications.
SP's: Your start-up is essentially focused on SSA, would you like to share your future plans?
Mirji: Digantara has a two-pronged approach, on the upstream, Digantara is building the world's first space based sensor network to track Resident Space Objects (RSO) in Low Earth Orbit (LEO), with 10 times better resolution than the current industry standards. Alongside, the company is building a multi modal SSA data pool for comprehensive awareness. Digantara plans a constellation of 40 plus satellites in LEO and further extend its presence to higher orbits based on the market demand.
On the downstream, Digantara has developed a proprietary application termed as Space-MAP that will offer products based on data fusion through its multi-modal SSA data sets. It will be as powerful and sophisticated as Google Maps, serving as a foundational layer for space operations and research.
Digantara's intends to support spacecraft operators through its complete lifecycle, offering products right from Mission Design to End-of-life de-orbiting to its stakeholders (Defence, Regulatory Bodies, Insurance Companies, Launch Providers, Commercial Space Companies)
SP's: Consequent to certain pathbreaking reforms undertaken by the government in the space sector, how's your experience been with ISRO and other government bodies?
Mirji: The support has been phenomenal right from 2018, the Chairman and the subject matter experts, have been accessible to us and have extended their support in all fields.
IN-SPACe, has provided authorisation for Digantara to access its test facilities, SSA resources, and assistance with filing for its satellite constellation with the International Telecommunication Union (ITU). This support has propelled us to be competitors on a global level.
SP's Aviation (SP's): Can we request you to take us through Dhruva journey from the date of its raising till now?
Kranthi Chand (Chand): Dhruva Space was started in 2012 as India's first space technology start-up, with the vision to privatise the space activity. The decade-long journey has culminated into receiving the first set of authorisation to put objects into space. We are now one step closer to providing Full-Stack Space Engineering solutions. We have been building Satellite platforms and Subsystems, developed Satellite Deployment Mechanisms compatible with PSLV and setup satellite tracking antennas for our clients.
SP's: What exactly is noteworthy for Dhruva in the POEM?
Chand: Onboard the POEM, Dhruva Space tested its Satellite Orbital Deployer (DSOD). It acts as an interface between the rocket and the satellite, holds and releases the satellite with the required ejection velocity for deployment in space.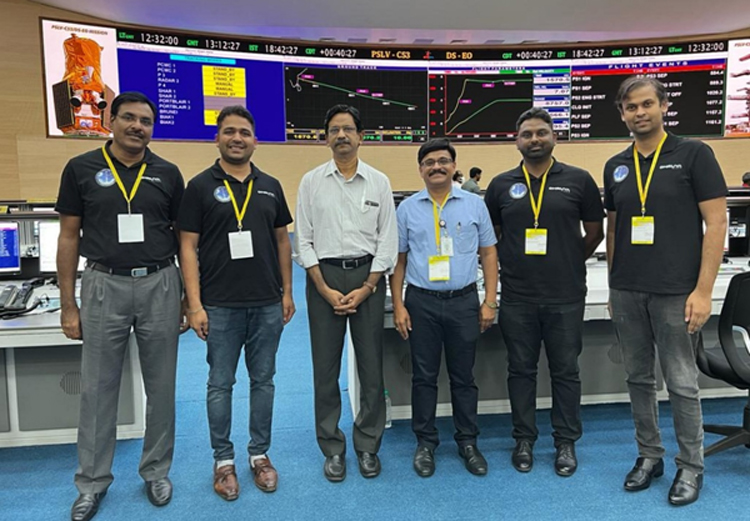 Post launch of POEM, the Dhruva Team with SR Biju, PSLV-C53 Mission Director, ISRO and Dr. PK Jain, Director - Programme Management and Authorisation, IN-SPACe
This successful test is a precursor to the launch of two Satellites, Thybolt 1 &Thybolt 2, built by Dhruva Space on the upcoming PSLV-C54 mission. This will also enable us to provide deployment systems, integration, and launch services support to global customers.
SP's: How's been the journey so far with respect to obtaining funding?
Chand: We raised our first round of Venture Capital in 2019, with Mumbai Angels, and kickstarted our major development work. In 2021, Indian Angel Network and Blue Ashva Capital joined our journey, increasing our total capital to 27 Crore. We are currently in the process of raising next round of funding to establish Assembly, Integration and Testing infrastructure.
SP's: Would you like to share your future plans?
Chand: Our product lineup includes satellite platforms to cater up to the weight class of 300 kgs. The smallest platform 'PDoT' is suited for IoT Communication; 'P30' for critical strategic applications; and 'P90' for large high-precession and agile satellites. We plan to scale the production to one P30 or 15 PDoT per week and a P90 every quarter. We are also working on large satellite solar array to power LEO satellites. We are also working on S and X band ground antenna systems.
Our mission is to build in India and support the global market, we are in talks with Indian strategic users and abroad to build dedicated space infrastructure.
SP's: Consequent to certain pathbreaking reforms undertaken by the government in the space sector, how's your experience been with ISRO and other government bodies?
Chand: The support by ISRO actually predates the policy reforms in Space Industry. Various ISRO centres have guided and supported our development. Some of the review panels were chaired directly by S Somanath, Secretary, DOS.
IN-SPACe has assisted with access to ISRO test facilities and the authorisation of the space activities. The DoT had extended its support in becoming a member of the International Telecom Union (ITU). DRDO too has played a critical role by giving us the opportunity and support to build critical space systems.