Boeing makes a strong case with their F/A-18 Super Hornet Block III for the Indian Navy's carrier deck based fighter programme
| | |
| --- | --- |
| | The Author has served as Assistant Chief of Air Staff Offensive Operations and Assistant Chief of Integrated Defence Staff Tech Intelligence. Held appointments related to offensive operations at Air HQ and ISR matters at HQ IDS. |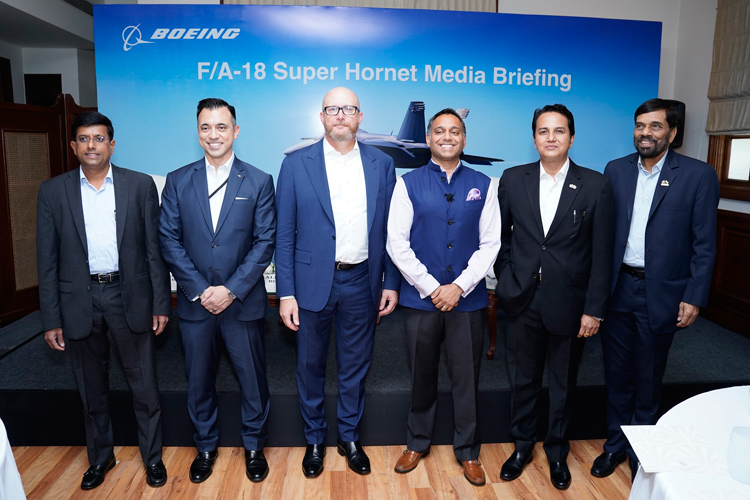 (From Left to Right): Satya Prakash, Senior Director – Business Development, GE Aviation; Alain Garcia, Vice President, India Business Development, Boeing Defense, Space & Security and Global Services; Steve Parker, Vice President and General Manager, Bombers & Fighters, Boeing Defense, Space & Security; Salil Gupte, President, Boeing India; Samit Ray, Regional Director, Government Affairs & Public Policy South Asia, Raytheon; Gyanendra Sharma, India Managing Director, Northrop Grumman International
The ability to project combat aircraft in waters far from its own coast has a distinct advantage for a maritime power to efficiently conduct operations at greater distances. The Indian Navy (IN) operates the Russian manufactured MiG-29 K fighters from its aircraft carrier INS Vikramaditya. 45 of these aircraft were purchased in 2013. These are beset with maintenance and serviceability issues bringing down the operational availability to 45 percent. Also, the sole Indian aircraft carrier is under major refit for almost two years and likely to be redeployed earliest by mid-2023.
India's first indigenous aircraft carrier (IAC-1), INS Vikrant, a 45,000 tonne displacement capability is going to be commissioned on September 02, 2022. It is likely to be operationally combat ready by mid-2023. Notwithstanding that, the IN has a redundancy case so that at least one aircraft carrier each is available on the western and the eastern seaboards. Hence, Indian Navy has projected a case for a third aircraft carrier (indigenous) of at least 65,000 tonne displacement.
Indian Ministry of Defence is likely to arrive at a decision on the selection of carrier deck based fighter aircraft for the aircraft carriers of the Indian Navy (IN) by December 2022
Accordingly, the Indian Navy had projected the requirement of 57 carrier deck based fighter aircraft. To assess the options available and to understand the transfer of technology that the manufacturer is considering, the request for information (RFI) was floated by IN four years back. Keeping in mind the long term plan, numbers have now been revised to 26 aircraft initially. The competition is between the F/A-18E Super Hornet of United States (US) aviation major Boeing and the Rafale-M from Dassault Aviation of France.
Indian Ministry of Defence (MoD) is likely to arrive at a decision on the selection of carrier deck based fighter aircraft for the aircraft carriers of the Indian Navy (IN), in the next two months, possibly by December 2022.
Both the contenders have undertaken multiple trials at a naval facility in Goa recently. Two US Navy F/A-18E Super Hornets completed multiple demonstrations last month and the Rafale-M undertook similar trial earlier in the year.
Boeing F/A-18 Super Hornet Successfully Completes Operational Demonstrations in India
Understandably, the requirement is well understood by the MoD and decision time is fast approaching. US aerospace major Boeing in a press briefing on Wednesday, August 24, 2022 announced that it will be offering the Block III Super Hornet F/A -18 aircraft, in both the fighter and trainer variants. Boeing made a strong case for its Super Hornet Block III to be the best platform to address the Indian Navy's requirement of carrier deck based fighter aircraft for indigenous aircraft carrier.
Steve Parker, Vice President and General Manager, Bombers & Fighters, Boeing Defense, Space & Security said, "The F/A-18E Super Hornet fighters being offered to Indian Navy is Block III, which are most advanced and critical capability."
Boeing India President Salil Gupte said that through F/A-18 Super Hornet Block III the company plans to further strengthen its 'Make in India' initiatives. He said Boeing has been a trusted partner for over 75 years. Boeing anticipates $3.6 billion as an economic impact to the Indian aerospace and defence industry over the next 10 years. The selling pitch from Boeing to a great extent was based on strengthening Indian 'Atmanirbhar Bharat' initiatives to boost investments in Indian defence and aviation sectors with continued investments in India across five pillars. These include supply chain development and manufacturing; engineering and technology transfer; long-term support and training; infrastructure investments; and contributions of the 'Hornet team', comprising of General Electric, Northrop Grumman and Raytheon.
Boeing F/A-18 Super Hornet has the advantage of being developed very specifically for deck operations right from inception into design and development.
He emphasised on Boeing's successful track record contributing to the country's indigenous efforts in the sector by strengthening the existing sourcing of $1 billion annually from 300 suppliers on parts, assemblies and services from India, he stated.
Steve Parker said, "Fighters have been core to Boeing's DNA for more than 80 years. To press on with that strong heritage, our investments in multi-domain operations, manned-unmanned teaming, autonomous systems and other capabilities will position us for the future and will keep our customers at the cutting edge of air defence."
During the briefing Alain R. Garcia, Vice President, India Business Development, Boeing Defense, Space and Security and Global Services, emphasised the strength and robustness of Boeing's partnership with other US aviation majors, viz. General Electric, Raytheon, Northrop Grumman. He brought out that the delivery would commence 36 months after signing of the contract and Boeing has a production capacity of two aircraft a month.

Boeing's F/A-18 Super Hornet successfully completed operational demonstration tests at Indian Naval Station Hansa in Goa, India, reinforcing the Super Hornet's ability to effectively and SAFELY operate off Indian Navy carriers.
Boeing already has its long standing presence in India for C-17 Globemaster III (11 aircraft), P-8I Poseidon (12 aircraft), AH-64 E Apache (22 with IAF and another 6 likely for Indian Army), CH-47 F(I) Chinook (15 with IAF) and the two Boeing 777 for VVIP operations. The total procurement cost is close to $13 billion.
Besides the above, the capabilities that were flagged in the press briefing included the advantage of having an aircraft being developed very specifically for deck operations right from inception into design and development. Super Hornet Block III comes with a life of 10,000 hours vis-à-vis contemporary aircraft with 6000 hours. Boeing claims to leverage on experience of US Navy's 800 F-18 aircraft aggregating close to 2.5 million flight hours. It offers a wing folding design, enabling stacking of more number of aircraft on carrier flight deck as well as storage, thereby having increased operational potential to launch more number of aircraft for any operation. It also offers a twin seat advantage over its contemporary Rafale-M. Indian Navy may select the right mix of trainers and fighters to meet its training requirements as well. All three US major aviation partners come with more than three decades of field experience and a substantial presence in the Indian defence and aerospace ecosystem.
The selection is going to hinge on the weapons package that is being offered by the manufacturer
Another major compatibility that the Boeing has been boasting about is that the aircraft is powered by twin General Electric GE-F414 engines, the same family of engines that power the Tejas, LCA Mk 1/1A. GE is also known to be developing GE-F414 for India specific requirements for LCA Mk2. Satya Prakash of GE Aviation added that the LCA Mk 1 and 1A are powered by the GE-F404 engines while the LCA-Mk2 and AMCA in future will be powered by a more powerful, India specific GE-F414 engines.
That being said, the final decision on selection of the best carrier based aircraft for INS Vikrant and INS Vikramaditya is going to be based on the professional recommendations of the Indian Navy, that has been integral part of the trials at Goa.
The selection is going to hinge on the weapons package that is being offered by the manufacturer. In the prevailing fast evolving tactical environment, in order to neutralise the tactical advantage of adversary's stand-off weapons, there is an inescapable requirement for longer range air to air missiles, a superior airborne digital radar and a better precision strike capability among other attributes. Today's aircraft need better connectivity and highly capable interoperability characteristics with other platforms, besides the P-8I, this is going to be another major deciding factor. Indian Navy has also to consider the fact that HAL is progressing with the indigenous, Twin Engine Deck Based Fighter (TEDBF), with a possible production in about six years.
Thus next few weeks are of great importance for the Navy and other stakeholders in charting out the future of carrier operations for the Indian Navy in the Indo-Pacific region.