NATO Secretary General Stoltenberg said that Ukraine needs NATO's continued support, because if President Putin wins, the message to Beijing will be that they can achieve what they want with the use of brute force
| | |
| --- | --- |
| | The Author is Former Director General of Information Systems and A Special Forces Veteran, Indian Army |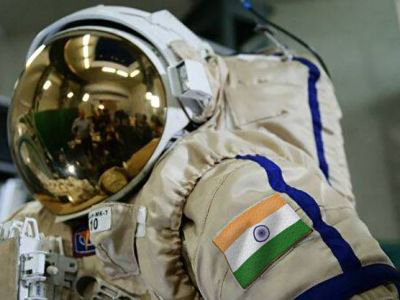 Indian astronauts resume training
It is 39 years since Squadron Leader (later Wing Commander) Rakesh Sharma flew into outer space on April 3, 1984 aboard a Soyuz T-11 mission as part of the Interkosmos programme of the Soviet Union. As of now, he is the only Indian citizen to have flown into outer space, although there have been other astronauts of Indian origin who have travelled to space: Kalpana Chawla (who died in the NASA mission of Space Shuttle Columbia disaster in 2003); Sunita Williams; Raja Chari, and; Sirisha Bandla who flew on a brief private sector Virgin Galactic test flight in 2021.
Japanese billionaire Yusaku Maezawa has picked up Indian TV actor Dev Joshi (who first acted in the serial 'Bal Veer') as part of his eight-member crew on his "Dear Moon" trip around the Moon aboard Elon Musk's SpaceX flight during 2023. It is a private ride since Maezawa has bought all the tickets on this flight.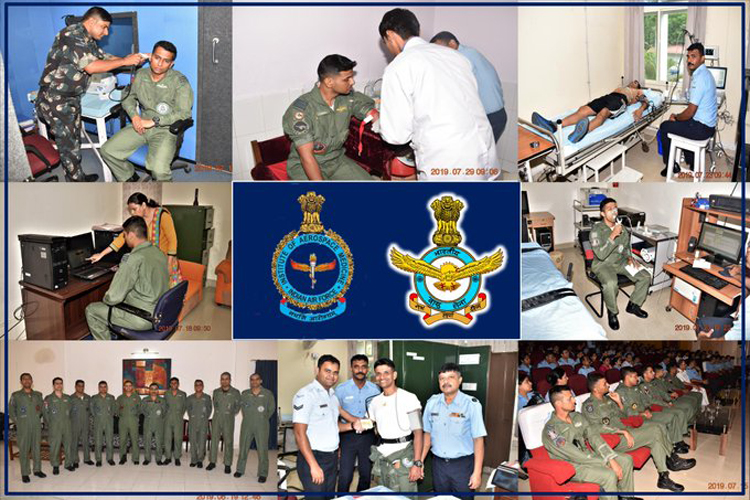 Mission Gaganyaan - IAF completed Level-1 of Indian Astronaut selection at Institute of Aerospace Medicine. Selected Test Pilots underwent extensive physical exercise tests, lab investigations, radiological tests, clinical tests & evaluation on various facets of their psychology.
More Indian citizens would be flying into outer space with India's manned space mission 'Gaganyaan' slated to be launched in 2024. Four Air Force fighter pilots have been trained in Russia under an agreement with Glavkosmos for the Gaganyaan mission. American space missions of National Aeronautics and Space Administration (NASA) over the years have flown astronauts from many countries including from Saudi Arabia, but none from India.
More Indian citizens would be flying into outer space with India's manned space mission 'Gaganyaan' slated to be launched in 2024
The eighth meeting of the US-India Civil Space Joint Working Group (CSJWG) was held in Washington DC on January 30-31, 2023, co-chaired by Shantanu Bhatawdekar, the Indian Space Research Organisation (ISRO) Scientific Secretary from the Indian side and Jennifer R. Littlejohn, Principal Deputy Assistant Secretary of State and Karen Feldstein, NASA Associate Administrator from the US side.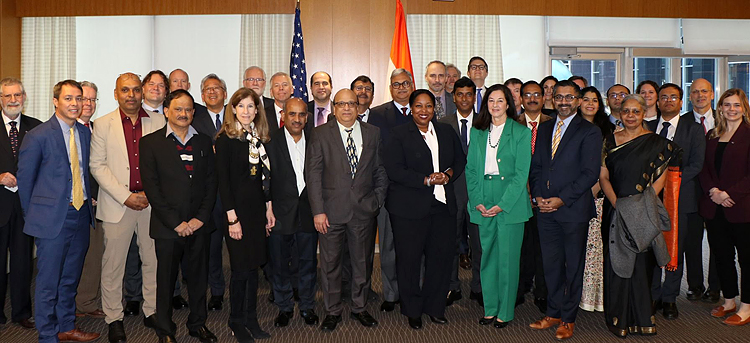 US-India Civil Space Joint Working Group meeting.
According to the US State Department, discussions at the above CSJWG included cooperation on human space exploration although details of these discussions were not released. In addition, the discussions also covered collaboration in earth and space science as well as global navigation satellite systems, spaceflight safety and space situational awareness, and policies for commercial space activities, the US State Department said.
News reports of February 1, 2023, state that the NASA-ISRO mission of the Synthetic Aperture Radar (NISAR) planned in 2024 would systematically map earth, using two different radar frequencies to monitor resources like water, forests and agriculture; providing information about ecosystems, the Earth's surface, natural hazards, sea level rise and the cryosphere, the frozen parts of the earth, with applications in forestry, agriculture and ecology.According to NASA, it will also help in providing prompt responses to natural and human-created disasters.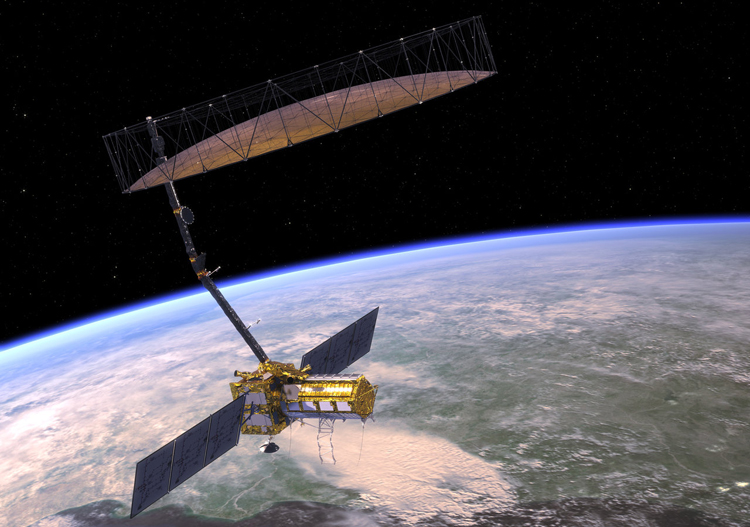 Planned Launch Date: 2024 The NASA-ISRO SAR (NISAR) Mission will measure Earth's changing ecosystems, dynamic surfaces, and ice masses providing information about biomass, natural hazards, sea level rise, and groundwater, and will support a host of other applications.
The US-led West is bent upon fuelling the war in Ukraine more with Ukraine President Volodymyr Zelenskyy crying for modern tanks, fighter jets and longer range missile systems, but China threat is looming large over western shenanigans. This is indicated by the recent talk given by Jens Stoltenberg, NATO Secretary General at Keio University in Tokyo, Japan. Stoltenberg said that Ukraine needs our (NATO's) continued support for as long as it takes, because if President Putin wins, the message to Moscow and Beijing will be that they can achieve what they want with the use of brute force; this would make the world more dangerous and 'us' more vulnerable".
Stoltenberg further said that China is:
Learning lessons from Russia's invasion of Ukraine and what is happening in Europe today could happen in East Asia and the Indo-Pacific tomorrow.
Building military forces, nuclear weapons and long range missiles that can reach all NATO territories; applying new disruptive technologies into their weapons systems including artificial intelligence, quantum computing and other technologies to develop more advanced weapons.
Asserting control over the South China Sea, threatening Taiwan and trying to take control of critical infrastructure including in NATO countries.
Becoming more and more authoritarian power that is cracking down on human rights not only in Hong Kong but throughout the country.
What Stoltenberg left unsaid is that the US would love a proxy country in the Indo-Pacific to weaken China – similar to using Ukraine for weakening Russia and minting billions of dollars in the process. The chosen proxy may not be Japan or South Korea since US forces are stationed in these countries, not even Taiwan because of its chip industry – but India?
The US would love a proxy country in the Indo-Pacific to weaken China – similar to using Ukraine for weakening Russia
Now there is news that following up on the joint decision taken by Prime Minister Narendra Modi and US President Joe Biden in May 2022, a delegation of top Indian strategic and scientific heads led by NSA Ajit Doval met their US counterparts in Washington recently in order to advance the US-India Initiative on Critical and Emerging Technologies (iCET). A key theme throughout the discussions was how both governments could facilitate deeper alignment on technology issues, including encouraging semiconductor supply chain resilience.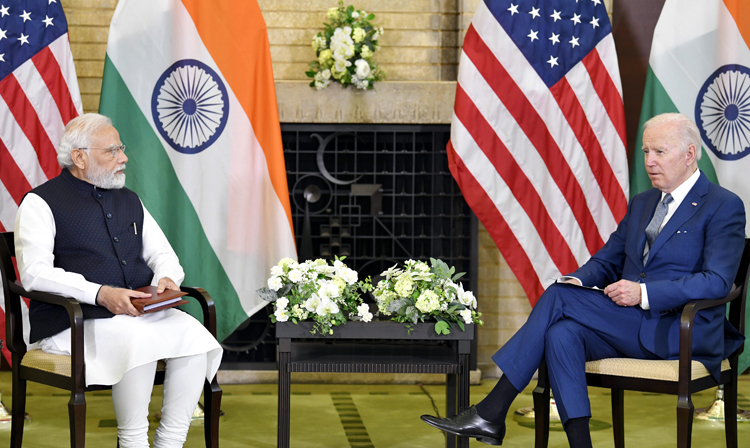 Prime Minister Narendra Modi meeting the President of the United States of America, Joe Biden, in Tokyo, Japan on May 24, 2022.
However, in terms of Indo-US cooperation, the doubt over America's sincerity would continue to persist. The US had an intelligence sharing deal with India over past so many years and is monitoring China continuously but it never warned India in 2020 that Chinese motorised division exercising in Aksai Chin were moving towards Eastern Ladakh.