| | |
| --- | --- |
| | The Author is Former Director General of Information Systems and A Special Forces Veteran, Indian Army |
Contemporary Amperex Technology Co Ltd (CATL) launches condensed battery with an energy density of up to 500 Wh/kg, enables electrification of passenger aircrafts
Climate change has forced the world to look seriously at environmental protection. Aviation is a major pollutant of the environment. Aviation accounts for 2.4 per cent of all fossil fuel derived CO2 emissions, which increased by 32 per cent in 2013-2018. Also, aviation's non-CO2 effects on climate change are complex, NOx and contrails could increase this responsibility to 3.5 per cent.
But India also faces another serious problem with respect to aviation – pilot shortages. Indian Airlines alone has ordered some 1,115 new planes, major deliveries of which will commence from 2025. A conservative estimate is that 15-16 pilots are required per plane for 'smooth operations.' This implies India needs some 16,000-17,000 pilots within the next decade – 1,600-1,700 pilots annually on an average. But the Directorate General of Civil Aviation (DGCA) registers only 600-750 commercial pilot licence (CPL) holders every year. Will we start importing commercial pilots?
Electric aircraft have the potential to address environmental pollution caused by aviation, with zero emissions and reduced noise
Electric aircraft can resolve environmental pollution from aviation, using batteries and electric motors driving propellers or turbines for zero emissions and avoiding noisy flights, not that the concept is new. Electrically operated aircraft have been flown since the 1970s and small unmanned aerial vehicles (UAVs) for tasks like aerial imagery, surveillance, telecommunications and parcel delivery. The first crewed free flight by an electrically powered plane, MB-E1, was undertaken in 1973. Later during 2015-2016, 'Solar Impulse 2 completed a circumnavigation of the Earth. On July 7, 1995, NASA's 'Pathfinder Plus' set an altitude record for solar-powered aircraft of 80,201 feet (24,445 m).
Pathfinder-Plus on a flight over the Hawaiian island of N'ihau in 1998
Electric vertical takeoff and landing (VTOL) aircraft are being considered for urban transportation that would lower operating costs. Mechanisms for supplying the necessary electricity without storing all of it onboard are also being looked at. These include; solar cells converting sunlight to electricity using photovoltaic material; microwave energy beamed from remote transmitter, and; power cables connected to ground-based electrical supply – for powered vehicles replacing tethered aerostats.
In a conservative estimate, India will require 16,000-17,000 pilots within the next decade to overcome the challenge of pilot shortages in the face of a significant increase in aircraft orders
In April 2023, China's Contemporary Amperex Technology Co Ltd (CATL) unveiled its condensed battery, which has higher energy density and can power electric aircraft. The battery, with single cells having an energy density of up to 500 Wh/kg is expected to have a longer lifespan than current lithium-ion batteries, making it more cost-effective in the long run. But CATL is not the only company working on developing new battery technology for the aviation industry. Other companies, such as Tesla, Airbus and Ganfeng Lithium, are also working on developing new battery technology that could be used to power electric aircraft. Electric aircraft have been limited by the weight and size of current battery technology, which has made it difficult to achieve the range and performance required to fly. But the condensed matter battery could potentially solve this problem by providing a lightweight and high-energy-density battery.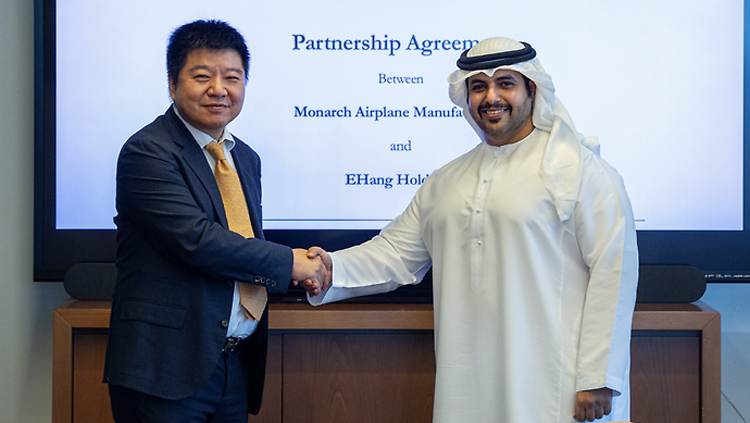 MENA region's first sustainable electric aircraft manufacturing facility to launch in Abu Dhabi
Concurrently, Chinese company 'EHang Holdings' and Abu Dhabi-based 'Monarch Holding' have joined up to establish the first facility in the Middle East and North Africa to manufacture and operate sustainable electric-powered aircraft and drones for passengers and cargo transportation in Abu Dhabi. The partnership will help establish an advanced infrastructure for vertiports and an autonomous flight management system operated by artificial intelligence, supporting sustainable and electric-powered commercial aircraft and drones through cooperation with local entities, enabling Abu Dhabi to adopt urban aviation technologies.
Discussions were held between India and Sweden on promoting cooperation in the aviation sector aimed to enhance sustainability, develop advanced infrastructure, and explore new technological possibilities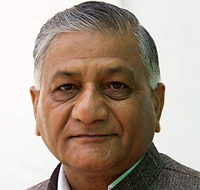 General V.K. Singh (Retd)
Minister of State for Civil Aviation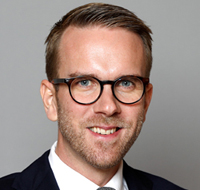 Andreas Carlson
Sweden's Minister of
Infrastructure and Housing
India and Sweden have discussed how the two countries can join hands on promoting cooperation in the aviation sector in April 2023. From the Indian side, these discussions were led by Union Minister of State for Civil Aviation General V.K. Singh (Retd) and from the Swedish side by Sweden's Minister of Infrastructure and Housing Andreas Carlson. During the meeting, Carlson said, "When India plans investments in infrastructure and aviation, it also needs small aeroplanes. They work very hard on it in Sweden. We see those electric planes in the developing phase right now but they will be in the market in five years. You can have electric flights for domestic shorter short-haul flights from the beginning. They can have a range of 800 km with 25 passengers combined with electric electricity and bio-fuel. Both countries can work together to find ways forward.
Carlson was on a two-day visit to discuss bilateral trade relations, sustainability and aviation between India and Sweden. General Singh discussed with Carlson how the two countries can cooperate on air traffic management, aircraft design, ways to reduce carbon footprints, lower emissions, strengthen competitiveness and higher productivity. He later said, "We discussed ways to promote aviation in a sustainable way …. We have common goals and India is significantly investing in building new airports and increasing their capacity. We are interested in learning from each other, sharing best practices, engaging in discussion on EU-level and on cooperation between EU and India."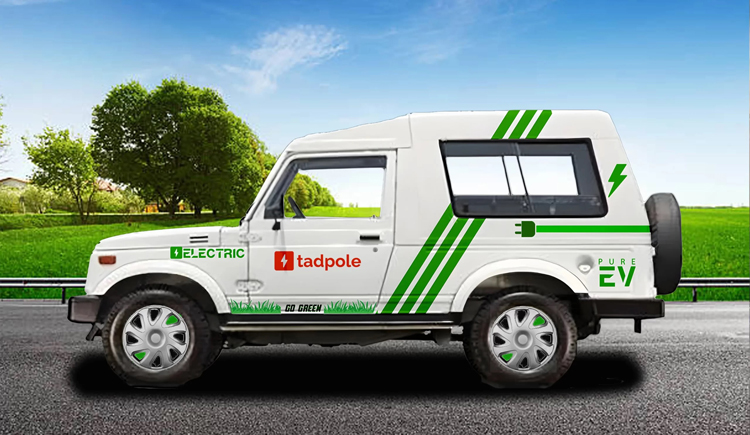 Electric GYPSY
On the electric vehicles front, Indian Army's retrofitted Electric Gypsies were showcased during the Army Commanders Conference in New Delhi in April 2023. The retrofitted Electric Gypsies resulted from the cooperative efforts of the Indian Army Cell, IIT-Delhi and a start-up named Tadpole Projects. Under Tadpole Projects, the start-up removes the engine and converts the vehicle into an electric one, adding seven years life of the vehicle, with two-year warranty on the motor and three-year warranty on the battery which is extendable up to five-seven years. Founded in 2020 by Jawaad Khan, the start-up incubated under the Indian Institute of Technology (IIT)-Delhi does EV retrofitting.