| | |
| --- | --- |
| | The Author is Former Director General of Information Systems and A Special Forces Veteran, Indian Army |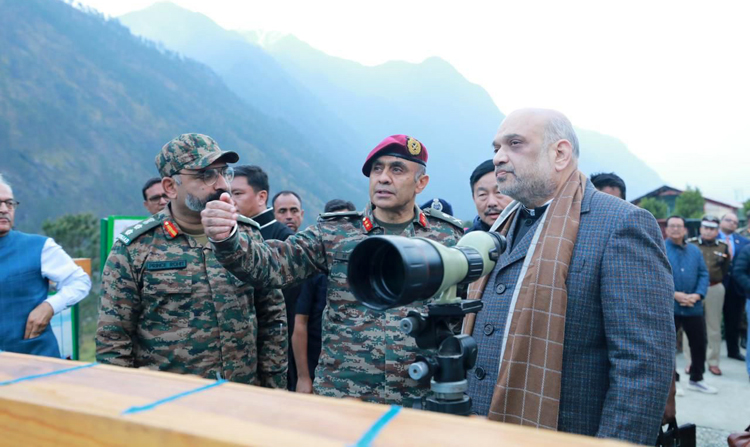 Union Minister for Home Affairs and Cooperation, Amit Shah inspecting Border Outpost of ITBP and took stock of the ITBP's preparedness, in Arunachal Pradesh on April 10, 2023.
The news about China upgrading its border infrastructure at breakneck speed has been making the rounds over the past several months and years. China has built over 5,000 km of rail network in the Tibetan plateau, linking it with mainland all-weather roads right up to LAC in inhospitable, rugged, and very high-altitude terrain (as on the Indian side) to sustain over 30 divisions, including 5-6 rapid reaction forces in the Tibet Autonomous Region (TAR).
China's extensive efforts to upgrade its border infrastructure, including the construction of rail networks, all-weather roads, bridges, and dual-use villages along the Tibet border aim to enhance China's military capabilities and connectivity in the region.
China has unveiled its first fully electrified bullet train connecting Tibet's provincial capital, Lhasa, and Nyingchi, which is a strategically located Tibetan border town close to Arunachal Pradesh. Post its invasion in Eastern Ladakh during May-June 2020, China has gone all out to improve its border infrastructure in the region, including launching two bridges over Pangong Tso, including one for moving tanks and mechanised columns.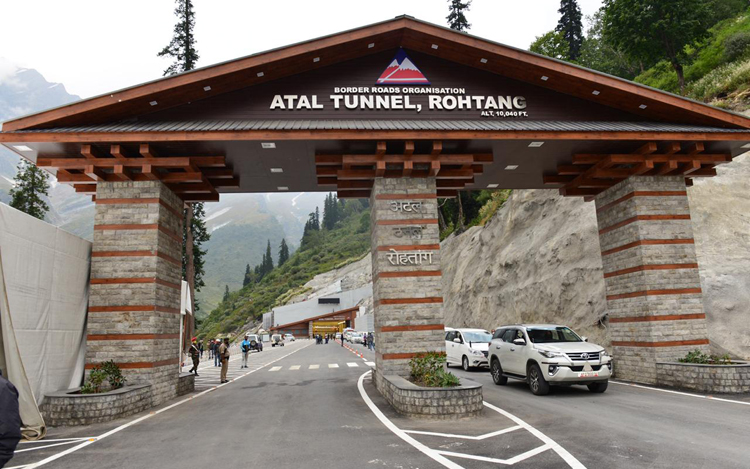 Atal Tunnel is built under the Rohtang Pass in the eastern Pir Panjal range of the Himalayas on the Leh-Manali Highway. At a length of 9.02 km, it is the longest tunnel above 10,000 feet (3,048 m) in the world.
News reports of May 23, 2023, have confirmed that China is strengthening infrastructure and connectivity in the Middle Sector, which has been comparatively peaceful. China is focusing on air connectivity at the People's Liberation Army (PLA) camps in the area. In addition to realignment and construction of a new link road, helipads are coming up at Sarang, Poling, and Jindu opposite Niti Pass. A new PLA camp near Niti Pass has been spotted. China is also constructing border villages, with one coming up about 45 km off Tholing, across the Middle Sector, with a likely military complex.
In recent years, India has also been pushing ahead to upgrade its border infrastructure. New roads and tunnels have come up to improve all-weather connectivity to forward areas, especially with the continuing border standoff with China for more than two years now. The Atal Tunnel in the Rohtang Pass area and the Zoji La tunnel are cutting down travel time for the troops deployed along the Line of Actual Control (LAC).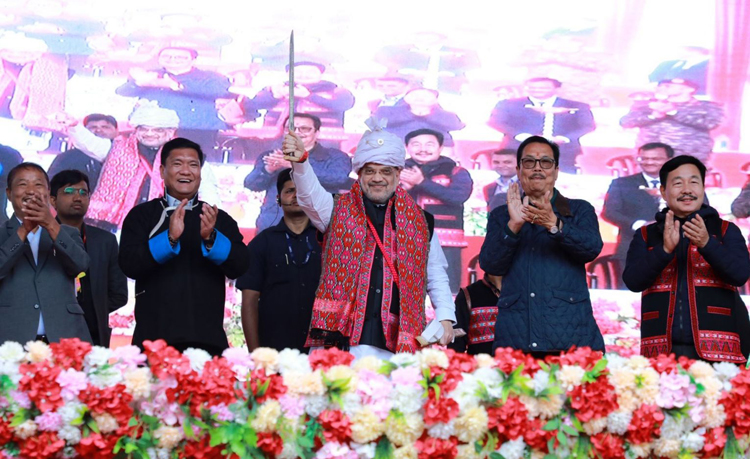 Union Minister for Home Affairs and Cooperation, Amit Shah at 'Vibrant Village Programme' at Kibithoo-a border village, in Arunachal Pradesh on April 10, 2023.
On April 10, 2023, Union Home Minister and Minister of Cooperation Amit Shah launched the Vibrant Villages Program (VVP) at Kibithoo - a border village in Arunachal Pradesh. He also inaugurated nine micro hydel projects of the state and 14 infrastructure projects for the Indo-Tibetan Border Police (ITBP). The VVP is to be implemented in three phases, covering 2967 villages in 46 blocks of 19 districts along the northern border in Arunachal Pradesh, Sikkim, Uttarakhand, Himachal Pradesh, and the Union Territory of Ladakh. No completion schedule has been announced.
India's endeavors to improve its border infrastructure and the launch of the Vibrant Villages Program aim to enhance connectivity to forward areas and strengthen defence capabilities in the face of the ongoing India-China standoff
Under VVP, India is revamping existing villages that may not be close to the LAC. In comparison, China has developed "dual-use" villages on the border or even across the LAC. One such 100-house Chinese village is at Longju in Arunachal Pradesh, and another 60-house cluster is in another area of Arunachal, which China claims as its territory on grounds that the LAC is not demarcated. Both these villages came up during the ongoing India-China standoff. China has also constructed two dual-use villages 2.5 km inside Bhutan. Since July 2017, China has aimed to set up 628 dual-use (or "well-off") society villages across the Tibet border areas. According to the US, China's dual-use villages are militarized villages having electronic warfare systems and air defense stations. India needs to seriously consider establishing new militarised villages close to the LAC, which can be speedily set up using 3-D technology.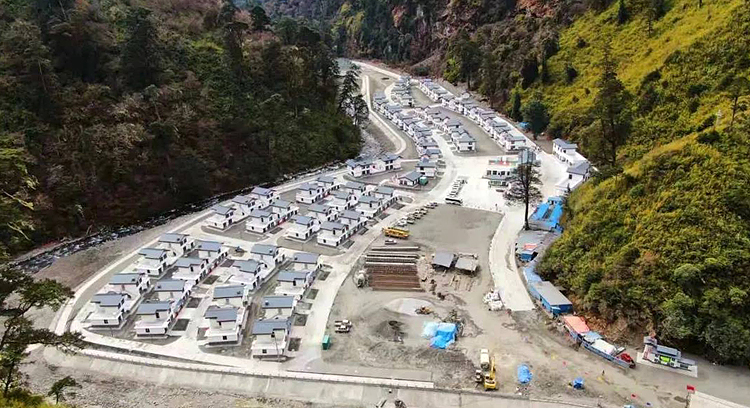 An image of the Chinese village that has reportedly been built in Arunachal Pradesh territory
A very disconcerting recent news is the revelation that despite the continuing India-China standoff and China's aggressive border infrastructure push, over 150 Indian border infrastructure projects are stuck for lack of environmental clearance. India has added an unprecedented 50,000 km of National Highways in the last nine years, according to official data. India had a total of 97,830 km of National Highways in 2014-15, which has been expanded to 145,55 km by March 2023. It is no secret that in constructing new highways and widening existing roads, crores and crores of trees have been cut. Why then are border infrastructure projects held up? Is it just red tape or a Beijing-sponsored design? Where is the priority for defence?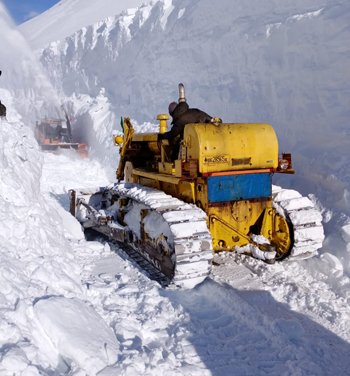 Zojila pass between Kashmir and Ladakh on NH1 connected
In December 2022, the Parliamentary Standing Committee on Defence had advocated faster implementation of the 14 Strategic Rail Line Projects. Earlier in April 2018, the Minister of State for Railways Rajen Gohain informed the Parliament in a written reply to a question that the Ministry of Defence has identified four strategic rail lines along the India-China border, but the final location surveys are still pending; the four strategic lines being Misamari-Tenga-Tawang (378 km), Bilaspur-Manali-Leh (498 km), Pasighat-Tezu-Rupai (227 km), and North Lakhimpur-Bame-Silapathar (249 km). Gohain said that MoD has provided funds to the Ministry of Railways for carrying out Final Location Surveys (FLS) of these four identified strategic lines, and the Ministry of Railways has taken up these FLS.
Gohain further said, "The undulating terrain of the young Himalayas and difficult geological conditions are affecting the pace of the survey undertaken." It is not known when MoD allotted the funds to Railways, but the Chinese would have laughed at the excuses of "terrain and geological conditions."
The delay in executing these strategic rail line projects identified by the Ministry of Defense along the India-China border raises questions about India's ability to keep pace with China's rapid border infrastructure development.
On July 19, 2016, the government had granted "in principle" approval for undertaking the final location survey (FSL) for three lines in Arunachal Pradesh. Now recent reports indicate that FSL has been submitted for the following rail lines in December 2022 (six years after the government accorded in-principle approval):
Bhalukpong (Missamari)–Tenga–Tawang (200 km – about 80 per cent will pass through tunnels).
North Lakhimpur-Bame-Silapathar (249 km).
Rupai (Assam)–Close to Tinsukia Jn–South of Brahmaputra River–Parasuram Kund–Tezu–Pasighat (217 km).
Progress on the 498 km Bilaspur-Manali-Leh rail line, as mentioned by Gohain above, is not known. It is also reported that a feasibility study is underway for the following two rail lines: Aalo/Along to Mechuka and Kokrajhar (Assam) to Gelephu (Assam-Bhutan Border).
One may applaud the above, but we must seriously ask ourselves if this pace is enough to catch up with China's border infrastructure, which is being done round the clock? In what time do we expect to complete the 14 Strategic Rail Line Projects, given our laid-back work culture and red tape? When will we get serious about defense? We definitely need to seriously introspect.