| | |
| --- | --- |
| | The Author is Former Director General of Information Systems and A Special Forces Veteran, Indian Army |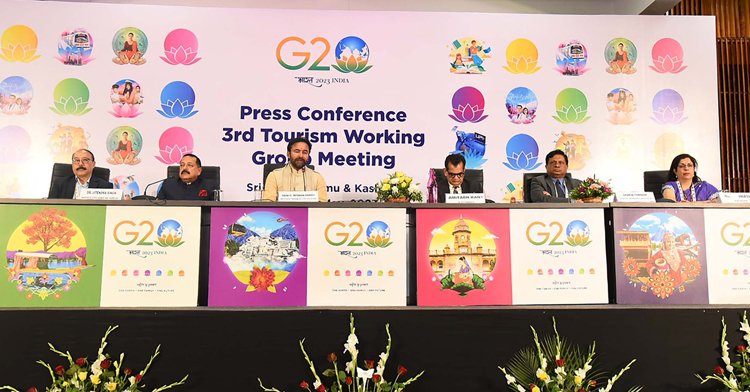 TOURISM MINISTER G. KISHAN REDDY ADDRESSING A PRESS CONFERENCE ON 3RD G20 TOURISM WORKING GROUP MEETING IN SRINAGAR ON MAY 22, 2023.
The third G20 Tourism Working Group Meeting held from May 22 to May 24, 2023 at Srinagar showcased to the world the progress made in the Kashmir Valley especially after the abrogation of Article 370 in August 2019. China had said it would not attend the meeting, with Chinese Foreign Ministry spokesperson Wang Wenbin stating, "China is firmly opposed to holding any kind of G20 meetings in disputed territory, and will not attend such meetings." Attendance by Pakistan, which illegally claims J&K was out of the question and so was radical Turkiye headed by Recep Tayyip Erdogan who has been siding with Pakistan on the Kashmir issue.
However, abstinence by Saudi Arabia, Egypt and Oman was a setback for India, whether we admit it or not. The Egyptian President Abdel Fattah El-Sisi was the Chief Guest at the Republic Day Parade 2023 and India has good relations with Saudi Arabia and Oman. Incidentally, Pakistan had written to all countries of the Organisation of Islamic Cooperation (OIC) to boycott the meeting in Srinagar. The meeting was otherwise successful with as many as 57 foreign delegates from 27 countries participating in the maiden international event in Srinagar after the abrogation of Article 370 on August 5, 2019.
China's opposition and Pakistan's exclusion underscore challenges faced by India in asserting its control over J&K
It is well known that J&K is an integral part of India which was formally ceded to India by the Maharaja of J&K. But Pakistan will continue to illegally claim it and China will continue calling J&K disputed territory, even as China distributed maps during the SCO Summit in Uzbekistan during September 2022, which was also attended by Prime Minister Narendra Modi, showing Arunachal Pradesh and Ladakh part of China and J&K as part of Pakistan. Turkiye and Malaysia would continue to side with Pakistan. The ironical part is that the US-led Anglo-Saxon front (NATO-EU included) will never commit that J&K is integral to India.
All the foreign delegates attending the G20 meet were happy participating in the discussions and moving around in the civil areas – shikara rides in the Dal Lake and shopping for Kashmir handicrafts although under the tightest of security cover. For that matter, India had facilitated the visit by a delegation from the European Parliament to Srinagar in November 2019 who had also enjoyed boat rides in the Dal Lake.
Oscar winning film actor Ram Charan was a special guest at the opening event on 'Film Tourism for Economic Growth and Cultural Preservation'. He had met Union Home Minister Amit Shah at New Delhi earlier and after the Srinagar meeting announced he would make a movie on Savarkar. Since nothing happens in India without a political angle to it, it can be safely assumed that the ruling political party is grooming Ram Charan to contest elections at a future date, if not in 2024, in order to consolidate its foothold in Tamil Nadu.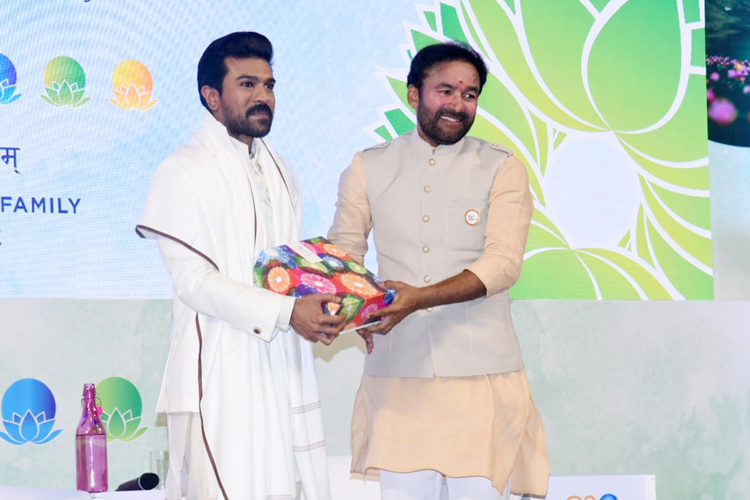 Union Minister for Tourism, Culture and Development of North Eastern Region (DoNER), G. Kishan Reddy felicitates Actor Ram Charan, in Srinagar on May 22, 2023.
Prior to the G20 tourism meet in Srinagar, media reports headlined on May 17, 2023 that the Army had indefinitely postponed the withdrawal of counter-insurgency (CI) forces from the Jammu region. The Army has three division-sized Counter-Insurgent Forces (CIF) in the Jammu region –CIF (D) or Delta Force (which looks after the Doda region), CIF (R) or Romeo Force (looking after Rajouri and Poonch areas) and CIF (U) or Uniform Force (looking after Udhampur and Banihal areas. The news that the Army has indefinitely postponed withdrawal of CI forces from the Jammu region is misleading, in that, the Army does what the government orders it to do; not deploy or pull out formations of its own volition.
The absence of Saudi Arabia, Egypt, and Oman poses setbacks for India's diplomatic efforts
The government perhaps wanted to convey to the international community at the G20 meet that full normalcy has been restored in J&K. But then wishes cannot be horses. Seven civilians were killed in Dhangri village of Rajouri on January 1, 2023; five in terrorist firing in the evening while two minors lost their lives when an improvised explosive device (IED) left behind by the terrorists exploded the next day. On April 20, 2023, five Army personnel were killed when terrorists attacked their vehicle at Bhatta Durrian in Mendhar tehsil of Poonch – they were going to distribute 'Iftar' fruit and sweets to a village during Ramzan.
On May 5, 2023, five Special Forces personnel were killed during a search operation in the thickly wooded Kandi forest in the Rajouri Sector when terrorists triggered an explosive device. But what forced the government to postpone the withdrawal the Army's CI forces from the Jammu region was the intelligence reports that terrorists were planning 26/11 type terrorist attacks coinciding with the G20 tourism meet in Srinagar.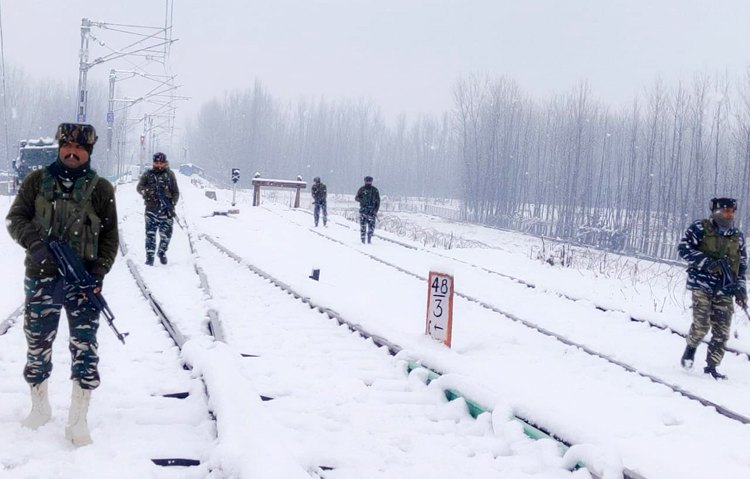 representative image - Kashmir Ops Sector, CRPF
We don't seem to learn lessons from the past. It may be recalled that Pakistan launched the Kargil intrusions in 1999 not only to cut off Siachen and attack it subsequently, but also to relieve the pressure on the Kashmir Valley where terrorists were finding it difficult to operate. As a consequence, 8 Mountain Division was pulled out from the Valley to restore the Line of Control (LoC) and deploy in the Kargil Sector, which gave terrorists in Kashmir Valley better opportunities to operate. Are we going to repeat the same? Already some Rashtriya Rifles troops have been pulled out to augment the standoff with China in Eastern Ladakh.
Successful participation of 57 foreign delegates showcases international interest in the progress of Kashmir and the potential for tourism development
Our policy makers, including the National Security Advisor, think that police forces are as good as the Army and the latter are needed to only man the LoC, the importance and effectiveness of the CI grid behind the troops manning the front, if diluted, would lead to upsurge in terrorism. In the wake of the lack of political will to pay back Pakistan in the same coin, our policy makers fail to understand how easy it is for Pakistan to continue terrorist attacks. On May 29, 2023 terrorists fires and killed one civilian, resident of Udhampur near Janglaat Mandi in Udhampur. Our failure to transport Pakistan's proxy war back across the border only buoys Pakistan's ISI.
What do we have to say about Pakistan's Anti Fascist Front (PAFF) publishing videos of terrorists ambushing the military vehicle killing five Army personnel on April 20 in Poonch and killing another five on May 5 in Kandi forest of Rajouri? Didn't NSA Ajit Doval speaking publicly in Rishikesh last year say that India will take the battle to where the threat originates? So are we waiting for some pundit to forecast an auspicious date?
Finally, it is naïve to think that terrorism can be rooted out completely from a state like J&K bordering Pakistan and the enemy within; pulling out Army's CI forces without sorting out Pakistan implies we have buried our heads in the sand or our politicians want the insurgency and terrorism to continue.