With the decline in India's submarine fleet and China's superior underwater capabilities, there was a need for swift action to bridge the technological gap and maintain regional stability
| | |
| --- | --- |
| | The Author is Former Director General of Information Systems and A Special Forces Veteran, Indian Army |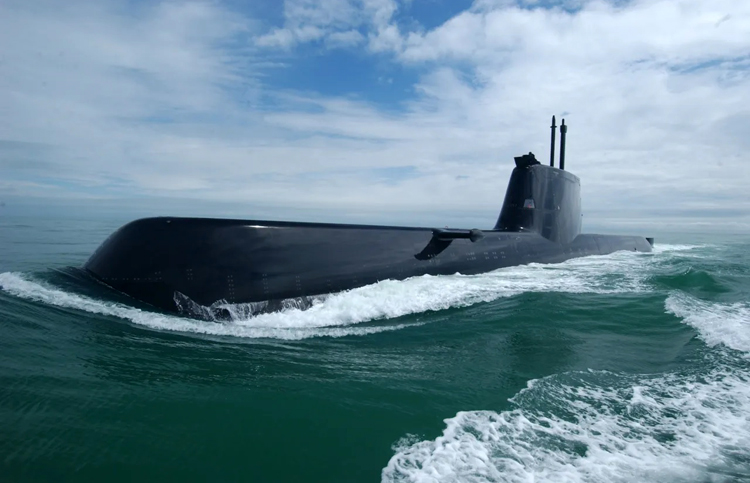 HDW Class 214 Submarine
The Indian Navy's much-delayed submarine programme is finally seeing "some movement" although it is still early days. India had sourced four submarines from Howaldtswerke-Deutsche Werft (HDW) of Germany in the late 1980s. Two of these were put together at MDL in 1992 and 1994 while the other two came from Germany. HDW has since been acquired by Thyssenkrupp Marine Systems (TKMS).
Project-75 was initiated way back in November 2007 and ran into rough weather due to certain specifications required by the Indian Navy including the clause of a proven AIP system. Initially, TKMS from Germany, Navantia from Spain, Daewoo of South Korea, Rosoboronexport/Rubin Design Bureau from Russia and France's Naval Group were in the race. However, the French and Spanish companies withdrew from the race because of the requirement of the AIP system and so did Russia. This left only the Germans and Koreans in the fray though even the Germans then had certain objections to the contractual clause and technical parameters.
Germany's Thyssenkrupp Marine Systems (TKMS) emerges as a strong contender in India's submarine program, supporting the 'Make in India' initiative and emphasising the country's strategic importance in the Indo-Pacific region
During the bilateral meeting with Indian Defence Minister Rajnath Singh, German Federal Minister of Defence Boris Pistorius said that TKMS is keen on bidding for India's submarine project P75 (I) under which six stealth submarines will be built for the Indian Navy following the Strategic Partnership (SP) model of the Ministry of Defence (MoD) that makes it mandatory for foreign equipment makers to tie up with domestic producers. Talking to the media after the meeting, Pistorius said, "We are talking about the six submarines. And the German defence industry, especially the manufacturers, has an excellent reputation. But, of course, there are competitors, and that's no secret. We support the 'Make in India' principle favoured by India. We think that's right." He also said, "This then has to be organised in cooperation between the companies there and the companies here."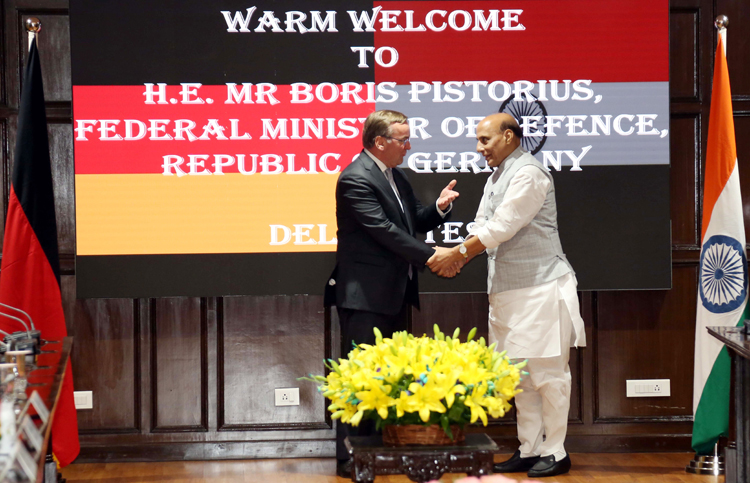 Defence Minister Rajnath Singh in a bilateral meeting with German Federal Minister of Defence, Boris Pistorius, in New Delhi on June 6, 2023.
The ongoing Ukraine war, which in real terms is America's war on Russia using Ukraine as the proxy, coupled with the rapid decline in Sino-US relationship has focused the attention of the US and NATO on India and also try everything to wean India away from Russia. Not only has the German government revised its arms control laws, this is perhaps the reason why earlier reservations of the TKMS in context of the six stealth submarines deal have become irrelevant; intervention by the German government is obvious. Pistorius said Germany intends to treat India in the same manner as it treats its other allies like Japan and Australia. German Chancellor Olof Scholz who visited India in February 2023 had also pushed for Germany to participate in India's Project 75 (I).
Pistorius added that Germany and the European Union (EU) at large, considers India as "the most important strategic partner" in the Indo-Pacific region by saying, "Germany and Europe as a whole, to varying degrees, concentrated too much focus on economic relations with China. There was less of a focus on the political implications, the political developments here in the Indo-Pacific region and also in relation to India and also the reluctance to deliver weapons and other material, for example, meant that India had to keep orienting itself towards Russia." He admitted that it was not the right decision for Germany to not provide adequate defence platforms to India when it was needed. He further said, "But now we find each other and that means in plain language that India is also an important, not to say the most important, strategic partner for Europe and also for Germany. And so we must treat it as such."
Germany's intervention and commitment to treat India as a key ally, akin to Japan and Australia, showcase a shift in global dynamics and the growing focus on countering Russian influence
Defence Minister Rajnath Singh tweeted: "Had fruitful discussions with the German Defence Minister Boris Pistorius. We discussed regional issues and our shared priorities. We also agreed to further strengthen defence co-operation between India & Germany." India has also sought German investments in the two potential defence industrial corridors that are coming up in Uttar Pradesh and Tamil Nadu.
A statement issued by the MoD stated, "The Defence Minister highlighted the opportunities that have opened up in the defence production sector, including the possibilities for German investments in the two Defence Industrial Corridors in Uttar Pradesh and Tamil Nadu." It added, "The Indian defence industry could participate in the supply chains of the German defence industry and add value to the ecosystem, besides contributing to supply chain resilience."
Memorandum of Understanding (MoU) signed between MDL and TKMS
As per the "non-binding and non-financial" Memorandum of Understanding (MoU) signed between MDL and TKMS, TKMS will contribute to engineering and design of the submarines as well as provide consultancy support. MDL will be responsible for constructing and delivering the submarines. Apart from Germany, South Korea and Spain are also competing for India's submarine deal.
Now the question is when would the deal be finalised with extended time given for response to the request for proposal (RFP) and would it become controversial and lead to more delay if South Korea and Spain withdraw and Germany becomes the "single vendor". Moreover, production of the first of these submarines could take anything up to 10 years once the contract is signed and technology is changing rapidly. For example, Japan's Kawasaki Heavy Industries has already handed over the world's first submarine equipped with lithium-ion batteries to the Japanese Navy which can stay underwater for much longer compared to a submarine with lead-acid battery.
Defence Minister Rajnath Singh discussed shared priorities and strengthens defence cooperation between India and Germany, paving the way for German investments in India's defence industrial corridors
'Make in India' has taken off but looking at the developments around us we need to move at a much faster pace. It is no secret that the underwater capabilities of the Indian Navy are much inferior to China which is our number one threat. Why we are far behind China, is also because there are mechanisms within India deliberately causing delays – sometimes referred to as the "Deep State". For example, former Naval Chief Admiral Vishnu Bhagwat had stated a year and half before he was sent home that he would be "sacked" because he had been canvassing for joint submarine production with South Korea, which would have been faster and cheaper, but the deep state wanted the HDW submarines – you know why.
Compared to China operating 65 submarines, the Indian Navy's fleet of attack submarines (all diesel-powered) has come down from 21 in the 1980s to just 16 at present. Only eight are battle-ready at any given time, as half of the fleet undergoes mid-life upgrades and is 30 years old. Pakistan signed a contract with China to construct eight Yuan-class (Type 039-A) conventional AIP-capable submarines at an estimated cost of $5 billion in 2015. Four submarines will be built in China and the remaining at the Karachi Shipyard and Engineering Works Limited, Karachi. The first submarine is expected to be delivered to the Pakistan Navy by end-2023. Pakistan is likely to have all eight submarines in the next decade; most likely before India produces the first of the six stealth submarines under Project 75 (I). This is certainly not a good situation.