Strengthening defence ties and fostering regional cooperation, Indian Army Chief General Manoj Pande's visit to Bangladesh highlights the growing partnership between the two nations
| | |
| --- | --- |
| | The Author is Former Director General of Information Systems and A Special Forces Veteran, Indian Army |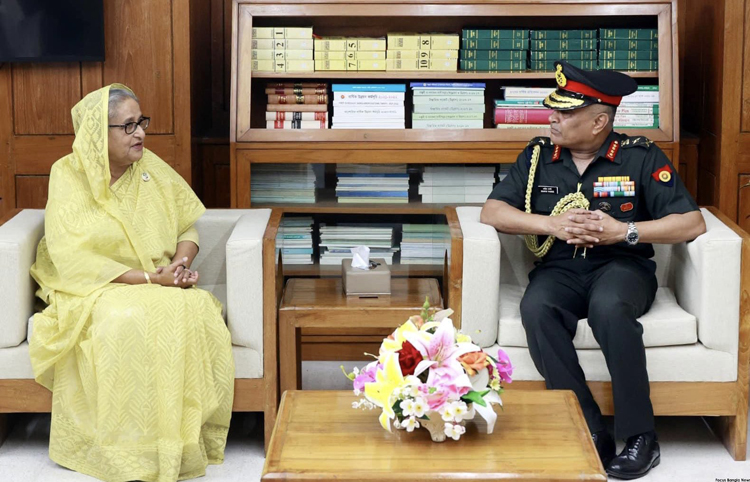 GENERAL MANOJ PANDE, CHIEF OF THE ARMY STAFF OF THE INDIAN ARMY PAID A COURTESY CALL ON PRIME MINISTER OF BANGLADESH SHEIKH HASINA ON JUNE 6, 2023.
Indian Army Chief General Manoj Pande made a two-day visit to Bangladesh in the first week June 2023. This was his second visit to Bangladesh as Army Chief. His first visit was in July 2022 – his very first foreign visit after becoming Chief, which signifies the importance of India-Bangladesh bilateral relations and defence cooperation. Bangladesh is an important partner in India's 'Neighbourhood First' policy. Both countries are cooperating extensively in trade and commerce, power and energy, transport and connectivity, science and technology, defence and security, maritime affairs, climate change and sustainable development, training programmes, joint exercises, and humanitarian assistance and disaster relief (HADR).
Indian Army Chief General Manoj Pande interacted with General S.M. Shafiuddin Ahmed, Chief of Army Staff, Bangladesh Army and discussed aspects of mutual interest.
Defence cooperation between India and Bangladesh has made significant progress in the last few years. The 50th anniversary of Bangladesh's Liberation was in 2021. Two defence agreements were signed between Bangladesh and India during Sheikh Hasina's four-day trip to New Delhi in April 2017. These were the first such pacts inked by India with any of its neighbours. Under these agreements, the militaries of the two countries will conduct joint exercises and training. India will help Bangladesh set up manufacturing and service centres for defence platforms that both countries possess with the aim of achieving self-sufficiency in defence manufacturing in Bangladesh, and will also provide the Bangladesh military with expert training, and technical and logistic support. India also extended its first ever defence-related line of credit to a neighbouring country, by providing Bangladesh with $500 million to purchase defence equipment from India.
Army Chief's visit underscores the significance of India-Bangladesh bilateral relations and defence cooperation, symbolising the "Neighbourhood First" policy
The Bangladesh Chief of Army Staff visited India in April 2023 and reviewed the passing out parade at the Officers Training Academy (OTA) in Chennai. Bilateral events like joint military exercises and frequent visits by senior military officers contribute to enhancing the military-to-military relations between both nations. Through a variety of initiatives, including joint training and drills and defence discussions, the two countries' armed forces have been working together more and more.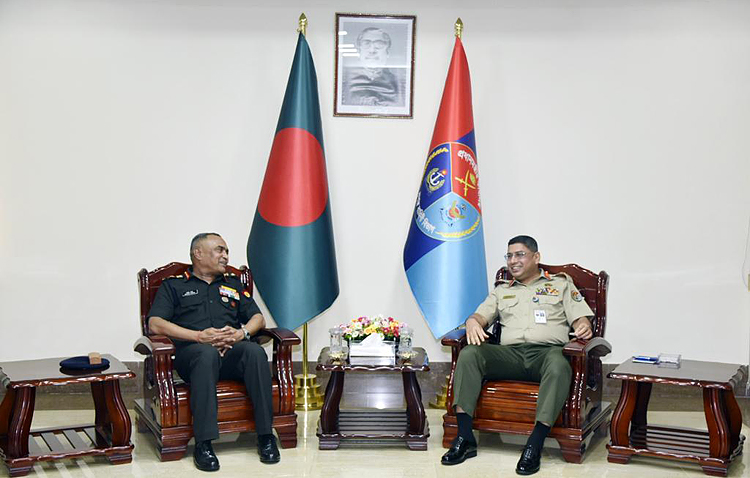 Indian Army Chief General Manoj Pande interacted with Lieutenant General Waker-Uz-Zaman, Principal Staff Officer, Armed Forces Division, Bangladesh.
Both India and Bangladesh have welcomed the initiatives for developing a closer effort to strengthen Maritime Security Partnerships. A Memorandum of Understanding (MoU) related to the establishment of a Coastal Surveillance Radar System in Bangladesh's Chittagong and Mongla Ports has also been inked between India and Bangladesh. Two Indian naval ships, INS 'Kulish' and INS 'Sumedha', made a port call at Bangladesh's Mongla Port in March 2023.
Before his recent visit to Bangladesh, General Pande and Bangladesh's Army Chief General S.M. Shafiuddin Ahmed spoke via video chat to discuss measures for enhancing bilateral defence cooperation. The changing regional landscape due to the US war on Russia using Ukraine as the proxy plus the US-China estrangement and its effect on regional geopolitics and security would have also been discussed between the two Army Chiefs. During his recent visit, General Pande met the senior military leadership of Bangladesh to discuss avenues for further enhancing Indo-Bangladesh defence relations. His engagements included formal interactions with the Chief of Army Staff of the Bangladesh Army General S.M. Shafiuddin Ahmed and the Principal Staff Officer of the Armed Forces Division.
Over the years, defence cooperation between India and Bangladesh has witnessed remarkable progress with landmark agreements, joint exercises and training programmes
General Pande also reviewed the Passing Out Parade (POP) of officer cadets of the 84th 'Long Course' at the Bangladesh Military Academy (BMA) in Chattogram.During the parade, General Pande presented the 'Bangladesh India Friendship Trophy' instituted by India for the Best Foreign Cadet from friendly foreign countries of the passing out course from the BMA.This was the first presentation of the 'Bangladesh India Friendship Trophy' which was awarded to officer cadet Everton of Tanzania who passed out first in order of merit among the foreign cadets. This trophy is in reciprocation to the 'Bangladesh Trophy and Medal' instituted at the Indian Military Academy (IMA), Dehradun in December 2021 for Best Foreign Cadet passing out course.

GENERAL MANOJ PANDE REVIEWED THE PASSING OUT PARADE AT BANGLADESH MILITARY ACADEMY AS CHIEF GUEST.

GENERAL MANOJ PANDE FELICITATED THE AWARD WINNERS AND PIPPED THE YOUNG OFFICERS AFTER THE PASSING OUT PARADE.
Ironically, the US has been pressuring Bangladesh including through sanctions without even discussing with India (the major nation in South Asia) what should be the geopolitical equation in South Asia in order to check China's expansionist designs. The latest volley being fired by the US-led West at Bangladesh is to ensure free and fair elections despite the political mess within the US. The cacophony of the US political elites of a 'Rule Based Order' is nothing but crap looking at the execution on ground which makes it 'Rogue Based'.
America's Joe Biden Administration knows full well that pressuring Bangladesh would imply pushing it towards China. The same has been the effect of US and Western sanctions on Myanmar. Pakistan, Sri Lanka and Nepal are already debt trapped by China. Under the circumstances, continued American pressure on Bangladesh means that the country should go the Myanmar way and India gets surrounded from all sides, leaving India no option but to seek formal alliance with the US to save itself and/or face death and destruction like Ukraine fighting China as the US-NATO proxy.


GENERAL MANOJ PANDE AT BANGLADESH MILITARY ACADEMY APPRECIATING THE EFFORTS OF THE ACADEMY IN GROOMING FUTURE LEADERS OF BANGLADESH ARMY.
Henry Kissinger once said, "it may be dangerous to be America's enemy, but to be America's friend is fatal." But much before Kissinger, Harry Truman as a senator in 1940 said, "If we see that Germany is winning, we ought to help Russia and if Russia is winning, we ought to help Germany and that way let them kill as many as possible." American policy is to use and throw nations but it is in India's interest that the Sheikh Hasina government continues in power to ensure stability in South Asia.
Efforts to establish self-sufficiency in defence manufacturing and strengthen maritime security partnerships further exemplify the strides made in defence cooperation between the two countries
Both India and Bangladesh are members of SAARC, BIMSTEC and IORA. Since the visit of Indian Prime Minister Narendra Modi to Bangladesh in 2015 and reciprocal visit of Prime Minister Sheikh Hasina to India in 2017, the notable developments that have taken places include resolution of long-pending land and maritime boundaries asserting the issue of enclaves, conclusion of over ninety instruments comprising in the hi-tech areas like electronics, cyber-security, space, information technology, and civil nuclear energy plus increase in bilateral trade. December 6 is celebrated as Friendship Day by India and Bangladesh commemorating India's recognition of Bangladesh and the continued friendship between the two countries.