US-India Joint Statement on Terrorism is in contrast to US' historical support and current alliances with terror groups
| | |
| --- | --- |
| | The Author is Former Director General of Information Systems and A Special Forces Veteran, Indian Army |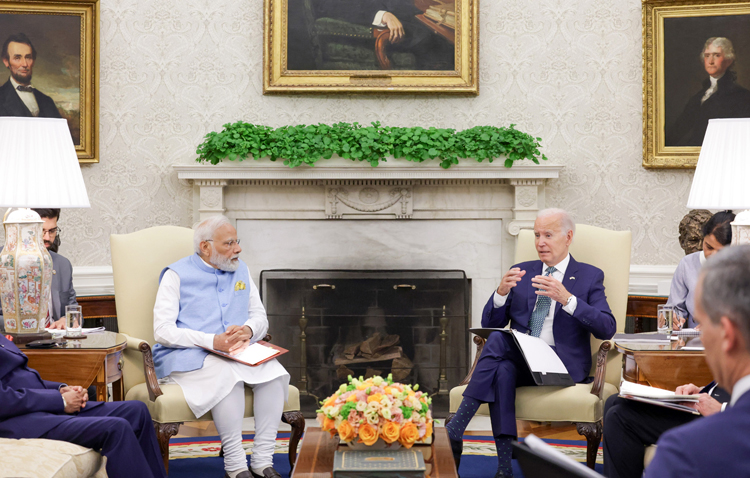 Prime Minister Narendra Modi in a bilateral meeting with the President of USA, Joe Biden at White House, in Washington DC on June 22, 2023.
During his recent state visit to the US, Prime Minister Narendra Modi interacted with military and strategic experts from several leading US-based think tanks to discuss geopolitics, global economic situation and "terrorism". There is no elaboration in the media about these discussions. However, the Indo-US joint statement released by White House on June 22, 2023 post meeting between PM Modi and US President Joe Biden talked of:
Condemnation of terrorism and violent extremism in all its forms and manifestations.
Call for concerted action against all UN-listed terrorist groups including Al-Qaeda, ISIS/Daesh, LeT, JeM and Hizb-ul-Mujhahideen
Condemnation of cross-border terrorism and use of terrorist proxies calling on Pakistan to take immediate action to ensure territory under its control is not used for launching terrorist attacks.
Callon perpetrators of the 26/11 Mumbai and Pathankot attacks to be brought to justice.
Concern over increasing use of UAVs, drones and ICT for terrorism.
Bilateral cooperation on counterterrorism designations, homeland security, intelligence sharing and law enforcement.
Call on the Financial Action Task Force (FATF) to improve global implementation of standards to combat money laundering and financing terrorism.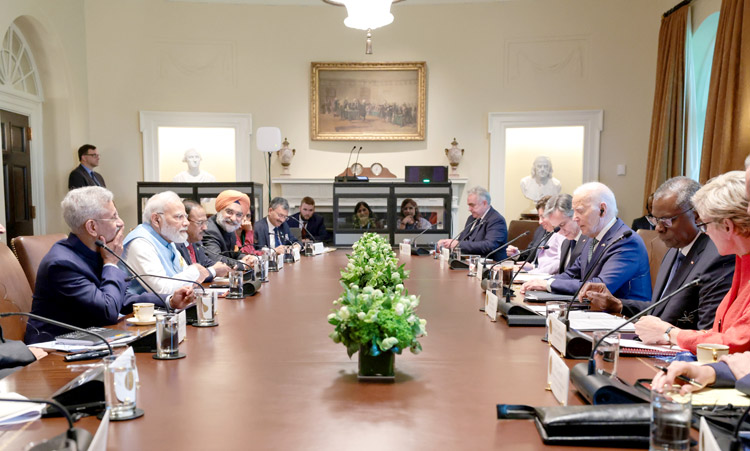 Prime Minister Narendra Modi and the President of USA, Joe Biden at the Expanded Bilateral Meeting in White House, Washington DC on June 22, 2023.
But the irony is that whatever the US says about terrorism, including the above utterances by US President Joe Biden, America's demonstrated conduct has been the opposite. The US at various times in history provided support to terrorist and extremist organisations around the world. It has also provided assistance to numerous authoritarian regimes that have used state terrorism as a tool of repression and proxy war on neighbours.
The joint statement emphasises a unified stance against terrorism in all its forms, calling for action against UN-listed terrorist groups, cross-border terrorism, and the use of UAVs and drones for terrorism.
American support to terrorist organisations has been prominent in Latin America, the Middle East and Pakistan in South Asia. From 1981 to 1991, the US provided weapons, training, and extensive financial and logistical support to the Contra rebels in Nicaragua, who used terror tactics in their fight against the Nicaraguan government. At various points the US also provided training, arms, and funds to terrorists among Cuban exiles. Support was often geared toward ensuring a conducive environment for American corporate interests abroad, especially when these interests came under threat from democratic governments.
Prime Minister Narendra Modi interacting with various think tank experts at New York, in USA on June 20, 2023.
In South Asia, the US chose Pakistan, which is the epicenter of terrorism, as its partner for the so-called Global War on Terrorism (GWOT), The US helped Pakistan raise, arm and train the Mujahideen (who later became Taliban) to oust the Soviets from Afghanistan. During its invasion of Afghanistan in 2001, the US permitted a division worth of Pakistan Army regulars and Pakistan Taliban to be air evacuated from inside Afghanistan.
As for the Middle East, the US supported arming and training of the Islamic State (IS) in Turkey under British and American instructors to attack Iraq-Syria in 2012-2014. The establishment of a brigade-worth of Islamic State of Khorasan Province (ISKP) by Pakistan at Peshawar in 2016 and pushing them into Afghanistan was also with full knowledge of the US. America has been inducting IS cadres into northern Afghanistan through Pakistan.
The US and India pledge to enhance collaboration on counterterrorism designations, homeland security, intelligence sharing, and law enforcement, highlighting their commitment to combating terrorism.
There is evidence that the US has been using IS, Al Qaeda and Pakistan-based terrorists to further its national interests. These are but few examples of how the US promotes and uses terrorism. In 2015, William Blum, US historian who had also served in the US State Department wrote, "Since 1945, US has tried to overthrow more than 50 governments, many of them democratically elected; grossly interfered in 30 countries; bombed the civilian population of 30 countries; interfered in elections in 30 countries; used chemical and biological weapons; and attempted to assassinate foreign leaders. In many cases Britain has been a collaborator".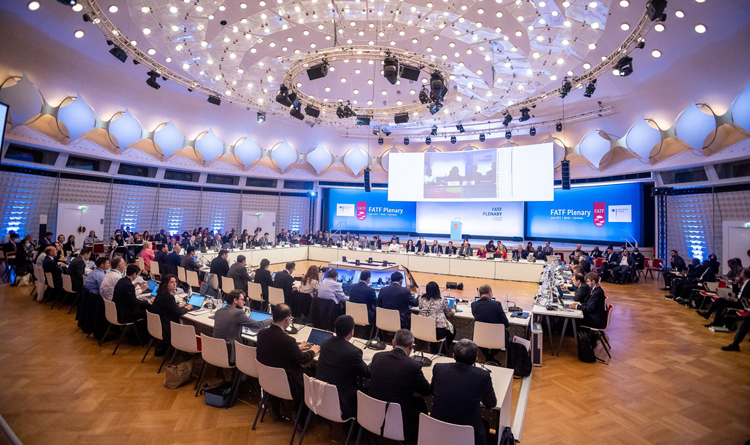 (FILE PHOTO) FATF PLENARY AND WORKING GROUP MEETING - OECD HEADQUARTERS, PARIS.
President Joe Biden's administration is trying to build the narrative that US policy towards Pakistan has changed, which is untrue. The US and Britain continue to side with Pakistan. Pakistan has been providing proxy boots for the West for many years and currently Britain is supplying artillery ammunition to Ukraine procured from Pakistan. When the US supports India in calling for perpetrators of the 26/11 Mumbai and Pathankot attacks to be brought to justice, it is aware that little will happen. It is also obvious that taking off Pakistan from its 'Grey List' by the Financial Action Task Force (FATF) was with the blessings of America. Where the US supports India's move to get the UN to brand a Pakistani "terrorist", it knows very well that China will veto it. Same goes for the noise about supporting India for permanent membership of the UNSC – will China ever permit it?
Despite the US and UK's claims of a shift in policy, their continued support for Pakistan, viewed as a counterbalance to India's rise, raises questions about the sincerity of their anti-terrorism stance.
As of January 2023, about 150 terrorists entities and individuals, either based or linked to Pakistan have been blacklisted by the UN, with the latest edition of Abdur Rehman Makki, the Lashkar-e-Taiba (LeT) Deputy Chief designated by the UN Security Council's 1267 ISIL (Da'esh) and Al Qaeda Sanctions Committee on January 16, 2023, subjecting him to assets freeze, travel ban and arms embargo. Designated terrorists anyway are accorded royal treatment in Pakistan. The US has also designated some Pakistanis as "terrorists", placed a bounty on their head as well, but never acted to take them out even though some made public appearances to address gatherings of radicals.

SECRETARY OF DEFENSE LLOYD J. AUSTIN III HOSTS THE THEN PAKISTANI ARMY CHIEF OF STAFF GENERAL QAMAR JAVED BAJWA, DURING A BILATERAL EXCHANGE AT THE PENTAGON IN WASHINGTON, D.C., OCTOBER 4, 2022.
Despite the US forces rout from Afghanistan in August 2021 largely because of Pakistan's support to the Taliban, The UK has invited former Pakistani Army Chief General Qamar Javed Bajwa as the Chief Guest at the passing out parade at of the Royal Military Academy at Sandhurst and the US also hosted him for a week in October 2022 where the US and Pakistan signed a deal worth $450 million to repair Pakistan's ageing fleet of F-16 fighter jets. The bottom line is that the US and the UK consider and support Pakistan as a counter to India's rise and that is not going to change.