Indian Army faces complex encounter with Insurgent Forces and Women-led Resistance in Manipur
| | |
| --- | --- |
| | The Author is Former Director General of Information Systems and A Special Forces Veteran, Indian Army |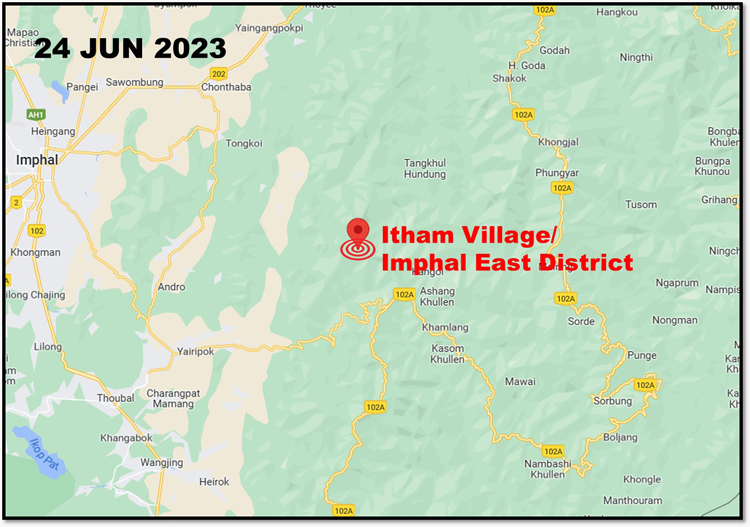 Operations in Itham Village in Imphal East District
The Indian Army suffered a major setback on June 24, 2023 while undertaking counter insurgency operations in East Imphal. An elaborate tweet by Army's Spear Corps on the same day stated the following:
"Acting on specific intelligence, operation was launched in Village Itham (06 km East of Andro) in Imphal East by Security Forces today morning. Specific search after laying cordon was undertaken to avoid hardships to other locals in the area. In the ensuing operation, 12 KYKL cadres were apprehended alongwith arms, ammunition and War like stores.
Positive Identification of Self Styled Lt Col Moirangthem Tamba alias Uttam (Mastermind of 6 DOGRA ambush case of 2015) amongst the 12 apprehended cadres was done.
The Indian Army launched a targeted operation in East Imphal, apprehending 12 KYKL cadres, including the mastermind of a deadly 2015 ambush
Mob of approximately 1200-1500 led by women & the local leader immediately surrounded the target area and prevented Security Forces from going ahead with the operation. Repeated appeals to the aggressive mob to let the Security Forces carry on with operation as per law did not yield any positive result.
Keeping in view the sensitivity of use of kinetic force against large irate mob led by women and likely casualties due to such action, considered decision was taken to hand over all 12 cadres to local leader. Own Columns lifted the cordon and left the area with weapons and War Like Stores recovered from insurgents.
Mature decision on part of Operational Commander shows humane face of the Indian Army to avoid any collateral damage during the ongoing unrest in Manipur.
#IndianArmy appeals to the people of Manipur to assist the Security Forces in maintaining law and order to bring peace and stability."
A challenging aspect of the operation was the emergence of a large mob, predominantly led by women, that surrounded the target area, preventing the security forces from proceeding
The Army's tweet is self-explanatory, giving an account of what happened on ground. But it is reprehensible that self-styled Lt Col Moirangthem Tamba alias Uttam, the mastermind of the KYKL (Kanglei Yawol Kanna Lup) terrorist ambush on a convoy of 6 DOGRA on June 4, 2015, killing 18 personnel of the unit could get away despite being nabbed. View this in backdrop of our cries at the UN and international forums for bringing to justice Pakistani terrorists and perpetrators for terror attacks in India and China vetoing them being labeled 'terrorists'. Was this women-led mob lesser terrorists? The KYKL are Meitei terrorists and Indian Special Forces were launched to raid their camp inside Myanmar after the 6 DOGRA ambush in 2015. Is all this happening without the knowledge of the state government?

29 weapons (mostly automatic), mortar, hand grenades, ammunition & warlike stores were recovered by Security Forces during Joint Combing Operations in Manipur on June 7, 2023.
This will now become the modus operandi of the terrorists in Manipur (and elsewhere); use the women as the shield in front or hide under their skirts. Earlier media reports had said a mob of about 1,000 people attempting to burn down buildings near the palace compound on the night of June 16 was dispersed by the RAF firing tear gas shells. Another mob was reported near Manipur University - large numbers of attackers, including women, in military-style fatigue and khaki dresses and carrying "sophisticated weapons" reached Kwakta in Bishnupur district on trucks and LMVs; displaying their firearms, machetes, daggers, and improvised incendiary items openly.
This decision aimed to avoid collateral damage and demonstrated the humane face of the Indian Army during the ongoing unrest in Manipur.
Manipur has the history of using women as front. These women even shed all their clothes when protesting for removal of AFSPA in the past with obvious political support, photographs of which appeared in the media. Is this the Indian culture these Hindu women are parading to the world with not a word from politicians? With women now successfully blockading roads in Manipur, why has the Centre not dispatched women units of the CAPF to Manipur even as the media says marching contingents in Republic Day Parade 2024 will be all women or women-led? Why has the Chief Minister not asked for them and what about IPS officer Rajiv Singh, new DGP of Manipur who was earlier IG in CRPF? If they cannot even deal with women-led road block in Manipur, what combat situations can they be used in?


COMBING OPERATIONS CONTINUED FOR SECOND STRAIGHT DAY ON JUNE 8, 2023. FOCUS REMAINED ON INTELLIGENCE BASED SEARCHES OF VILLAGES IN VALLEY & HILL AREAS.
Army in Manipur is in aid of civil authority but the practice of a magistrate accompanying military columns was dispensed with by Indian Governments long back because it is "convenient" for politicians. The judiciary is also happy because magistrates are saved the physical exertion of accompanying Army columns. There is little chance of the Supreme Court taking suo moto notice of the serious situation developing in Manipur. Instead, the judiciary would be waiting to take up human rights pleas against the Army, should the opportunity arrive.
The overall situation in Manipur calls for a political solution and highlights the need for comprehensive measures to address ethnic rivalries and growing terrorism in the region
Finally, the Manipur crisis requires a political solution urgently with terrorism having been superimposed over the Meitei-Kuki ethnic rivalry. However, looking at the political skullduggery and the vote bank considerations, the crisis in all probability will be allowed to linger on no matter how much it worsens. The Army will remain the suckers and left on its own to devise ways to deal with such new situations.