Unraveling China's new Border Law and Foreign Relations Law and its expanding national security ambitions on the global stage
| | |
| --- | --- |
| | The Author is Former Director General of Information Systems and A Special Forces Veteran, Indian Army |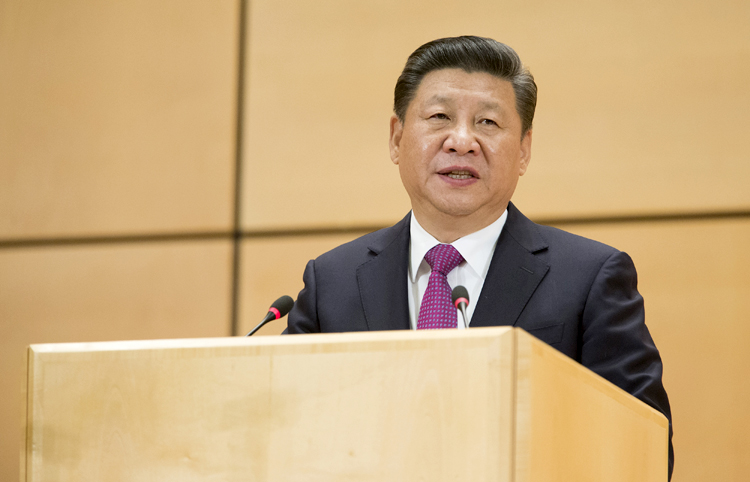 Chinese President Xi Jinping
China's New Border Law, which came into effect on January 1, 2022, was devised to primarily target India. Beijing already had Pakistan in its pocket and has drawn Nepal and Myanmar into its strategic sphere. With its comparative military and economic might, it is also set to coax Bhutan to join its club. Notably, this law was proposed 'after' the 2020 Chinese aggression in Eastern Ladakh during April-May 2020.
The Border Law states: "The PRCs sovereignty and territorial integrity is inviolable and the state shall take measures to safeguard them." This very clearly relates to all illegal territorial claims that China has in foreign countries – maximum in India. The Border Law established a legal framework for the PLA, the People's Armed Police (PAP) and border defence units to counter invasion, infiltration, encroachment or provocation across the land border.
China's New Border Law targets India while expanding its influence over neighboring countries like Nepal and Myanmar, with Bhutan potentially being the next target
The Border Law also demanded China to speed up construction of civilian and border infrastructure. But even before this law, Beijing was developing civil-military infrastructure in 112 border towns and improving road-rail connectivity to these border villages. In June 2021, China operationalised its first fully electrified bullet train connecting Lhasa with Nyingchi close to the border with Arunachal Pradesh. China has also built new dual-use militarised border villages (two in Arunachal and four in Bhutan), for settling Han Chinese and PLA cadres, which also act as electronic warfare and air defence stations.
Responding to China's New Border Law, the Ministry of External Affairs (MEA) had issued a statement saying, "China's unilateral decision to bring about legislation which can have implications on our existing bilateral arrangements on border management as well as on the boundary question is of concern to us. Such unilateral move will have no bearing on the arrangements that both sides have already reached earlier, whether it is on the boundary question or for maintaining peace and tranquility along the LAC in India-China border areas. We also expect that China will avoid undertaking action under the pretext of this law which could unilaterally alter the situation in the India-China border areas."
Now China's Foreign Relations Law (FRL), effective July 1, 2023, is directed towards "the right to take, as called for, measures to counter or take restrictive measures against acts that endanger its sovereignty, national security and development interests". It also asserts that China supports a multi-polar world order, and wants to "maintain and practice multilateralism; and participate in the reform and construction of the global governance system".
The Border Law establishes a legal basis for China's territorial claims and allows the PLA and border defense units to counter any perceived threats along its borders
The FRL provides Beijing a legal weapon to penalise countries and companies which do not respect its domestic sovereignty and policies. According to Chinese media, it will help challenge the rising foreign intervention in Chinese domestic politics, and the Western hegemony, especially the sanctions. It will also help Beijing use domestic laws to counter the international sanctions and provocations, and policies that counter China's national interests.
The FRL gives total power for foreign policy formulation in the hands of Chinese President Xi Jinping and China's Central Foreign Affairs Commission (CFAC) chaired by Xi. Director of the CFAC is Wang Yi, former foreign minister. China had already enacted an Anti-Sanctions Law in 2021 but Chinese scholars view the FRL as a tool with Xi Jinping to challenge the actions by the US to checkmate China's rise.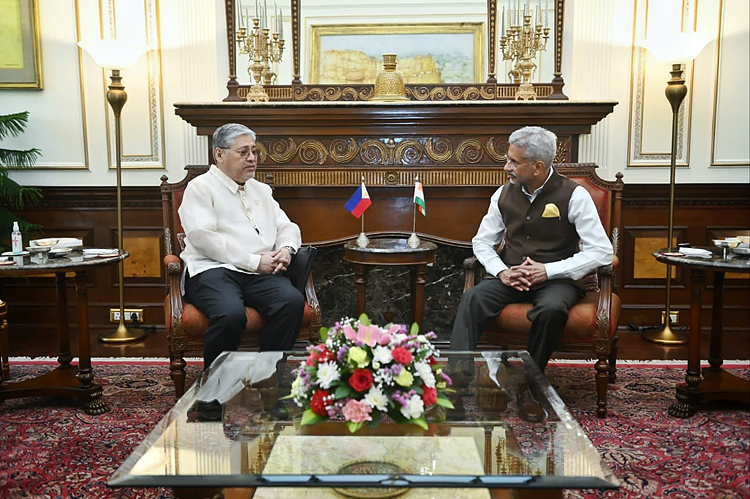 FOREIGN MINISTER DR. S. JAISHANKAR WITH Philippines' Foreign Minister Enrique Manalo in New Delhi, June 2023
China views India in the US camp whether we acknowledge it or not and China is also critical of India being part of the Quad. Recently, External Affairs Minister S. Jaishankar asked Beijing to abide by the 2016 ruling by UNCLOS, which has ruled in favour of Manila over the South China Sea territorial dispute. Jaishankar asserted this in the joint statement he issued during the visit of Philippines' Foreign Minister Enrique Manalo's to New Delhi in June 2023. With changes in the global equations, like the Indo-Pacific, and QUAD, the challenges before Xi are mounting. US President Joe Biden referring to Xi as a "dictator" negatively impacted the already tense US-China relations.
US Secretary of State, Antony Blinken visited China recently and said that the US needs to 'de-risk' from China and not 'de-couple'. CIA Director William Burns reiterated this during a talk later in England by saying, "The answer to that is not to decouple from an economy like China's, which would be foolish, but to sensibly de-risk and diversify by securing resilient supply chains, protecting our technological edge and investing in industrial capacity."
The impossibility of the US economically 'de-coupling' from China is well known. But viewed from the Chinese side, 'de-risking' and 'de-coupling' is only a play of semantics because the issue is 'sanctions' plus other actions which China perceives is to curb its rise, irrespective of whether it is justified under 'de-linking' or any other terminology.
China's newly enacted Foreign Relations Law empowers President Xi Jinping and the Central Foreign Affairs Commission to penalise countries and companies challenging its sovereignty and domestic policies
China has been practicing 'Legal Warfare' over the past decades by 'fabricating' and building evidence to justify its illegal territorial claims. The new Border Law is a mischievous adjunct to China's 'Legal Warfare'. The Border Law legitimizes China's sovereignty over its illegal claims. China anyway breaks every agreement and follows it up with another agreement only to be violated at a future date – a never ending cycle.
Just before the visit of US Treasury Secretary Janet Yellen to Beijing, China announced export controls on metals used in semiconductors, which is "just a start" according to a Chinese trade policy advisor. Such controls in all or part items imported by India could be imposed on the whims and fancies of China. According to 'Money Control', towards the end of Quarter 1 of 2023, Chinese exports to India rose to $98.5, which accounted for a 4.16 increase in imports for China.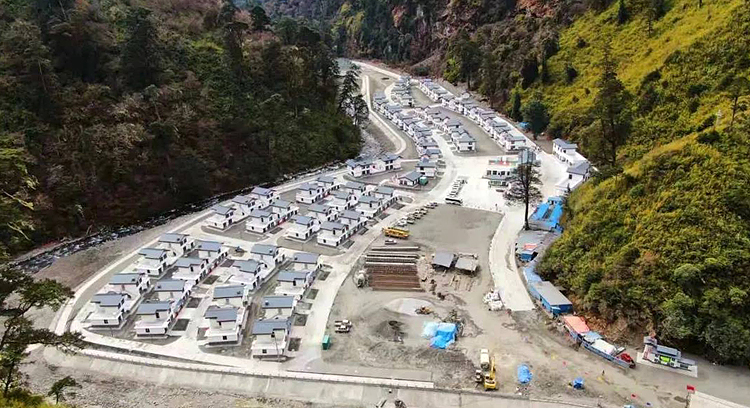 An image of the Chinese village that has reportedly been built in Arunachal Pradesh territory
But above is not the only concern that India should have with respect to the FRL even though the impression being created is that this is to safeguard the economic rise of China. However, reading through the text it becomes more than evident that the main focus is on 'national security'. This implies that China can also use the FRL in its foreign relations by "manufacturing" a reason that may or may not be linked to economy. The FRL, therefore, should be seen in conjunction with China's New Border Law and Border Villages.