Leaders of SCO nations gather to foster connectivity, address security concerns, and pave the way for future growth
| | |
| --- | --- |
| | The Author is Former Director General of Information Systems and A Special Forces Veteran, Indian Army |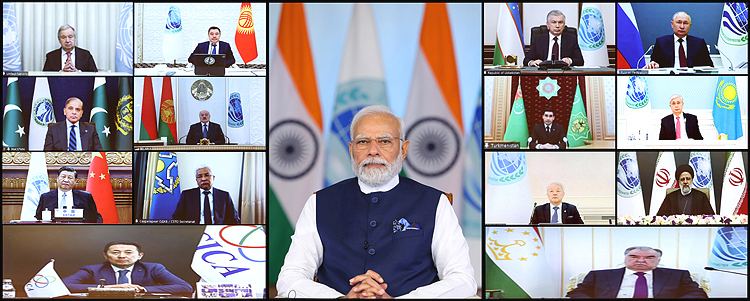 Prime Minister Narendra Modi at Shanghai Cooperation Organisation (SCO) Summit via video conferencing on July 4, 2023.
India hosted the virtual Shanghai Cooperation Organisation (SCO) Summit virtually on July 4, 2023. The summit, chaired by Prime Minister Narendra Modi was joined by Chinese President Xi Jinping, Russian President Vladimir Putin, Pakistan Prime Minister Shehbaz Sharif and other leaders of the grouping. The SCO comprises China, India, Russia, Pakistan, Kazakhstan, Kyrgyzstan, Pakistan, Tajikistan and Uzbekistan. Decision has been taken to admit Iran as an SCO member state as soon as the procedure for admission is completed.
In his opening remarks at the summit, Prime Minister Modi said, "Strong connectivity is crucial for the progress of any region. Better connectivity not only enhances mutual trade but also fosters mutual trust. However, in these efforts, it is essential to uphold the basic principles of the SCO charter, particularly respecting the sovereignty and regional integrity of the member states." Modi also called for avoiding double standards in addressing counter-terrorism efforts in an apparent dig at Pakistan and China.
Prime Minister Narendra Modi addressing at SCO Summit via video conferencing on July 4, 2023.
In the virtual SCO Summit, Prime Minister Modi emphasised the importance of strong connectivity to boost trade and build mutual trust while upholding the principles of the SCO charter
Xi Jinping warned against external attempts to foment a new "Cold War" in the region and called on SCO member states to safeguard regional peace and ensure common security by cracking down on terrorism through joint operations. In a veiled criticism of the US, Xi called for opposing hegemonism and power politics and making the system of global governance fairer and more equitable. Xi underscored efforts to uphold multilateralism and improve global governance, adding that sustaining peace and security in this region is SCOs common responsibility.
Xi also spoke of the need to upgrade SCO security cooperation and continue to conduct joint operations; cracking down hard on the forces of terrorism, separatism and extremism like the 'East Turkistan' elements, drug trafficking, and cyber and transnational organised crimes. Xi urged moving faster to strengthen mechanisms for law enforcement and security cooperation, and expand cooperation in the non-traditional security fields, including digital, biological and outer space security.
Xi said SCO states should continue to utilise platforms like the mechanism of coordination and cooperation among Afghanistan's neighbours; stepping up strategic communication and coordination, bridge differences through dialogue, and replace competition with cooperation, respect each other's core interests and major concerns, and support each other for development and rejuvenation. He proposed SCO to scale up local currency settlement between member states, expand cooperation on sovereign digital currency, and promote the establishment of an SCO development bank.
Chinese President Xi Jinping urged SCO member states to crack down on terrorism through joint operations and guard against external attempts to foment a new "Cold War" in the region
India once again effused to endorse China's Belt and Road Initiative (BRI) in the declaration issued at the end of the summit since the China-Pakistan Economic Corridor (CPEC), which is part of the BRI, enters and passes through Gilgit-Baltistan in Pakistan occupied Kashmir (POK) - Indian Territory. However, other SCO members (Russia, Pakistan, Kazakhstan, Kyrgyzstan, Pakistan, Tajikistan and Uzbekistan) reaffirmed their support to the BRI; the statement issued at the end of the summit also noted the ongoing work to jointly implement this project, including efforts to link the construction of the Eurasian Economic Union and BRI.
Highlights of the declaration included the following:
Implementation of the roadmap for gradual increase in the share of national currencies in mutual settlements by the interested member states.
Member states considered it important to ensure implementation of the 'SCO Economic Development Strategy 2030' adopted by 'interested member states' and projects aimed at promoting cooperation in areas of digital economy, high technology and modernisation of existing international routes for road and rail transport, multimodal transport corridors and logistics centres, finance and investment, energy and food security, reliable, resilient and diversified supply chains and industrial cooperation.
Broadening and deepening cooperation for sustainable socio-economic development and to improve the well-being and living standards of the people in the SCO region.
The formation of a "more representative" and multi-polar world order is in the global interest.
Early settlement of the situation in Afghanistan being one of the most important factors of preservation and strengthening of safety and stability within the SCO region, building Afghanistan as an independent, neutral, united, democratic and peaceful state, free from terrorism, war and drugs is important.
A joint communiqué 'New Delhi Declaration' and joint statements were part of the SCO Summit. However, the SCO is plagued with serious difference as under notwithstanding the smiles and bonhomie displayed at the virtual summit:
Commitment by member states lacks with regard to "mutual respect for sovereignty, independence, territorial integrity of states, equality, mutual benefit, non-interference in internal affairs, and non-use of force or threats to use force".
China flouts all the above principles, including in its relations with India, with which it is locked in a military standoff since April-May 2023.
Pakistan continues to be in illegal occupation of Indian Territory and continues exporting terrorism to India and elsewhere.
China supports Pakistan in the UNSC 1267 committee proceedings as well as shielding Pakistan-based terror outfits. Counter-terrorism issues have been diluted in the SCO to India's disadvantage.
Pakistan block India's land bridge to Central Asia although India has the alternative through Iran's Chabahar Port and the International North-South International Corridor (INSTC).
In absence of a common currency for SCO, bilateral trade does not work out between trading nations using each other's currency. As a result, India is now paying Russia for energy imports in the Chinese Yuan –much to the glee of Beijing.
India perceives Central Asia as the "core" of SCO but China and Russia have far more influence in that region, than India. China held a summit meeting with the Central Asian Republics (CAR) in May 2023.
China has been wary of expanding India-US relations. The joint statement issued by White House during PM Modi's recent visit to the US Modi and US President Joe Biden affirmed a vision of the United States and India as among the "closest partners in the world". Now there is news that the US is to establish logistics hubs for South Asia in Indian ports. This would harden China's stance towards India further.
The SCO leaders emphasised the importance of a 'more representative' and multi-polar world order, promoting global cooperation and sustainable socio-economic development
According to Russia's RT, the Russian Government has confirmed that Brazil, Russia, India, China & South Africa, (BRICS) will introduce a new trading currency backed by gold and the official announcement is expected to be made during the BRICS summit in August in South Africa. SCO should also adopt the something similar rather than promoting the Chinese Yuan.
Finally, SCO faces a fragile peace among its members. India's decision to host the 23rd SCO Summit virtually on July 4 was perhaps for the same reason – particularly the China-Pakistan anti India nexus. However, SCO represents 40 per cent of the world's population and a third of its GDP primarily due to China and India. With Iran joining as member state, the organisation is set to grow. Hopefully, genuine commitment, cooperation and respect for each other's sovereignty will mature in times to follow.