Geographical proximity to major drug-producing regions like the Golden Triangle and Golden Crescent makes India susceptible to drug trafficking and narco-terrorism with the Northeastern states, particularly Manipur, being severely impacted
| | |
| --- | --- |
| | The Author is former Chief of Staff of a frontline Corps in the North East and a former helicopter pilot. He earlier headed the China & neighbourhood desk at the Defence Intelligence Agency. He retired in July 2020 and held the appointment of Addl DG Information Systems at Army HQ. |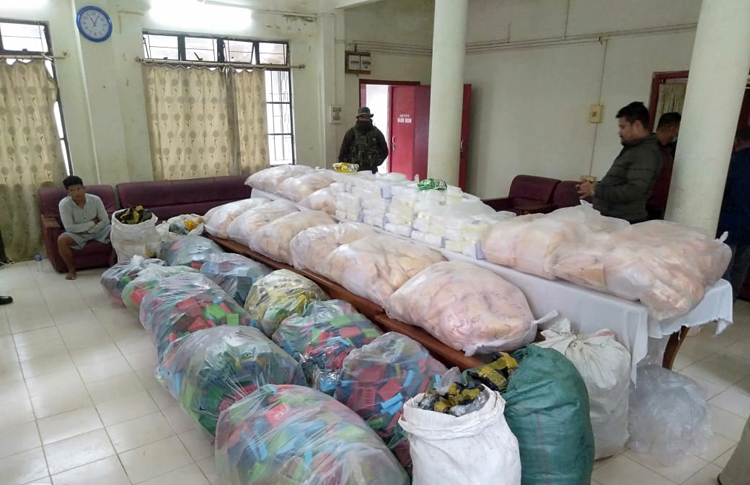 NARCOTICS WORTH OVER 500 CRORES SEIZED BY ASSAM RIFLES IN MANIPUR
Fuelled by the '60s counter-culture, the 1970s saw a marked use in cocaine consumption and now fifty years down the line, the heady romantism of those smoke-filled ecstasy parties are gone. Societies across the world are staring at a horrendous drug addiction problem. Films like 'Udta Punjab' graphically portray the crisis faced by the society and its youth with regard to the drug menace. While the film highlighted the drug menace in one sensitive border state, the rest of the country can by no means be complacent.Drug trade is truly an international one leading to the common saying, "opium is harvested in Lebanon, cocaine manufactured in Latin America and the addict is located in New York or France". The estimate of global drug trade is of the order of $400 billion contributed by Heroin - $100-110 billion, Cocaine $110-130 billion, Cannabis $75 billion and synthetic drugs $60 billion.
Terrorism and Drug Cartels
It was only a matter of time that drug cartels and terrorist groups joined hands. Both benefit from the destabilisation of society that spurs the growth of terrorism and drug trafficking. Terrorism requires a lot of money and more often than not they are funded by drug trafficking operations. Not surprisingly, major opium/cannabis cultivation areas of the world are also home to terrorist organisations like the Lashkar-e-Taiba, Jaish-e-Mohammed, Al Badr & Hizbul Mujahideen, ULFA, Naxalites and Maoist.
The convergence of drug cartels and terrorist groups has led to mutual benefits, with drug trafficking funding terrorism and destabilising societies
Proximity to the largest producers of heroin and hashish, namely the Golden Triangle (Thailand-Laos – Myanmar) and Golden Crescent (Afghanistan-Pakistan-Iran) makes Indiaextremely vulnerable to drug trafficking.Heroin and hashish produced in the 'Golden Crescent' region are trafficked into India through the border states of Gujarat, Rajasthan, Punjab and Jammu and Kashmir. Sea routes are also used opening more avenues. In March 2021, a Sri Lankan boat carrying 300 kgs of heroin worth 3000 crores, 5 AK-47 guns and ammunition was intercepted off the Kerala coast. Investigations suggested massive presence of ISI sponsored narco-terrorism in Sri Lanka. Later that year, in September 2021, nearly three tonnes of heroin - reportedly worth around 21,000 crores was seized in a major operation at Mundra port in Gujarat. The shipment originated in Afghanistan, where it was declared as talc stones and was shipped to Gujarat's Mundra port from Iran. Another 56 kgs cocaine worth 500 crores was found in another container in May 2022 at the same port.
India on the Drug Trade Route
Nearly 95 per cent of the total opium produced in the Golden Triangle region is produced in Myanmar. A significant amount of these drugs enters India along the poorly guarded India-Myanmar border through Mizoram, Manipur, and Nagaland. As a result, the menace of drug addiction has spread fast among the youths of Northeast India. This narco-terrorism is a major source of finance for the Indian terrorist groups based in Myanmar, unscrupulous politicians, other rentiers and has umbilical cord linkages with other players in the Golden Triangle.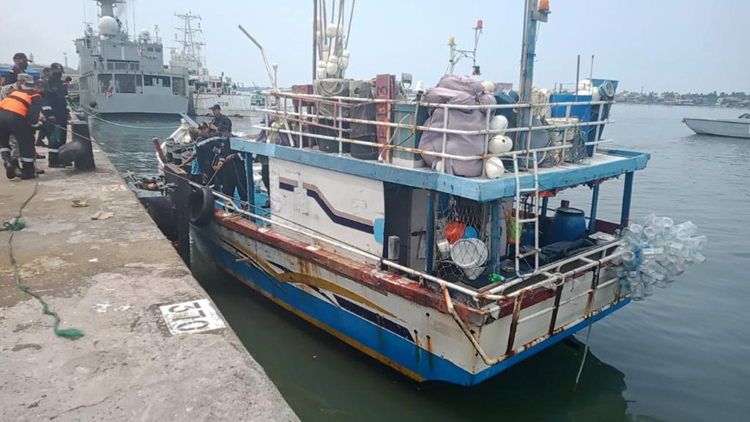 Sri Lankan Boat transporting 337 kgs Heroin intercepted
Manipur has particularly been most severely impacted as it became a source and not just a route of international drug trafficking network. The extended nationwide Covid lockdowns starting March 2020, and Myanmar plunging back into chaos and lawlessness since the February 2021 military coup helped spread this new poppy cultivation culture. Kuki-Chin migrants from Myanmar are being facilitated to illegally migrate and settle in the hills which are exclusive preserve of Kukis, protected as they are by obscure land rights that deny the majority Meitei's from buying tribal land.
Challenges in the War on Drugs
In order to take the menace head on, the Manipur governmentlaunched a campaign targeting poppy farming since 2017. The government claims to have destroyed more than 18,600 acres of poppy farms, the majority of them in Kuki-inhabited areas. In tandem, drugs worth 500 crore comprised of 54 kg brown sugar and 154 kg Methamphetamine were seized by Assam Rifles in the border town of Moreh in December 2021. Taken together with seizures by the Narcotics Control Bureau, drugs worth over 1750 crores have been captured dealing a severe blow to the cartels. Combined with steps to survey and evict illegal encroachment in protected reserve forest areas, it spells long term trouble for the immigrant Chin-Kuki narco-terrorist groups. It is another matter it is being coloured with ethnic (Kuki versus Meitei) and communal (Christian versus Vaishnavism) angles by vested interests.
Despite the ongoing campaigns against drug cartels, the battle is far from over. Socio-political factors and international agendas often hinder the fight against this global menace.
Campaigns against drug cartels have always been violent and engulfs entire societies. More than 2,60,000 people died from violence during six decades of guerrilla conflict in Colombia which ebbed only after a peace deal with the Revolutionary Armed Forces of Colombia (FARC) in 2016. FARC was deeply involved incocaine production from 1978 to 1999 owing to the incredible profitability of the illicit trade. But interestingly, the Taliban's decision to ban opium poppy in Afghanistan in April 2022, which accounts for about 80 percent of the world's supply of opium, has not been welcomed in Europe. It appears that fear of more refugees is taking precedence over fighting the drug menace.
Drug menace eats into the core of societies and severely impacts its youth. Globally, some 35 million people are estimated to suffer from drug use disorders. India should stay its course in its war on drugs notwithstanding attempts to derail the campaign by giving it political and communal overtones by the likes of the EU parliament or the US State Department that harbour different agendas.