Pakistan integrates advanced Tughril class frigates from China, signaling growing military ties and a strategic shift in nuclear deterrence
| | |
| --- | --- |
| | The Author is Former Director General of Information Systems and A Special Forces Veteran, Indian Army |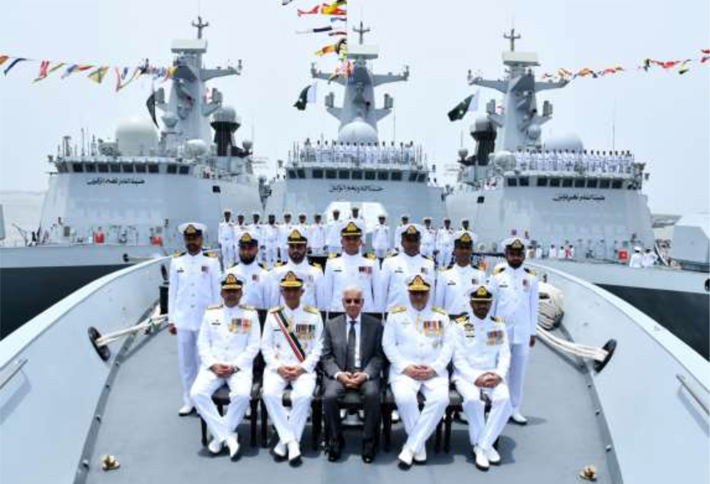 Federal Minister for Defence Khawaja Muhammad Asif in a group photo with Chief of the Naval Staff Admiral Muhammad Amjad Khan Niazi and Ship's crew during induction ceremony of PNS SHAH JAHAN & TIPU SULTAN
News reports of July 20, 2023 reveal that the Pakistan Navy has formally integrated two China-built Tughril class frigates into its surface fleet - PNS 'Tipu Sultan' (FF-263) and PNS 'Shah Jahan' (FFG-264). The Tughril class frigates have the capacity to carry 1 x Harbin Z-9EC aircraft, equipped with a CM-501GA land-attack missile. The aviation facilities include a flight deck and an enclosed helicopter hangar capable of accommodating the Harbin Z-9 or the Kamov Ka-27 helicopter.
The armament for anti-air warfare includes LY-80N surface-to-air missiles. For anti-surface warfare, the frigate utilises 4 CM-302 anti-ship missiles, and for anti-submarine warfare, she carries 2 Type 87 anti-submarine rocket launchers and 2 Yu-7 anti-submarine torpedo launchers. The ship's guns comprise one 76mm H/PJ-26 naval gun and two Type 1130 CIWS. It also carries 2 Type 726-4 decoy-launchers for decoys.
A frigate in this class displaces 4,200 tonnes (4,100 long tonnes) and measures 134 meters (439 feet, 8 inches) in length, with a beam of 16 meters (52 feet 6 inches). The propulsion system operates on a CODAD arrangement, utilising four Shaanxi 16 PA6 STC diesel engines, each generating 5700 kW. This allows the vessel to reach a speed of 27 knots (50 km/h; 31 mph) and offers a range of 8,025 nautical miles (14,862 km; 9,235 miles). The ship's complement is 165.
The formal integration of PNS 'Tipu Sultan' and PNS 'Shah Jahan' enhances Pakistan's naval capabilities, equipped with advanced weaponry and sensors
In terms of sensors and processing systems, the ship is equipped with an array of radar systems including SR2410C AESA radar, Type 517 (SUR17B) VHF air-search radar, Type 344 fire-control radar for SSM, and four MR-90 Front Dome systems for SAM. The vessel also has MR-36A surface-surveillance radar, Type 347G fire-control radar for the H/PJ-26 naval gun, and two Racal RM-1290 I Band navigation radars. The sonar systems include the MGK-335 medium frequency active/passive sonar system and the H/SJG-206 towed array sonar.
Communication systems feature the ZKJ-5 combat data-system (developed from Thomson-CSF TAVITAC), the HN-900 data link (Chinese equivalent of Link 11), SNTI-240 SATCOM, and AKD5000S Ku-band SATCOM. For electronic warfare and decoys, the ship utilises the Type 922-1 radar warning receiver (RWR), HZ-100 ECM/ELINT system, and the Kashtan-3 missile jamming system.
Federal Minister for Defence Khawaja Muhammad Asif handing over Ship's Scroll to Commander Pakistan Fleet during induction ceremony of PNS SHAH JAHAN & TIPU SULTAN
Earlier on May 10, 2023, China delivered two more Type 054A/P naval frigates to the Pakistan Navy in addition to the two delivered earlier, completing the order for four ships. A joint delivery and commissioning ceremony for the two frigates was held in the Hudong Zhonghua Shipyard in Shanghai.
Speaking at the ceremony, Pakistan Navy Chief Admiral M.A.K. Niazi said, "The Type 054A/P is one of the latest multi-role frigates of Chinese origin, equipped with state-of-the-art weapons and sensors that include CM-302 surface-to-surface missiles and LY-80 surface-to-air missiles as well as Advanced Anti-Submarine Warfare suite and Combat Management System, enabling ships of this class to operate under multi-threat scenarios. The Type 054A/Ps are being integrated into Pakistan Navy operations, and will be a mainstay of the Pakistan Navy Fleet in the coming years, ensuring the seaward defence and protection of Pakistan's vital sea lines of communication." India's Chief of the Naval Staff, Admiral Hari Kumar, had stated in April 2023 that the Pakistan Navy is modernising at a good pace and seeks to become a 50-platform force in 10-15 years, and they are adding new corvettes and frigates to their fleet.
Amidst growing naval strength, Pakistan aims to become a 50-platform force, adding new corvettes and frigates to its fleet
The China-Pakistan military bonds remain very strong. Meeting Pakistani Army Chief General Asim Munir in Beijing on April 28, 2023, Wang Yi, who was China's erstwhile foreign minister and now Director of the Office of the Foreign Affairs Commission (OFAC) of the Communist Party of China (CPC), has categorically stated that despite the magnitude of Pakistan's ongoing domestic crisis, Beijing stands firmly behind Pakistan's sovereignty, territorial integrity, stability and unity. Following the recent sacking of China's foreign minister Qin Gang, Wang Yi is back as China's foreign minister. The People's Liberation Army's (PLA) senior leadership as well as the Central Military Commission (CMC), do not view the present crisis as affecting the bilateral relationship. China is, therefore, set to project power into the Indian Ocean using the Pakistani coast as well.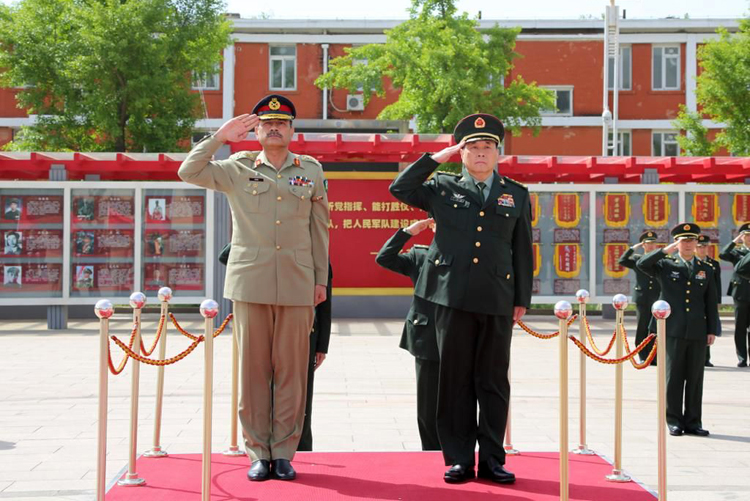 PAKISTAN'S ARMY CHIEF GENERAL ASIM MUNIR ON HIS FIRST DAY OF OFFICIAL VISIT TO CHINA WAS GIVEN A WARM WELCOME AND WAS PRESENTED WITH THE GUARD OF HONOUR AT THE PLA ARMY HEADQUARTERS.
Concurrently, there is news that Pakistan is set to change its nuclear strategy. Speaking on the occasion of the 25th anniversary of Pakistan's nuclear tests on May 28, 2023 (celebrated annually as 'Youm-i-Takbeer' in Pakistan), Lt General Khalid Kidwai reiterated Pakistan's nuclear deterrence strategy; describing ongoing efforts to ensure "full spectrum deterrence" (FSD), supported by a nuclear triad of land, air, and sea-based capabilities.
Kidwai went on to describe the 'horizontal' and 'vertical' dimensions of FSD; the 'horizontal' comprising a robust tri-services inventory of a variety of nuclear weapons, and 'vertical' encapsulating adequate range of its vectors from "zero meters to 2,750 km –having destructive yields suited for strategic, operational, and tactical levels." He argued that such an arsenal is needed to blunt the conventional asymmetry with India.
Lt General Khalid Kidwai has reiterated Pakistan's nuclear deterrence strategy announcing 'full spectrum deterrence,' indicating possible deployment of tactical nuclear weapons at sea
Kidwai is former head of the Strategic Plans Division, which administers all policies and strategies regarding Pakistan's nuclear and missile programs. He is also adviser to Pakistan's National Command Authority. His statement indicates that Pakistan has not only developed tactical nuclear weapons (TNW), which was suspected since the past several years, but may have also deployed them, including at sea.
Pakistan's nuclear strategy earlier was presumed to be that it would use nuclear weapons on its own territory in the event of an Indian offensive reaching areas considered critical by Islamabad. But the deployment of TNWs changes that concept completely. It is not only a dangerous development because of Pakistan's political instability and radicalisation of its army, but also "miscalculations" in firing off a TNW would trigger a nuclear exchange and escalation beyond.
US scholars have been saying over the past several years that China could use TNWs to invade India for capturing territory and resources because India would not respond similarly for fear of massive Chinese retaliation. There is speculation that the change in nuclear strategy of Pakistan is on advice from China. But it could well be as suggested by the US or rather the CIA and MI-6. The logic used may be that even if Pakistan uses an odd TNW, India's political dispensation would hesitate to retaliate, despite its declared policy of massive retaliation, for fear of the Pakistan-China nexus and Chinese reaction in the event of damage to the China-Pakistan Economic Corridor.