Artificial Intelligence is shaping our world with remarkable innovations, but its rise sparks debates on job displacement and the urgent need for safety measures
| | |
| --- | --- |
| | The Author is Former Director General of Information Systems and A Special Forces Veteran, Indian Army |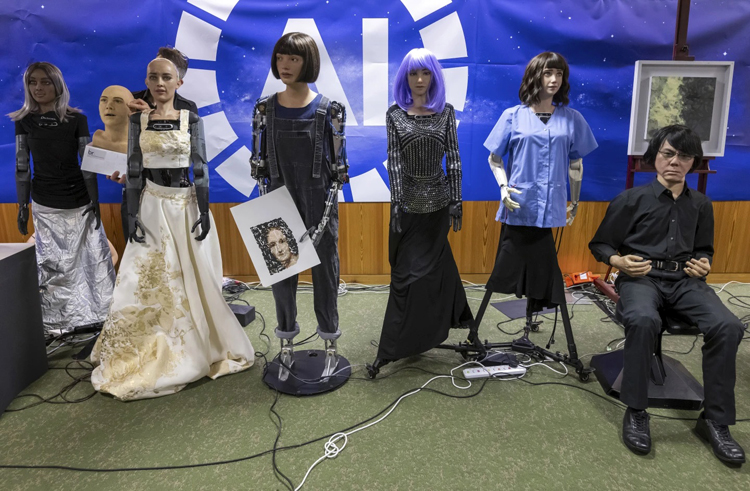 'AI For Good' conference at United Nations
Artificial Intelligence (AI) is dominating the global discourse in every field, be it military systems, civil, education, banking, health care and medical imaging analysis, farming, manufacturing, production, inventory management, autonomous vehicles and many more. Generative AI systems or algorithms that can generate content such as text, images, video, audio, and code have transformed the way we imagine the educational landscape. At the same time AI is already linked to layoffs in the industry that crated it. In May 2023, Chicago-headquartered firm 'Challenger, Gray & Christmas' announced the laying off 3,900 people citing AI. Dukaan, a Bengaluru-based startup, has recently laid off over 90 per cent of its customer support staff, replacing its entire technical support team with AI chatbots.
The US Army is seeking AI help for continuous, real-time predictive visualisation of enemy actions, spurred by fears that human analysts won't be able to keep up with complex warfare. The project 'Real-Time Threat Forecasting', for which request for information (RFI) has been issued, wants the system to predict what the enemy will do just minutes before the enemy actually does it and continuously update that forecast as adversaries change tactics. Among the system requirements is the ability to run feasible software on a standard laptop and take advantage of emerging AI and or machine learning (ML) technologies. The RFI states that the US foresees a "hyperactive" battlefield buzzing with "robotics and autonomous systems, loitering intelligent munitions, thousands of semi-autonomous entities, short-range point defences, AI/ML-enabled multi-INT deceptions, small, distributed Soldier-Machine Teams, and self-organising intelligence networks.
AI is disrupting Industries and transforming various sectors, leading to job losses in some industries while propelling the news media into the era of robotic news anchors
The Indian Army has received the 'patent' for its AI-based 'Accident Prevention System'. Developed in-house by the Army, the system will save lives by alerting drivers falling asleep or feeling drowsy while driving. A significant development in India's immediate neighbourhood is that Pakistan has launched the 'World's First AI TV Talk Show' (https://youtu.be/N2-ZGnTfNnc). This will be used by the Pakistan army and the ISI to boost their capabilities for waging information warfare by weaponising this avenue, also using fifth columnists to target India. India will need to institute requisite counter measures and examine how AI can assist and boost our own information warfare capabilities.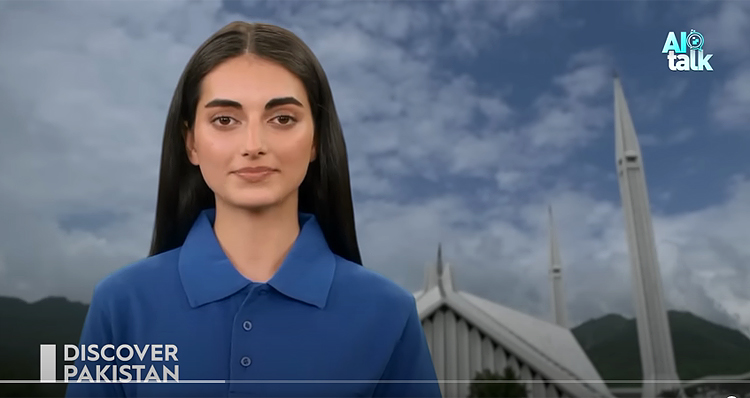 Pakistan has launched the 'World's First AI TV Talk Show'
For more than a decade, well-known tech products like Apple's 'Siri' have used speech recognition technology to react to comparatively straightforward human inquiries. However, the 2022 launch of ChatGPT, a chatbot with a profound grasp of the semantics and syntax of human language, has sparked a global discussion concerning the rapid development of AI systems.
On July 7, 2023, the United Nations International Telecommunication Union (ITU) assembled a group of nine robots, physically resembling humans, at a news conference in Geneva and invited reporters to ask them questions. The humanoid robots included 'Sophia' (first robot innovation ambassador for the UN Development Program – UNDP), 'Grace' (described as a healthcare robot), 'Desdemona' (a rock star robot) and two 'Geminoid' and 'Nadine' resembling their makers. The aim of the event was to demonstrate the potential applications of robotics for the UN's sustainable development goals and their potential drawbacks as also to demonstrate "human-machine collaboration."
UN's groundbreaking event where humanoid robots were showcased as Ambassadors for sustainable development goals, raising questions about the future of human-robot collaboration
The robots' companions/designers gave introductions at the media event, and reporters then asked the robots a series of questions. Some of the robots could respond in a predetermined way, per their documentation. According to the company's website, the UNDP's Sophia occasionally uses written responses created by a team of writers at Hanson Robotics. Separately, 'Grace' (health care robot) also spoke to 'Al Jazeera' in a live interview. All the robots made bold claims that they might be more effective leaders than humans but wouldn't steal anyone's job or start a revolution. However, the organisers didn't say how much of the responses were planned or programmed by humans.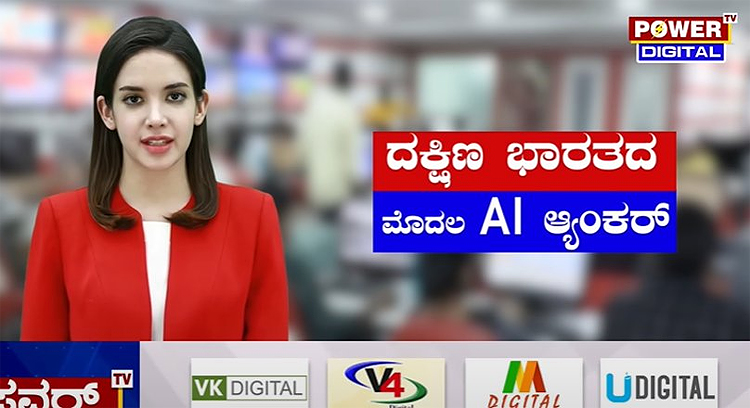 AI Robot 'Soundarya' – news anchor
On July 20, 2023, Kannada channel 'Power TV' launched South India's first AI news anchor 'Soundarya'. Soundarya stated, "AI is leaving its footprint in every industry, and the TV news industry is no different. Robot anchors have already taken North Indian news channels by storm and a few of my counterparts have created a stir. Now, South India will get its first robot news anchor through Power TV. I am Soundarya".
AI has become the buzzword in the news industry since the arrival of 'Sana', the first AI news anchor rolled out by the India Today group for the Aaj Tak news channel in March 2023. In April, the Malayalam news channel MediaOne TV also unveiled a male AI news anchor 'Evan'. OTV, an Odia news channel recently introduced their AI news presenter 'Lisa'. Lisa is able to present the news both in Odia and English effortlessly. However, all these AI news anchors are mainly dealing with short news bulletins and sometimes the voiceovers recorded by human journalists are lip-synced by the AI presenter.
US Army's ambitious project is to use AI in predicting enemy actions on the hyperactive battlefield, and the challenges they face in integrating AI into their operations
Circulating on social media is a post that talks of an 'Artificial woman, made in China' released into the Chinese market. The AI robot called 'HOORI' can speak any language with 99 per cent accuracy and work for 72 hours without interruption on a single charge. The market price is quoted as 2,00,000 + tax. The post further says that the company is planning to launch this robot in India to target youth.
The above post could be fake, or if such a robot is marketed, it may not be Chinese-origin. At the same time, all types of tactics will be employed by our enemies to harm us. There have been a series of cases of Indian officials being honey-trapped on-line or through physical contact – from bureaucrats to government employees to military personnel, including the recent case of a scientist who passed on missiles, drones and robotics secrets in exchange for some nude photographs. HOORI-type robots as companions at home can be programmed to extract information consistently, as also undertake assassinations when required. Ironically, one has yet to hear of any instance of a Pakistani (leave aside Chinese) honey trapped by our external or internal intelligence agencies.
Finally, the dangers of AI going rogue persist and foolproof countermeasures may take long or never be found, looking at the pace of AI development. Despite safeguards, there would be rogue developers, leading to robots going rogue consequentially or even independently.