President Wickremesinghe's Historic Visit Seals New Agreements and Vision for the Future
| | |
| --- | --- |
| | The Author is Former Director General of Information Systems and A Special Forces Veteran, Indian Army |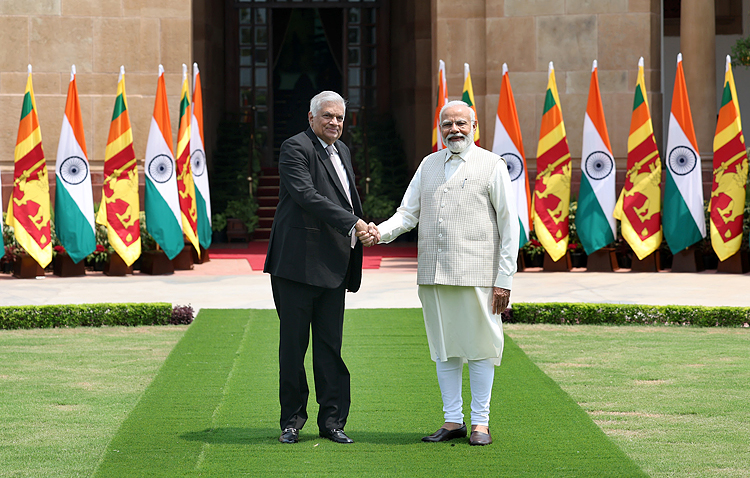 PRIME MINISTER NARENDRA MODI WELCOMES PRESIDENT OF SRI LANKA, RANIL WICKREMESINGHE, IN NEW DELHI ON JULY 21, 2023.
Sri Lanka President Ranil Wickremesinghe arrived in New Delhi on July 20, 2023, for an official visit on invitation by Prime Minister Narendra Modi. This was his first foreign visit since assuming the Presidency last year after an economic meltdown forced his predecessor to flee the country. 2023 marks the 76th year of India-Sri Lanka bilateral relations – the Ministry of External Affairs (MEA) had earlier said that India will be adopting a neighbourhood first policy for its bilateral relations this year onwards, with heavy focus on Sri Lanka.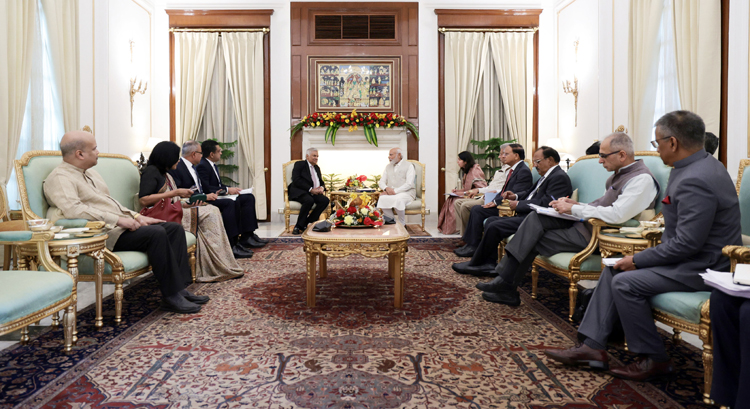 PRIME MINISTER MODI IN A BILATERAL MEETING WITH PRESIDENT WICKREMESINGHE, ON JULY 21, 2023.
During his visit, President Wickremesinghe called on President Droupadi Murmu, met External Affairs Minister S. Jaishankar and on July 21 held delegation level wide ranging discussions with Prime Minister Modi. The discussions included an oil pipeline and ferry connectivity, UPI, trade-in rupee, a possible land bridge and increased air connectivity and other issues. Prime Minister Modi said, "Today we have adopted a vision document for our Economic Partnership. This vision is to strengthen the Maritime, Air, Energy and people-to-people connectivity between the people of both countries. The vision is to accelerate mutual cooperation in tourism, power, trade, higher education and skill development. This is the vision - of India's long-term commitment towards Sri Lanka."
President Wickremesinghe's first foreign visit since assuming office marks the 76th year of India-Sri Lanka relations
Modi also said, "We hope that Sri Lankan government will fulfill aspirations of the Tamils as this would drive the process of equality, justice and peace and fulfil the commitment to the 13th Amendment and conduct the Provincial Council Elections." The Tamil community in Sri Lanka has been demanding the implementation of the 13th Amendment that provides for devolution of power to it. The 13th Amendment had been brought in after the Indo-Sri Lankan agreement of 1987.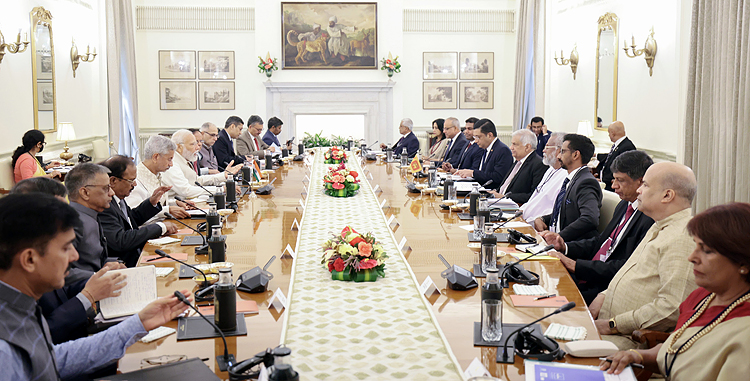 PRIME MINISTER MODI AND PRESIDENT WICKREMESINGHE ATTEND DELEGATION LEVEL TALKS AT HYDERABAD HOUSE, IN NEW DELHI.
President Wickremesinghe said, "My visit to India has provided an opportunity to review our bilateral relationship, leverage the strength of geographical and civilisational links, reinforced trust and confidence for our future prosperity in the modern world." Prime Minister Modi conveyed to President Wickremesinghe India's expectations from Colombo to fulfill aspirations of the Tamils in Sri Lanka and ensure a life of respect and dignity for it. He also sought humane approach from Sri Lanka over conflicts involving Sri Lanka's Navy and fishermen from Tamil Nadu.
Both countries signed agreements on maritime connectivity, air connectivity, energy, power connectivity, and trade and financial cooperation
While talks on the Economic and Technological Cooperation Agreement (ETCA) are to begin soon, the two leaders spoke about enhancing air connectivity and beginning a passenger ferry service between Nagapattinam in Tamil Nadu and Kankesanthurai in Sri Lanka. Modi said, "We have decided that the work of connecting the electricity grids between the two countries will be expedited. The feasibility study will be done for the petroleum pipeline between India and Sri Lanka. Apart from this, it was also decided to check the feasibility of a land bridge. Fintech connectivity will also increase with the agreement signed today to launch UPI in Sri Lanka."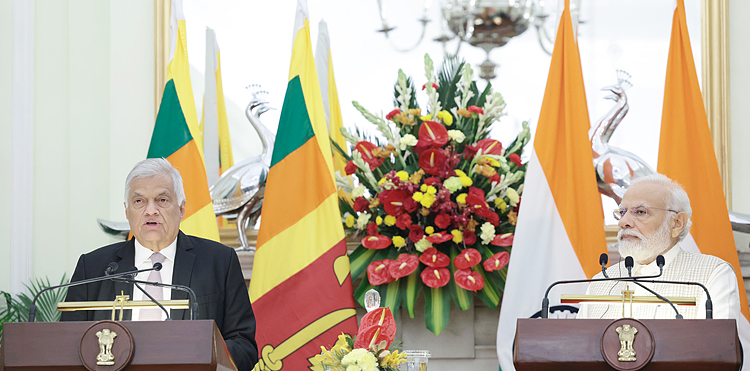 PRIME MINISTER NARENDRA MODI AND PRESIDENT RANIL WICKREMESINGHE AT THE JOINT PRESS MEET ON JULY 21, 2023.
Agreements between the two nations included the following:
Maritime Connectivity

. Cooperation in developing ports and logistics infrastructure at Colombo, Trincomalee and Kankesanthurai to consolidate regional logistics and shipping. Resumption of Nagapattinam-Kankesanthurai passenger ferry services and work towards early resumption of Rameshwaram-Talaimannar passenger ferry and other mutually agreed places.

Air Connectivity

. Extend Jaffna-Chennai flights to Colombo and as well as explore connectivity between Chennai and Trincomalee, Batticaloa and other destinations in Sri Lanka. Encourage and strengthen investment and cooperation in civil aviation, including augmentation of airport infrastructure at Palaly.

Energy and Power Connectivity

. Cooperation in developing renewable energy would develop Sri Lanka's significant renewable energy potential, including offshore wind and solar, enabling Sri Lanka to achieve its target of generating 70 per cent of power requirements from renewable energy sources by 2030. Establish a high-capacity power grid interconnection between India and Sri Lanka to enable bidirectional electricity trade between Sri Lanka and other regional countries. Expedite implementation of the understanding reached on the Sampur Solar power project and LNG infrastructure. Cooperation in construction of a multi-product petroleum pipeline from India to Sri Lanka.

Trade, Economic and Financial Connectivity

. Facilitate mutual investments through, inter alia, policy consistency, promoting ease of doing business and fair treatment of each other's investors. Undertake discussions on the Economic and Technology Cooperation Agreement. INR designated as currency for trade settlements between the two countries - UPI-based digital payments.

People-to-people Connectivity

. Popularise India's Buddhist circuit and Ramayana trail, explore cooperation between educational institutions, expand cooperation between research and academic institutes in all areas. Establish land connectivity between Sri Lanka and India.
Prime Minister Modi tweeted: "Glad to welcome President Wickremesinghe. I congratulate him on completing a year in office and working for Sri Lanka's progress with great courage. Sri Lanka is key to our 'Neighbourhood First' and 'SAGAR' efforts and thus, we discussed ways to deepen bilateral ties." In another tweet, he stated: "The issue of our hardworking fishermen also featured in the talks with President Wickremesinghe. Both of us concur that this issue must be approached in a manner that is humane and compassionate."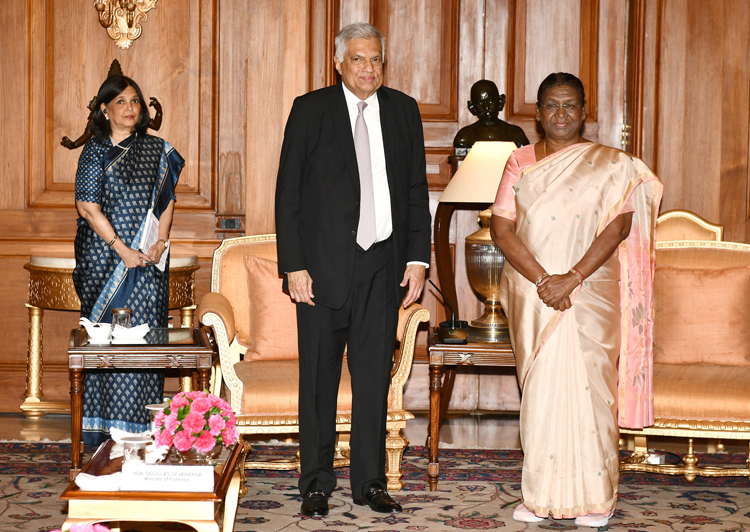 PRESIDENT OF SRI LANKA, RANIL WICKREMESINGHE CALLS ON THE PRESIDENT OF INDIA, DROUPADI MURMU AT RASHTRAPATI BHAVAN ON JULY 21, 2023.
Since assuming the Presidency last year, President Wickremesinghe is battling the economic crisis with Sri Lanka defaulting on its foreign debt for the first time. India provided critical financial and humanitarian assistance worth over $4 billion to Sri Lanka, including food, medicine and fuel, aimed at injecting much-needed stability as Sri Lanka battled outstanding total debt of over $83 billion, of which $41.5 billion was foreign. India was also the first creditor to extend a letter of support towards Sri Lanka's debt restructuring efforts that helped kick-start support from the International Monetary Fund (IMF), leading to a $3 billion IMF package to Sri Lanka in March.
Prime Minister Modi emphasised the importance of fulfilling the aspirations of the Tamil community in Sri Lanka to drive equality, justice, and peace
Sri Lanka is India's largest trade partner in South Asia. India in turn is Sri Lanka's largest trade partner globally. Trade between the two countries grew rapidly after the entry into force of the India-Sri Lanka Free Trade Agreement in March 2000. As per official figures, India's overall trade volume in 2021 was $5.4 billion – an increase of 48 per cent from 2020. Tamil nationals have been natives of Sri Lanka for over 200 years. India has earmarked 75 crore for projects that cater to the development programmes of the Tamil community.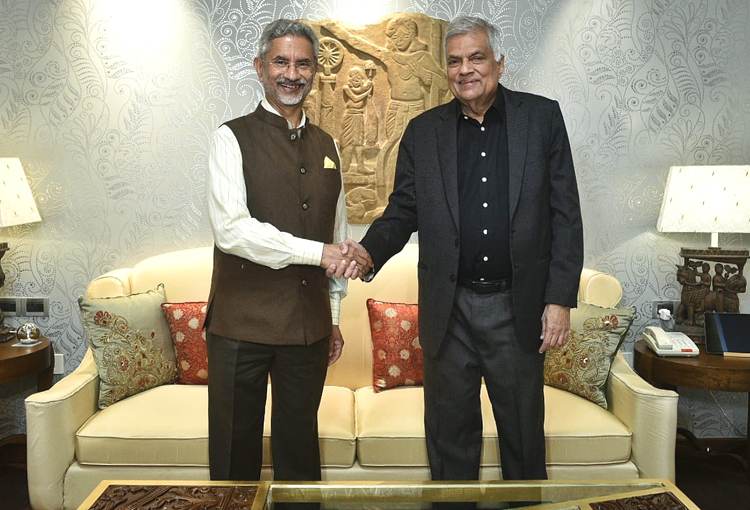 EXTERNAL AFFAIRS MINISTER DR S. JAISHANKAR WITH PRESIDENT RANIL WICKREMESINGHE OF SRI LANKA.
President Wickremesinghe is the "only" Member of Parliament from his party (UNP) and is supported by the Rajapaksas' Sri Lanka Podujana Peramuna (SLPP). The Rajapaksas' have been pro-China primarily because of the underhand profits they made from Chinese projects in Sri Lanka, even forcing the lease of Hambantota Port to China for 99 years. China is Sri Lanka's largest bilateral creditor and Sri Lanka's request for China for debt-restructuring hasn't made much headway. Nevertheless, the visit of President Ranil Wickremesinghe has helped in boosting India-Sri Lanka relations.