India-Israel Partnership Bolsters Air Superiority and Tactical Precision in Challenging Terrain with Cutting-edge Spike NLOS Missiles for Mountainous Warfare
| | |
| --- | --- |
| | The Author is Former Director General of Information Systems and A Special Forces Veteran, Indian Army |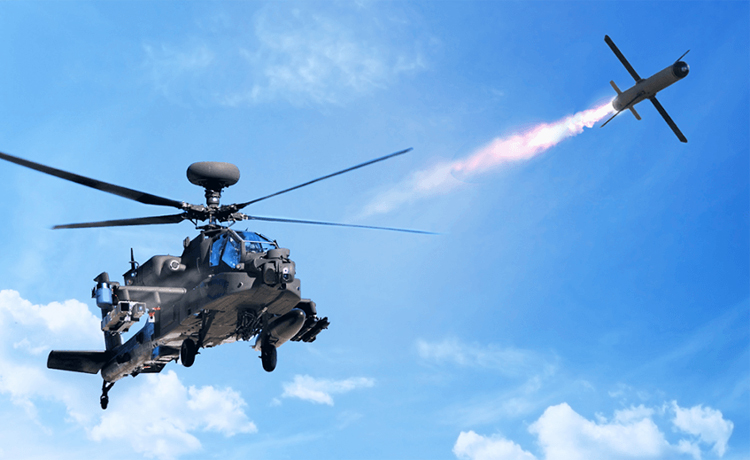 SPIKE NLOS for Helicopters
In the ongoing Russia-Ukraine conflict the Ukrainian forces have reportedly been using anti-tank and anti-aircraft missiles supplied by the Western European nations and America effectively. The Indian Air Force (IAF) had started looking for such missiles almost two years ago when two motorised divisions of China's Peoples' Liberation Army (PLA) deployed a large number of tanks and infantry combat vehicles (ICVs) in Eastern Ladakh at the Line of Actual Control (LAC) as part of the Chinese invasion in April-May 2020.
Recent news reports of August 3, 2023 have now indicated that the IAF has received the Israeli Spike Non Line of Sight (NLOS) anti-tank guided missiles (ATGMs) which can hit targets from distances up to 30 km. This will boost the capabilities of the IAF to destroy enemy targets hidden behind mountains. Media has quoted defence sources to say that with delivery of the Spike NLOS ATGMs, their trials would be commencing in the near future.
The air-launched Spike NLOS missiles can carry out strikes at its ground targets from standoff distances and can cause considerable damage to the enemy tank and mechanised columns to impede their forward movements. These Spike NLOS ATGMs are going to be integrated with the IAFs Russian-origin fleet of Mi-17V5 helicopters which would be able take out targets from long ranges and can prove to be very effective against enemy targets and assets hidden behind mountains or hills.
Presently the Spike NLOS ATGMs have been procured in limited numbers for trials. However, after the successful trials post their integration with the Mi-17V5 helicopters, the IAF plans to procure these in large numbers though the 'Make in India' initiative. The Indian Armed Forces have been making efforts to increase their combat capabilities in wake of the continuing standoff with China since April-May 2020.
Cutting-edge Spike NLOS Missiles to Bolster IAF's Mi-17V5 Helicopters, Expanding Range and Precision in Mountain Warfare, Enabling Long-range Strikes Against Concealed Targets.
The Spike NLOS missile was developed following lessons learnt from the 1973 Yom Kippur War (also known as the Arab Israel War), which was a coordinated assault launched by Egypt, Syria and their allies against Israel. This war, fought from October 6 to October 25, showed the need for a high-precision guided tactical ground-to-ground battlefield missile. The first variants of the Spike NLOS missiles entered service with the Israel Defence Forces (IDF) in tandem with the Pereh missile carrier (an anti-tank missile carrier disguised as a tank) in 1981. However, the existence of both these was not revealed publicly till 2011.
Public disclosure of the Spike NLOS missiles perhaps also came in 2011 because the British Army was being equipped with these missiles since 2007 (from the IDF Inventory) for counter-mortar fire and threat from increasing insurgent attacks in Iraq. Beginning 2007, the British army procured three variants of the Spike NLOS missiles; a total of 600 missiles were procured. For operational security, the codename of 'Exactor' missile' was assigned in British service and it was initially mounted on launchers atop leased M113 APCs.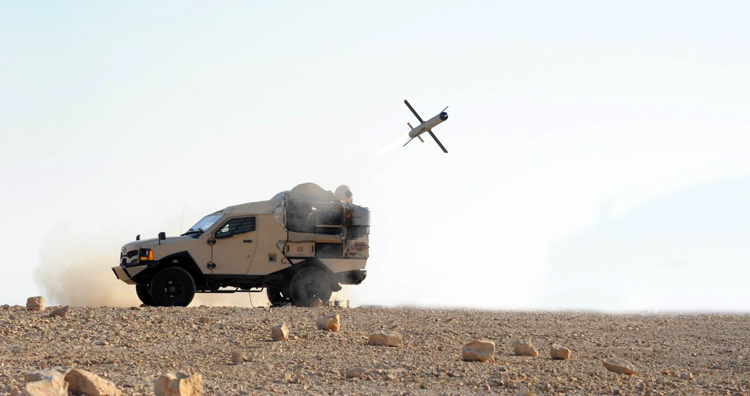 SPIKE NLOS on vehicle
In September 2011, South Korea also agreed to purchase an unknown number of Mk-5 Spike NLOS missiles. Israel's Rafael Advanced Defence Systems then began working on expanding the missile's versatility by enhancing the existing EO-IR/CCD seeker with semi-active laser (SAL) capability and different anti-armor, blast-penetration, and high-explosive fragmentation warheads to meet specific applications. In 2020, the US Army disclosed the intention to procure Spike NLOS missiles to be mounted on Apache helicopters. In March 2021, a trial was conducted in which an AH-64E helicopter fired a Spike NLOS ATGM at a target 32 km away and scored a direct hit.
In June 2022, Rafael unveiled the Spike NLOS sixth-generation ATGM with range increased to 50 km, a salvo feature which can launch up to four missiles at a time, and the ability to hand over control after firing to another platform. It also has a Target Image Acquisition capability that can prioritise important targets for strike, and can be carried by strategic UAVs in the Heron TP-class.
IAF's 'Make in India' Initiative to Mass-Produce Spike NLOS Missiles After Successful Integration, Elevating India's Standoff Capabilities
The Spike NLOS ATGM is a significantly larger missile than other Spike variants. With an overall weight of around 70 kg, it can be launched from the ground or from helicopters. The Spike NLOS ATGM uses a fibre optic link similar to other Spike versions, but only out to eight km, after which it employs a radio data link for command guidance.
India-Israel technology cooperation is one of the best. Israel has been sharing technology with no questions asked and no restrictions on its usage. Indian Army's Artillery Command Control and Communications System (ACCCS), which was the first operational information system (OIS) fielded as part of the Army's Tactical Command Control Communications and Intelligence (Tac C3I) system, was the product of Israel's Elbit Systems although rubber stamped and claimed to have been developed by Bharat Electronics Limited (BEL).
Israel has been providing weapon platforms and varied technological support to assist India, like: UAVs and armed UAVs; upgrading MiG-21 fighter aircraft of the IAF; cooperation in developing Light Combat Aircraft (LCA) and Advanced Light Helicopters (ALH); 'Firefly' loitering munitions; MRSAM with life cycle support, and; converting civil passenger aircraft into a multi-mission tanker transport (MMTT) for air refueling with cargo and transport capabilitiesand conversion ofplanes into freighter aircraft. India's Mi-17V5 helicopters armed with Spike NLOS ATGMs will prove to be a potent force multiplier for the IAF.