India's robust defence innovations in Counter-Drone Technology and Next-Gen Unmanned Aerial Arsenal to bolster National Security
| | |
| --- | --- |
| | The Author is Former Director General of Information Systems and A Special Forces Veteran, Indian Army |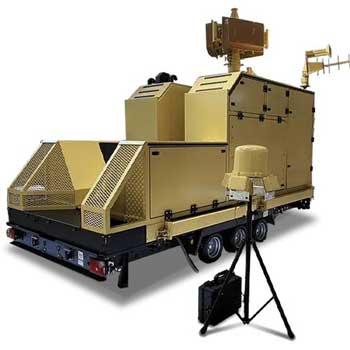 SKYLOCK's Mobile Counter Drone Unit
The proliferation of drones, their use by radical groups and terrorists, as well as the Azerbaijan-Armenia war and the ongoing war in Ukraine has globally boosted the development, production and employment of drones and Counter-UAS (unmanned aircraft system) or CUAS designed to detect, track, and ultimately disrupt and destroy unmanned airborne vehicles.
The first indigenous CUAS developed by the Defence Research and Development Organisation (DRDO) was deployed to cover the Republic Day Parade on January 26, 2020 and subsequently in Gujarat for providing aerial security cover during the India visit of US President Donald Trump in February in the same year. The DRDO CUAS has capabilities to both detect and destroy drones in the air and had successfully neutralised an incoming drone during trials using its kill system.
Media reports of August 31, 2021 then said that the DRDO-developed Naval Anti Drone System (NADS), which can instantly detect, jam micro drones and use a laser-based kill mechanism to terminate targets, is to be inducted in the Indian Navy and that Bharat Electronics Limited (BEL) is to sign similar contracts with the Indian Army and the Indian Air Force (IAF). Subsequently, media reports of January 31, 2023 stated that the DRDO-developed and BEL manufactured Drone Detect, Deter and Destroy system (D4S) is to be inducted into the Indian Armed Forces.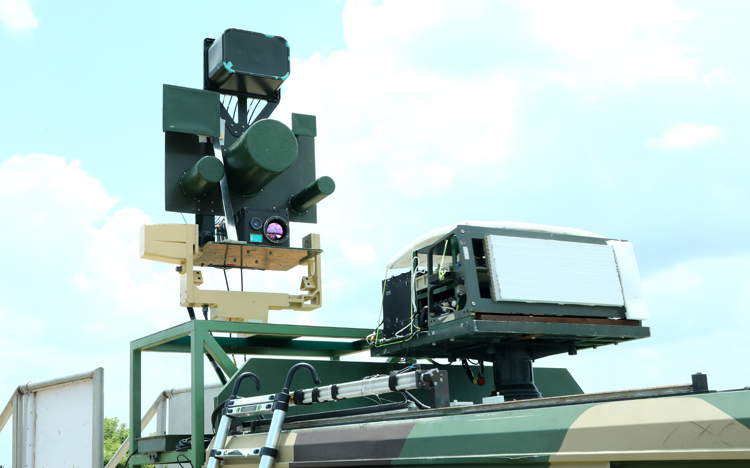 Naval Anti Drone System (NADS) - Indian Navy signs contract with BEL for supply of Naval Anti drone system
The anti-drone system deployed by Indian Army has a range of over 10 km, and it is equipped with radar to detect incoming UAVs. After detecting intruding drones using electromagnetic waves or radio frequency (RF), the system uses jammers and spoofers to disable them and prevent them from reaching their destination.
Unleashing Cutting-Edge CUAS, India's DRDO and BEL lead the charge with indigenous Anti-Drone solutions
The ongoing war is witnessing extraordinarily massive use of drones. AI-powered algorithms are searching for any sign of life, movement, body heat, wireless signals that drones can target for precision strike. Drone-guided artillery strikes are targeting command posts and ammunition dumps. Using smart-phones is becoming the nemesis of commanders paying with their lives in a battlefield where the requirement is down to transmit only essential data through an encrypted cloud.
D-4 Antidrone System
India is already combating a hybrid war which is borderless and drone attacks can happen in any part of India, not merely trans-border operations like Pakistan is undertaking to induct weapons, ammunition, narcotics and explosives. Terrorists are also using drones, as are the Maoists in central India. Therefore, the requirement of CUAS is massive for the security sector.
In addition to the DRDO and BEL, a number of private companies are engaged in optimising the counter drone technology. These include firms like Grene Robotics, Paras Aerospace, Z-Axis Unmanned Machines, M2K Technologies, Indian Eye Security, Usnatek and Zen Technologies.
Skylock partners with DCM Shriram in crafting the future of portable CUAS for India's Border Security Force
Now news reports of August 2, 2023 indicate that Israel's Avnon Group's Skylock is partnering with India's DCM Shriram Industries Ltd to manufacture the former's VIP Dome Pro under the name DCM portable CUAS. Manufacturing work actually started in 2022, and DCM Shriram is in the process of testing the system's radio frequency (RF) detector and jammer, with a software-defined radio (SDR) frequency range of between 70 MHz and 6 GHz, with the Indian Border Security Force (BSF) on the western front.
The 9.5 kg DCM RF detector measures 0.32×0.29 m, has azimuth coverage of 360°, and elevation coverage of ±90° with 70 dB dynamic range. The system requires three or more RF detectors to track the operators' geographical coordinates. The RF detector is fully passive and capable of sensing the controller and the UAV, even when the UAV is on the ground. It is also fitted with a direction-finding sensor for Wi-Fi frequencies with up to 5° root mean square (RMS) accuracy. The RF detector offers a scanning frequency resolution of <100 Hz.
A DCM Shriram official told media at the 4th Drone International Expo 2023 held in New Delhi on July 26-27 that the venture is aimed at the Indian market. The DCM CUAS has ethernet-based automatic detection, tracking, identification, and neutralisation capabilities for day and night operations. The CUAS has a military grade design with shell protection level IP67 and IP66 and technology readiness level (TRL)-9.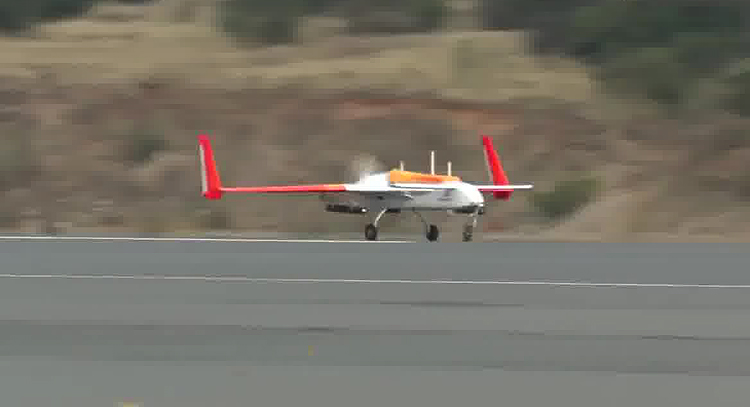 Archer-NG
Concurrently, the Aeronautical Development Establishment (ADE) of the DRDO is getting ready to showcase multiple 'Made in India' weapon systems. In the forefront is the Armed Archer-NG Medium Altitude Long Endurance (MALE) Unmanned Aerial Vehicle (UAV). Set to roll out later this year, the Archer-NG is equipped with a diverse range of weapon systems, making it a potent weapon platform capable of tackling a variety of missions.
Archer-NG is India's Game-Changing Unmanned Aerial Arsenal Equipped with Precision Strikes and Lethal Payloads is set to revolutionise Military Missions
The payload of the Archer-NG is up to 300 kg. It has four hard points that gives it the flexibility to carry varied combinations of weapon systems depending on requirements to destroy particular types of targets. One of the weapons with which the Archer-NG will be armed with is the third generation 'fire and forget' UAV launched precision guided anti-tank guided missile (ATGM) having a range of four km. The DRDO is planning to develop three more variants of this missile with an extended range of over six km.
The Archer-NG is also likely to be armed with the 125 kg Smart Anti-Airfield Weapon with a range of 100 km. This would enable the Archer-NG to undertake missions to disable enemy airfields and target enemy critical infrastructure and other ground targets with precision strikes. The Archer- NG is also to be armed with laser guided rockets and bombs. In addition, the Archer-NG would also be armed with loitering munitions having a range of 100 km. There are also plans to arm the Archer-NG with a mini cruise missile, to be developed in collaboration with the private sector, for taking on enemy targets at long standoff ranges. All these will make the Archer- NG a potent force multiplier for the Armed Forces.