| | |
| --- | --- |
| | The Author is Former Director General of Information Systems and A Special Forces Veteran, Indian Army |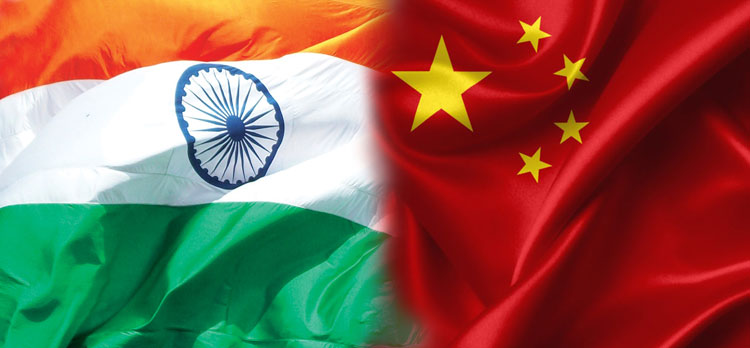 Speaking on August 1, 2023 (96th anniversary of founding of PLA), Chinese President Xi Jinping told China's armed forces to speed up modernisation. Xi said the military must broaden its combat capability and readiness. Chinese media said PLA has enhanced its ability to undertake diversified military tasks in wider space. China has been conducting massive exercises and firing drills, especially around Taiwan. America is also expanding regional deployments amid forging stronger bonds with allies and establishing new ties.
Western analysts feel China's military muscle flexing is to send political messages. Such political messaging is not new. The US bombed Hiroshima with an untested uranium weapon when Japan was already flattened with conventional bombings and three days later nuked Nagasaki with a plutonium bomb. Wasn't that a political message to the world, especially Europe which to-date continues to wag its tail to Washington including fuelling the war in Ukraine to further US strategic and economic interests? But to say that China muscle flexing is only political signaling is naïve.
India's rise is being watched globally although not to the liking of many. But when we talk of the India's economy rising to $5 trillion and $10 trillion by X and Y years, we should also consider where the US and Chinese economies would be by then. The other view on the glee over declining Chinese exports is that China is shoring up reserves for the inevitable clash with America.
Chinese President Xi Jinping's call for accelerated military modernisation, coupled with expansive infrastructure development along the LAC, raises concerns about potential conflicts
The 18th round of Corps Commander Level talks between India and China held on April 23, 2023 in eastern Ladakh were without any progress, as expected. China has consistently signaled it will not disengage anymore, especially in areas of Depsang Plains and Demchok. At one stage, China reportedly even asked for a 15-20 km buffer zone in the area of Depsang Plains. India has been requesting for more military-to-military talks only to obfuscate loss of control of about 1,000 sq km territory to China.
Xi Jinping, chairman of the Central Military Commission (CMC), and other leaders pose for a group photo with military officers who have been promoted to the rank of general in Beijing, capital of China, July 31, 2023.
The 19th round of Corps Commander Level talks in Ladakh are reportedly to be held in third week August 2023. But China will unlikely agree to anything more than new buffer zones without moving back from their new locations. Participation by three former Service Chiefs of India at the Ketagalan Forum in Taiwan on August 8, 2023 would harden the Chinese stance more.
China continues to develop infrastructure at a feverish pace along the entire length of the Line of Actual Control (LAC) from Ladakh to Arunachal Pradesh. In Ladakh, PLA is consolidating its positions in terms of bunkers, fortifications, posts, observation towers, artillery positions, surface-to-air missile (SAM) systems, radar stations, ammunition storage. According to the media, "The PLA also continues massive infrastructure development in terms of new helipads, roads, bridges, dual-use Xiaokong border villages and last mile connectivity, which has further picked up speed in the last couple of months to support its forward positions.
As China conducts large-scale exercises and drills, experts suggest that its military activities convey more than mere posturing
Media also quotes a source to say, "There is massive infrastructure development in the stretch between Finger 8 and Chinese military bases to the east at Sirijap-I and II on the north bank of Pangong Tso. The PLA will also soon complete the main bridge on the Pangong Tso in the Khurnak area, after building the secondary one last year, for faster mobility between the north and south banks." PLA has increased the number of troop shelters, weapon systems, jetties and assault boats near the no-patrol buffer zone established along the north bank of Pangong Tso post disengagement in February 2021. China has also positioned tanks at Finger 8 from where a metal road runs west along the north bank.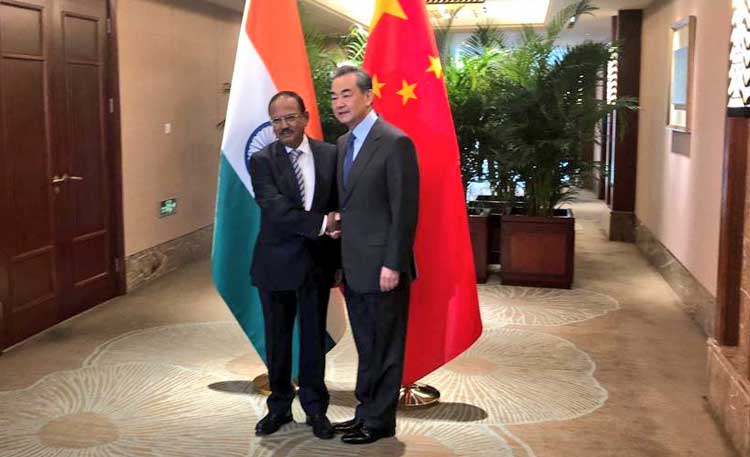 (File Image) NSA Ajit Doval and China's Wang Yi.
Similar PLA activities are ongoing in the Middle Sector (Himachal and Uttarakhand) as well as in the east opposite Sikkim and Arunachal Pradesh. PLA activity has increased in terms of vehicles, patrols, infrastructure development and construction of dual-use military villages opposite Barahoti in Uttarakhand and in the vicinity of Lipulekh in the middle sector. In the east, hectic PLA activity is underway with area clearance and earth-moving equipment in several areas opposite Siang, Kameng and other parts of Arunachal Pradesh.
This indicates that the PLA will continue with its forward deployment along the entire LAC. China has also upgraded its air bases facing India at Hotan, Gargunsa, Shigatse, Kashgar, Lingzhi, Hoping and Lhasa-Conggar with new and extended runways, hardened shelters and fuel storage facilities to accommodate additional fighters, bombers, AWACS, reconnaissance aircraft and drones, Seven to eight new airfields are also reportedly coming up.
The prolonged deadlock in Corps Commander Level talks highlights the challenges in resolving border disputes between India and China
On July 25, 2023, the Chinese foreign ministry issued a press note about a meeting between NSA Ajit Doval and China's Wang Yi (now re-appointed foreign minister) on sidelines of the BRICS meeting, which significantly had a line saying: "At the end of last year, President Xi Jinping and Prime Minister Modi reached an important consensus on stabilizing China-India relations in Bali."
Prime Minister Modi and President Xi met briefly before the dinner at the G20 summit at Baliin November 2022; video footage in full media glare showed Prime Minister Modi walking up to President Xi, both shaking hands and their exchange lasting a few minutes. But following the press note issued by the Chinese foreign ministry, the Ministry of External Affairs spokesperson said in reply to a question on July 27 that the two leaders "exchanged courtesies and also spoke of the need to stabilise our bilateral relationship".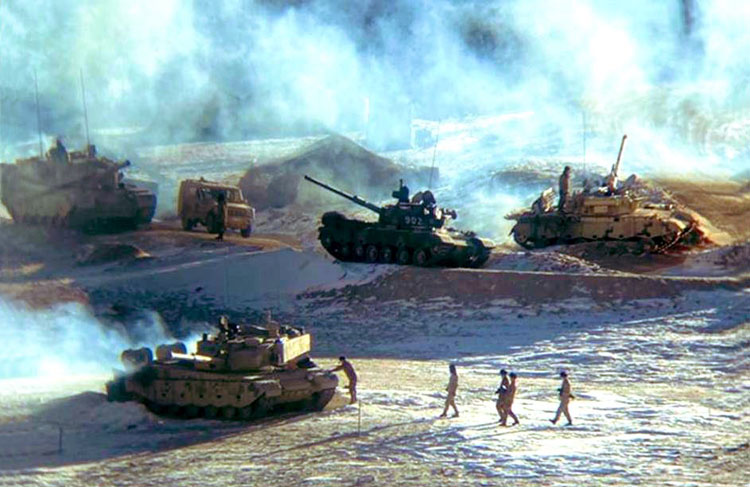 (FILE PHOTO) DISENGAGEMENT PROCESS BETWEEN INDIAN ARMY & PLA TROOPS
Why it has taken China eight months to talk about a "consensus" reached in Bali between the two leaders in November 2022 is controversial. But it is clear that instead of normalising the border situation, China is going all out to consolidate and prepare for conflict. One view is Prime Minister Modi may have told President Xi at Bali he would be better positioned to negotiate border settlement after the 2024 general elections. Another view is the Chinese press note is to pressure Modi in run up to elections, Manipur burning and President Xi attending the G20 Summit in India in early September.
China's growing assertiveness extends beyond military buildup, as seen in its expanding influence over Nepal and Myanmar, raising questions about the impact on regional stability
Among the 36 Chinese Stratagems for psychological warfare, one says: 'Create Something from Nothing' – make somebody believe there was something substantial when there is in fact nothing, or vice versa. The Chinese press note of "consensus" could be just that, given that China isn't interested in a border settlement with India in the foreseeable future.
China has pulled Nepal and Myanmar into its strategic sphere. There is speculation in Nepalese media that the Financial Action Task Force (FATF) could 'grey list' Nepal because of deficiencies in legislations and enforcement laws related to money laundering and terror financing. The new China-Myanmar railway line opened in 2021 indicates China's ambitions in the region.Looking at Chinese moves in Nepal and Bhutan, India is deploying Central Armed Police Forces to secure the strategically important Siliguri Corridor; initially, three border guarding forces --- BSF, ITBP and SSB are to be deployed at identified vulnerable areas and vulnerable points.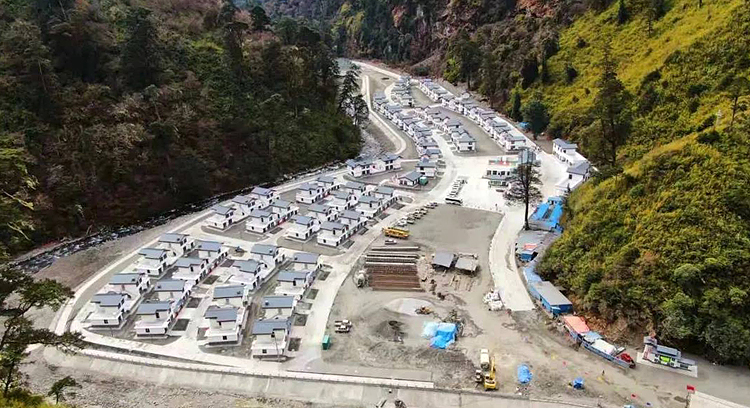 AN IMAGE OF THE CHINESE VILLAGE THAT HAS REPORTEDLY BEEN BUILT IN ARUNACHAL PRADESH TERRITORY
PLA has recruited and deployed Tibetans along the LAC and plans to recruit Nepalese. China may not want war with India but may be planning multiple Kargil-like intrusions. Recall BJP MLA Tapir Gaon from Arunachal Pradesh telling Lok Sabha that the next Doklam will be in Arunachal where Chinese have occupied more than 60 km of our territory and there is no word from the government or the media.China invading Ladakh a decade from now anyway appears certain when its new G-695 expressway comes close to Galwan and Hot Springs. China always broke agreements and hasstabbed us in the back. President Xi is ruthlessly ambitious. China indeed is preparing for the next round of conflict with India. Why would he wait for India to catch up in military preparedness?