| | |
| --- | --- |
| | The Author is Former Director General of Information Systems and A Special Forces Veteran, Indian Army |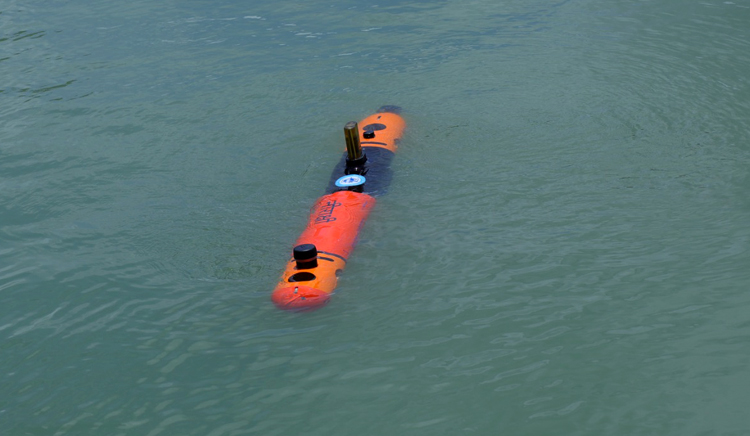 'Neerakshi' - Autonomous Underwater Vehicle (AUV)
The Chief of Naval Staff, Admiral R. Hari Kumar has said that the Indian Navy is in the process of setting up a special Remotely Piloted Squadron for aerial, surface and sub-surface drones. Speaking at Kolkata recently, he said, "The character of war is changing. We have all seen how drones are being effectively used in the Russia-Ukraine war. The Indian Navy is already using a variety of Unmanned Aerial Vehicles (UAVs). We are now trying out the Autonomous Surface Vessel (ASV) developed by Goa Shipyard Ltd and there is the AUV launched by GRSE of course." The Naval Chief was in Kolkata for the launch of the Project 17A advanced stealth guided missile frigate INS 'Vindhyagiri' by President Draupadi Murmu on August 18, 2023.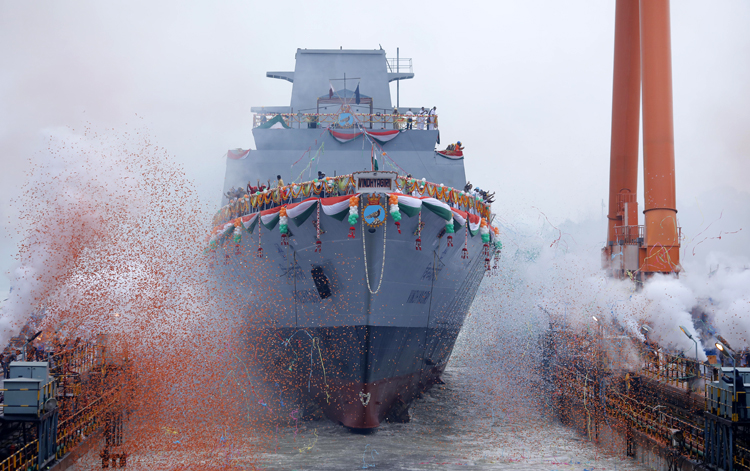 LAUNCH OF INS VINDHYAGIRI
In 2021, the then Chief of Naval Staff, Admiral Karambir Singh, citing the discovery of China's autonomous underwater gliders in the Indonesian waters, had emphasised 'underwater domain awareness' as one of the most critical areas for the Navy. He also said that the complexity of modern warfare meant that technologies like Artificial Intelligence (AI) would be essential for effective use of underwater systems. Thereafter, the then Vice Chief of Naval Staff, Vice Admiral G. Ashok Kumar (now National Maritime Security Coordinator with the NSA) shared a detailed roadmap for unmanned platforms with the industry in terms of the number and type of platforms required, time schedule by when they should be made available and the costs.
Developed through collaboration between major shipyards and MSMEs, 'Neerakshi,' a state-of-the-art Autonomous Underwater Vehicle (AUV) designed for mine detection, marks a significant stride towards self-reliance and cutting-edge technology
In 2022, the unmanned surface vehicle (USV) market was estimated at 6,300 crore and projected to reach 9,818 crore by 2027, at a CAGR (compound annual growth rate) of 11.1 per cent for the period. Experts said innovations were driving the market; especially since single hulls are easier to manufacture, which can be converted from manned to unmanned surface vehicles. This single segment was projected to register the highest CAGR of 15.9 per cent in the period 2022-27.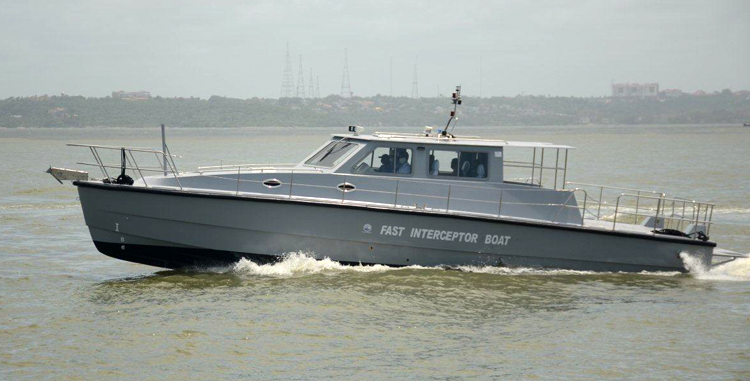 Fast Interceptor Boat built by GSL
In January 2023, China launched 'Zhu Hai Yun'; its first seaborne drone-carrier, with capability to operate independently. The unmanned carrier warship can be controlled remotely and can navigate on its own in open waters. The presence of such an autonomous drone-carrier vessel in the Indian Ocean Region (IOR) would increase the threats for the Indian Navy.
From Remotely Piloted Squadrons for aerial, surface, and sub-surface drones to advanced stealth frigates and missile barges, India's naval prowess is undergoing a transformative evolution
News reports of 23 July 2023, confirm that the Indian Navy is set to undertake sea trials of the indigenous Autonomous Fast Interceptor Boat (A-FIB). The sea trials were earlier scheduled to be held in May 2023 but got delayed due to bad weather and rough seas. These will now be held after the monsoons. The A-FIB, jointly developed by the Indian Navy's Weapons and Electronics Systems Engineering Establishment and Bharat Electronics Limited (BEL), is built at the Goa Shipyard. The A-FIB has multiple navigation modes and is designed for a variety of missions like intelligence gathering, surveillance and reconnaissance, mine clearing and even combat. The aim is to use such platforms for monitoring or surveillance, as well as keeping them future-ready for military operations.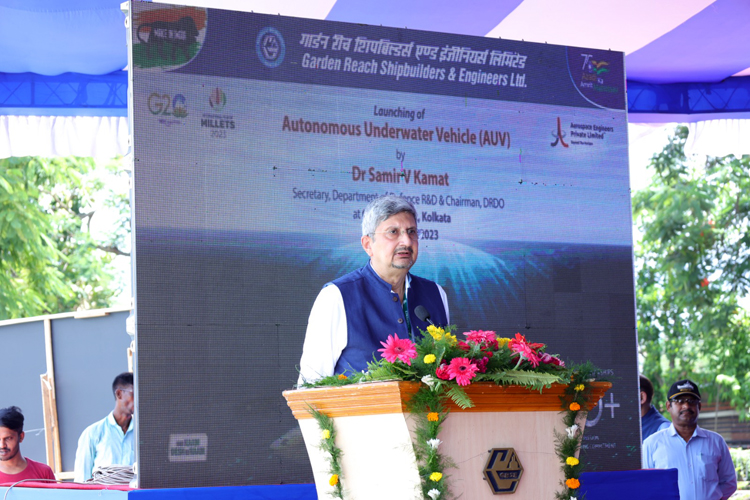 DRDO CHAIRMAN, DR. SAMIR V. KAMAT AT THE LAUNCH OF NEERAKSHI, THE AUV, ON JULY 28, 2023
On July 28, 2023, India launched 'Neerakshi'; Autonomous Underwater Vehicle (AUV) for mine detection. The orange coloured prototype AUV 'Neerakshi' is a collaborative effort between the Kolkata-based Garden Reach Shipbuilders & Engineers Ltd (GRSE) and MSME Aerospace Engineering Private Ltd (AEPL). The AUV is 2.1-metre long, cylindrical in shape, about a foot in diameter and weighs around 45 kg.
India is deploying cutting-edge technologies to enhance its capabilities and address emerging threats, such as autonomous drone-carrier vessels in the Indian Ocean Region (IOR)
Launching 'Neerakshi', Secretary of Defence (R&D) and DRDO chairman, Samir V. Kamat expressed confidence that in the coming years the country's defence industry will not only meet the aspirations of the nation, but also become a developer of cutting edge systems, innovative solutions and generate a lot of exports. He said, "It feels very heartening to see collaboration between a large shipyard and an MSME which has resulted in this innovative product being indigenously designed and developed in the country. Prime Minister Narendra Modi has set a goal for not only being self-reliant, but also a leading exporter of defence systems and technologies. This can happen only if we have such partnerships. I am sure this will be a forerunner for many such partnerships."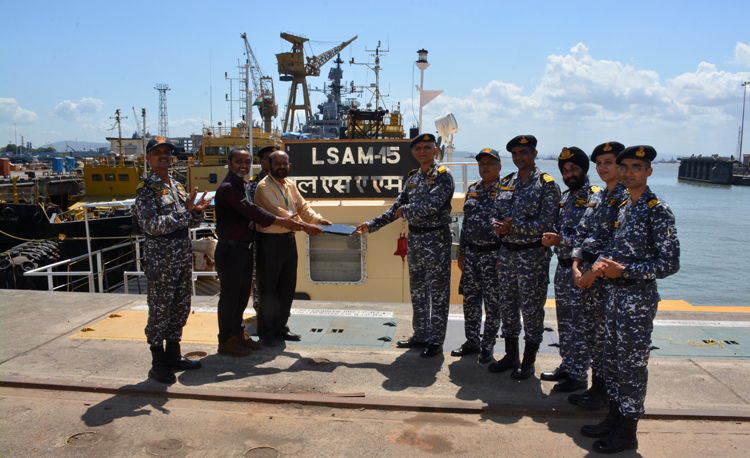 DELIVERY OF FIRST ACTCM BARGE, LSAM 15 (YARD 125) AT NAD (KARANJA), MUMBAI
Speaking at the launch ceremony, GRSE Chairman and MD Commodore P.R. Hari (Retd) said that commercial launch of the AUV is likely to be within six months to a year after completion of user trials by the Indian Navy, Coast Guard and possibly the Army too, adding, "This AUV can be used for a variety of functions ranging from mine detection to mine disposal to underwater survey."
India is boosting its naval operational commitments with the launch of two missiles cum ammunition (MCA) barges that will revolutionise ammunition transportation, embarkation, and disembarkation for the Indian Navy, further strengthening its maritime capabilities
Concurrently, media reported on August 19, 2023, that Indian Navy's two missiles cum ammunition (MCA) barges were launched and delivered in the months of June and July this year. The first MCA was delivered in June by the MSME 'Suryadipta'. The second MCA was launched in July at Guttenadeevi in East Godavari district of Andhra Pradesh. The barge has been built by the MCME 'SECON Engineering' using mostly indigenous equipment and parts.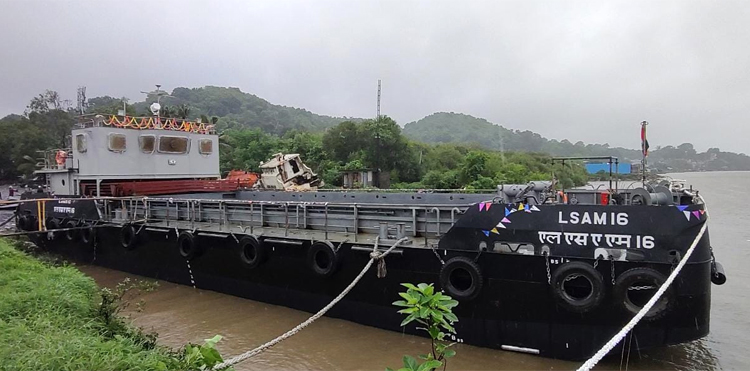 LAUNCH OF SECOND ACTCM BARGE, YARD 126 (LSAM 16)
According to the Request for Information (RFI) for the procurement of barges issued in February 2021 by the Ministry of Defence (MoD), the barges are required to have a total cargo tonnage capacity of up to 100t with no lifting gear. These two MCA barges will provide impetus to operational commitments of the Indian Navy as they facilitate transportation, embarkation and disembarkation of ammunition to naval ships. The barges will have a service life of 30 years.