| | |
| --- | --- |
| | The Author is Former Director General of Information Systems and A Special Forces Veteran, Indian Army |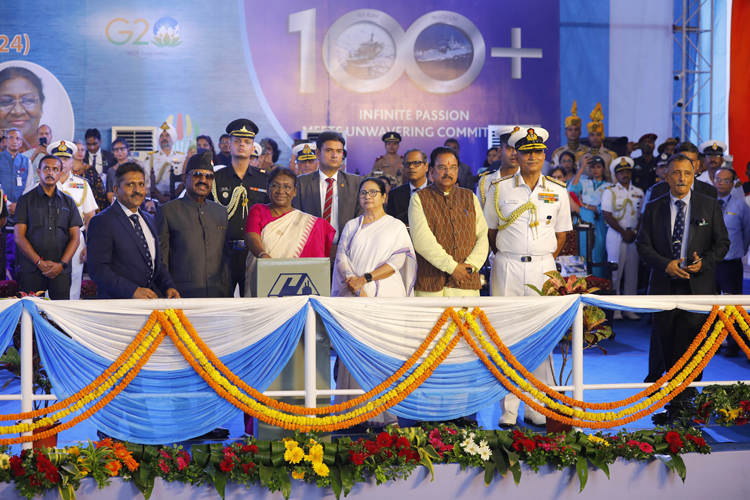 LAUNCH OF INS VINDHYAGIRI BY THE PRESIDENT OF INDIA, DROUPADI MURMU
President Droupadi Murmu launched the Advanced Stealth Frigate at Kolkata on August 18, 2023. Named INS 'Vindhyagiri' by the President, the frigate has been built by the Garden Reach Shipbuilders & Engineers Ltd (GRSE) for the Indian Navy. The vessel is part of the 'Project 17 Alpha' to strengthen the Navy's fleet. This initiative includes enhanced stealth features, advanced weaponry, sensors and platform management systems. The move comes as India takes steps to bolster its naval capabilities amid increasing challenges posed by assertive China in the Indo-Pacific region.
Speaking at the launch ceremony, President Murmu who is the Supreme Commander of the Armed Forces, said, "The Navy has to always remain proactive in tackling security threats. The ship is aptly named after the 'Vindhya' ranges, which have been a symbol of fortitude. I am confident that when this warship gets commissioned, it will symbolise the robustness of the Vindhyas. Vindhyagiri is a part of Project 17A which reflects our commitment to self-reliance and technological advancement. This project demonstrates indigenous innovation for developing state-of-the-art technology. I have been informed that the multi-mission frigates of this series would be capable of dealing with all kinds of threats to our maritime interests." Emphasising on the strategic location of Kolkata, President Murmu added, "Kolkata's strategic location makes it vital for our naval preparedness, safeguarding our maritime interests and maintaining regional stability."
President Droupadi Murmu unveils INS 'Vindhyagiri', a symbol of Indian Naval Power and Self-Reliance
The Chief of the Naval Staff Admiral R. Hari Kumar also emphasised on the self-reliance of the naval sector saying, "It is a landmark event for us. Every time you launch a ship, it is a launch of a combat platform which adds to the potential for the Navy and the country. Vindhyagiri is more potent. She is the third ship to be launched. The fourth one will be launched in September. Altogether 63 ships are under construction and out of it, 61 is built in India, as part of "Atmanirbharta". Chairman and MD of GRSE, Commodore P.R. Hari (Retd) said, "This launch is unique as the President has named and launched frigate as "Vindhyagiri" at GRSE as part of the "Make in India".

President of India launches advanced Frigate INS Vindhyagiri at GRSE
In a significant concurrent development, media reports of August 17, 2023 confirm that government has finally approved the long-pending over 19,000 crore project to indigenously build five advanced fleet support ships, which will replenish warships with fuel, water, ammunition, spares and stores on the high seas to extend their operational range. The Cabinet Committee on Security (CCS), headed by Prime Minister Narendra Modi, gave the green light for the project on August 16, which was originally sanctioned in December 2015, and is to be executed by Hindustan Shipyard Limited (HSL) in Visakhapatnam.
India approves ambitious project to build Advanced Fleet Support Ships, bolstering naval capabilities
The contract with HSL is to be signed in the next few days. The order will come as a boost for HSL, which has been struggling with getting orders from the government. The yard has delivered a missile tracking vessel and has carried out refit and upgrades of Kilo class submarines. The first fleet support ship, with a displacement of about 45,000 tonnes is expected to be delivered in four years, followed by the delivery of one subsequent ship every years. The fleet support ships, awarded to HSL on a nomination basis, will play a crucial role in maintaining the operational readiness of the Indian Navy's warships deployed at sea. Currently, the Navy only has four aging fleet support ships, the oldest of which was commissioned over 30 years ago. This project aims to bridge that gap and enhance the Navy's strategic reach and sustenance capabilities.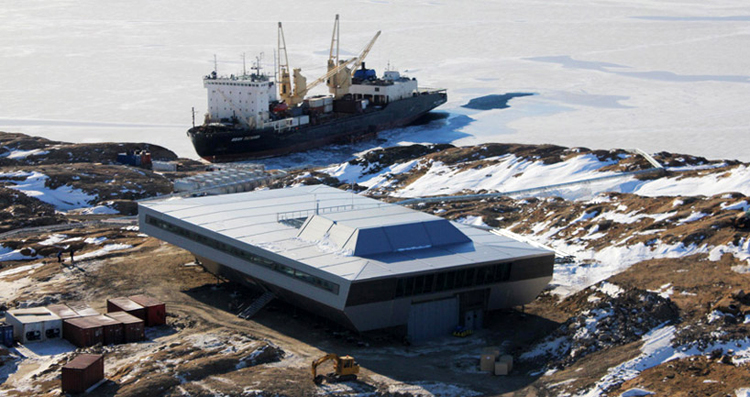 INDIAN RESEARCH BASE 'BHARATI' IN ANTARCTICA
India also aims to have its first Polar Research Vessel (PRV) in the next five years. Replying to a question in Rajya Sabha recently, Union Earth Sciences Minister Kiren Rijiju stated he "hoped' that PRV will be procured within five years to support India's three research base stations in the polar region of Antarctica –'Bharati', 'Maitri', and 'Dakshin Gangotri'. Rijiju said the proposal regarding the PRV is expected to go for Cabinet approval during the current financial year.India launched its first Indian scientific expedition to Antarctica in 1981 and the country marked its presence in the Southern Ocean realm and Arctic during 2004 and 2007 respectively. For studying atmospheric, biological, earth, chemical, and medical sciences, India has sent out 40 scientific expeditions to the Antarctic. All these polar expeditions have been carried out by chartering foreign PRVs.
The CCS had approved acquisition of the PRV in October 2014 at a cost of 1,051 crore. In 2017, a global tender inviting expression of interests from global ship construction companies was also floated, but cost escalations, design changes and technicalities significantly delayed India's acquisition of the PRV, with the government later abandoning the project. However, Rijiju informed Rajya Sabha that another effort was initiated and now "we are ready with the proposal to be moved by the EFC (Expenditure Finance Committee)." The cost of the PRC is now estimated to be 2,600 crore – more than double the cost in 2014.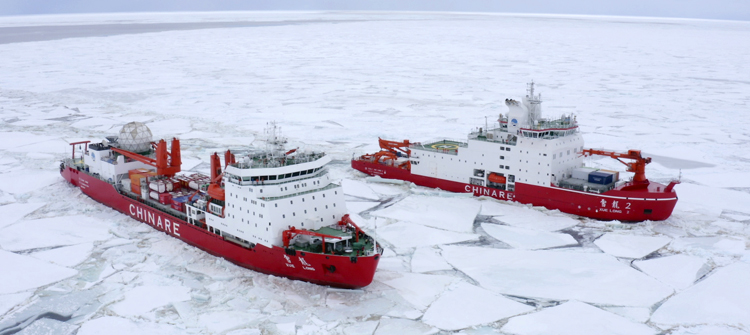 Chinese Polar Research Vessels
Rijiju noted that India needs ice breaker ships to have continuous access to the research stations which are required for various reasons, especially to have a better understanding of climate change and other research matters. A PRV not only performs research and logistics in the polar region but can also serve as a research platform for scientists to undertake research in the ocean realm, including the Southern Ocean. The pace at which the Arctic in particular, is witnessing geo-political and geo-economic transitions, it is critical for India to have its own independent PRV.
India's quest for Polar Research Vessel takes shape, astrategic move to enhance Scientific Exploration in Antarctica
China has the largest number of major surface combatants of any navy globally with an overall battle force of approximately 350 surface ships and submarines. Moreover, China is also increasing its presence in the Indian Ocean Region (IOR) and assisting Pakistan in building a strong maritime force. The Indian Navy currently has approximately 130 warships and submarines, along with 230 aircraft, helicopters, and drones. Additionally, the Navy has 43 ships and submarines on order, with 41 of them being built in Indian shipyards as part of the country's Atmanirbhar initiative.
India's serious concern should be that both our nuclear powered submarines (INS 'Arihant' and INS 'Arighat') armed with 750-km range K-15 missiles cannot hit mainland China and only southern Pakistan; sea-leg of our nuclear triad is still "work in progress". Effectiveness of these submarines is reduced further with the 'No First Use' policy.The need for long-range submarine-launched missiles is immediate in wake of increasing tensions in Indo-Pacific and US-NATO already talking of limited nuclear war with Russia and China.