Elevating India's Mountain Warfare Capabilities, Swathi Mk-II is giving it a Tactical Edge
| | |
| --- | --- |
| | The Author is Former Director General of Information Systems and A Special Forces Veteran, Indian Army |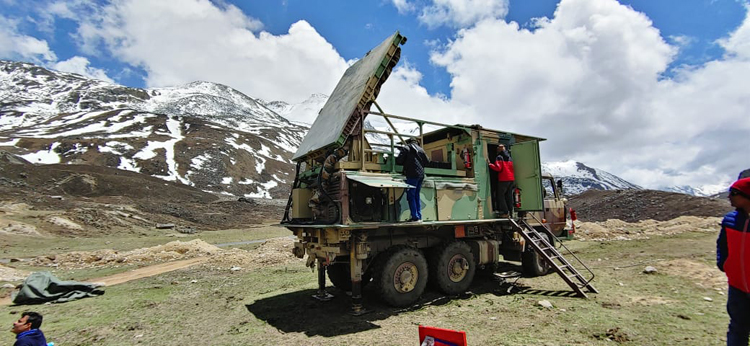 The lighter version of Weapon Locating Radar, SWATHI Mountains
News reports of August 11, 2023, included an announcement by the Indian Army of having inducted six mountain versions of the 'Swathi' Weapon Locating Radar (WLR) under a contract awarded to Bharat Electronics Limited (BEL) in December 2021. Earlier on August 5, 2023 Lt General J.B. Chaudhari, Deputy Chief of Army Staff (CD&S) flagged off the Swathi WLR Mk-II at Agra, marking its official induction into the Indian Army's Regiment of Artillery. A BEL spokesperson told media on August 9 that the company received an order for the six Swathi Mark-II units in December 2021, all were delivered by March 2023 and "we are expecting more orders for the Swathi Mark-II from the Indian Army."
The Swathi Mk-II WLR represents a leap forward in radar technology, offering real-time, 360-degree scanning capabilities with an instrumented range of 50 km
The Defence Research and Development Organisation (DRDO) had been working on developing a WLR since 1980's but there was little urgency even at the Ministry of Defence (MoD) level. Eventually, the MoD issued a Request for Proposal (RFP) for the WLR only in 1998 but the US and France would not share technology due to sanctions imposed on India after the nuclear tests. In 1999, the US sold AN/TPQ-37 radars (25-year old technology) to India because of the Kargil Conflict. Concurrently in 1999, the Parliament's Standing Committee on Defence castigated the government for not showing any "sense of seriousness" in acquiring weapon locating radar technology.

SWATHI MOUNTAINS, DEVELOPED BY BEL & LRDE INDUCTED INTO INDIAN ARMY BY LT. GENERAL J.B. CHAUDHARI, DY CHIEF OF ARMY STAFF (CD&S).
Later in December 2017, the Defence Acquisition Council (DAC) headed by then Defence Minister Nirmala Sitharaman cleared the acquisition of 30 x Swathi WLR Mark-I from BEL at a cost of 1,605 crore ($256 million). Swathi is a mobile phased array WLR jointly developed by DRDO's Electronics and Radar Development Establishment (LRDE) and BEL. Its first version was called Rajendra, of which Swathi is an improved version. It is similar to the ANTPQ-37 – both having the instrumented range of 50 km.
The Indian Army's recent induction of six Swathi Mk-II units underscores a significant advancement in India's defence capabilities, marking a crucial milestone in the Regiment of Artillery
Swathi WLR displays the information on ruggedised PCs on a high resolution multi-mode colour display. The data is displayed in real-time that can be overlaid on a 3D digital map. The system can store a 100 km x 100 km size digital map at any time – up to 99 weapon locations can be stored and tracked simultaneously at any time as information transmitted to the command centre. Other modes include Plan Position Indicator (PPI), Range-Height Indicator (RHI) displays and the like. The radar antenna can be slewed up to +/- 135 degrees within 30 seconds, which gives the ability to the WRL to quickly change its scanning sector, providing 360 degree scan capability. The Coherent Travelling Wave Tube (TWT) transmitter of the WRL emits 40 KW of power. Swathi automatically locates hostile artillery, mortars and rocket launchers and directs friendly fire to locate the impact point of friendly artillery fire to issue necessary corrections.
Developed over several decades, the Swathi WLR project showcases India's commitment to indigenous defense production, overcoming early technology-sharing challenges with global partners.
In February 2023, news emerged that the Armenian authorities had arrested a Captain of the Armenian Army for selling information of the Swathi WLR to a rival spy agency in exchange for a mobile phone and some money. The Captain was recruited by the rival spy agency in 2021 and he passed on the information in April-May 2021. Discovery of the compromise became public only after two years, but the DRDO-BEL would have instituted measures to ensure China and Pakistan cannot exploit this to target the Swathi WLR Mk-I.

WEAPON LOCATING RADAR (WLR) SWATHI MOUNTAINS BEING FLAGGED OFF. THE RADAR SYSTEM WILL ENHANCE BATTLEFIELD SURVEILLANCE & TRANSPARENCY CAPABILITIES.
The Swathi WLR Mk-II is much lighter than the Swathi WLR Mk-I. The only difference between the two variants is their weight. The Mark-I variant is integrated into two 8×8 wheeled Tatra trucks that weigh around 30 and 28 tons, while the Mark-II variant is integrated into two 6×6 wheeled Tatra trucks that weigh around 18 tons each. According to the Jane's C4ISR & Mission Systems: Land, each Swathi WLR unit is integrated into two vehicles – a radar vehicle that accommodates electronics and an antenna shelter; and a power source-cum-built-in test equipment (BITE) vehicle, which contains two diesel generator sets and a radar target simulator.
The Swathi Mk-II's reduced weight and enhanced mobility, integrated into 6x6 wheeled Tatra trucks, ensures swift deployment in mountainous terrains, significantly augmenting operational effectiveness
Induction and deployment of the Swathi Mk-II (upgraded version of Swathi WLR Mk-I) is a boost for the operational capabilities of the Army. Having a mobile 3D electronically scanned phased-array radar that can automatically locate artillery, mortars, and rocket launchers of hostile troops and enable their destruction by facilitating counter bombardment (CB), these radars will play a pivotal role in enhancing the Army's surveillance capabilities, enabling effective monitoring and response to threats in the mountains. 30 x Swathi WLR Mk-I are already deployed with the Indian Army.