| | |
| --- | --- |
| | The Author is Former Director General of Information Systems and A Special Forces Veteran, Indian Army |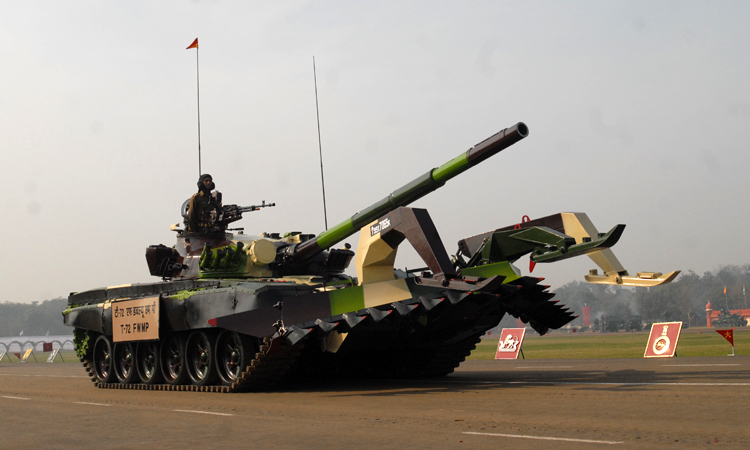 T-72 TANKS OF THE ARMY WILL BE REPLACED BY THE FUTURE READY COMBAT VEHICLES BOLSTERING EFFECTIVENESS
The project for an indigenous Future Ready Combat Vehicle (FRCV) has been in the news for some time. The need is more to replace the ageing Russian-origin T-72 tanks of the India Army (IA) which are four decades old. The requirement is for a FRCV as a multiple weapon platform infusing niche technology to enhance operational effectiveness of the Indian Army (IA) that caters for emerging threats in varied terrain. Expected to remain in-service for 35-45 years, the design of the FRCV is required to deliver highest lethality survivability and agility on the battlefield, combined with fully digitized data backbone architecture to enable next-generation operational capabilities and automation.
The Future Ready Combat Vehicle (FRCV) project is set to replace the aging T-72 tanks, introducing state-of-the-art technology and bolstering operational effectiveness for the Indian Army
The Request for Information (RFI) for the proposed FRCV was issued by the Ministry of Defence (MoD) in June 2021, to procure 1,770 new 'state-of-the art', 'technology-enabled' tanks to operate in existing terrain configuration under varied temperature conditions. The RFI said, "Now, with the rapid pace in technology, there are 'new' threats to the 'Tank' from the aerial dimension with Unmanned Combat Aerial Vehicles (UCAVs), Loitering Munitions, among others. The improvement in Intelligence, Surveillance and Reconnaissance (ISR) has also made targeting of Land Forces including the 'Tank' easier. The battlefield now requires all forces to operate in a synergetic and networked environment."
The FRCV design focuses on delivering unmatched lethality, survivability, and agility on the battlefield. Its fully digitised architecture empowers next-generation operational capabilities and automation, ensuring a seamless response to emerging threats.
Subsequently, the Defence Acquisition Council (DAC), headed by the Defence Minister, accorded 'Approval in Principle' for Procurement of FRCV under the Make-I Category. Successful development under Make-I Category would result in acquisition, from a successful Development Agency (DA), through the 'Buy (Indian-IDDM)' category with Indigenous Design and Development and a minimum of 50 per cent indigenous content. The project provides a unique opportunity to the indigenous defence industry to come together and realise an 'indigenously designed and developed in India' battle system as a national effort. It will enable India to join the league of select nations possessing this capability. It will also help to build research and manufacturing capabilities to foster technological spin offs benefitting a host of civil/dual use applications.
Broadly the FRCV is to have:
Weight not exceeding 55+5 per cent tonnes;
Transportability by in-service aircraft, ships, rail and road infrastructure;
Crew of four;
Main gun 120mm or above capable of firing assorted ammunition in direct and indirect mode;
Anti-tank and anti-helicopter missiles;
Anti-aircraft machine gun with remote control system;
All weapons connected with fully digitised architecture and incorporating AI decision support system;
Active and passive protection systems; minimum 1500 HP engine with a minimum life of 750 engine hours without overhaul;
De-rating facility to cater for operations in high altitude areas;
Software Defined Radio (SDR), hands free communication and network-enabled;
Digital inter-crew communication independent of radio sets;
Situational Awareness Defence Series Map (DSM) compatible Hybrid navigation system retaining the capability for incorporating IRNSS; and;
Integrated Battlefield Management System (BMS) and Identification of Friend or Foe (IFF).
The FRCV boasts a weight limit not exceeding 55+5 per cent tonnes, ensuring transportability via multiple modes including aircraft, ships, rail, and road infrastructure. Its adaptable design caters to varied temperature conditions and high-altitude operations.
Though the overall plan is to procure 1,770 FRCVs, according to one report the MoD intends to procure 590 FRCVs in the first phase. Recent media reports quoting unnamed defence sources say that the Army is procuring a total of 1,770 FRCVs in three phases with 550-600 to be procured in each phase. The source further said, "We expect that the developmental process would be completed in 4-5 years and it would take another 1.5-2 years for production to be rolled out. So, by 2030, we will start inducting them in the armoured fleets". The source further added that the last phase is expected to be completed in the next 10-12 years.
Despite the project's recent launch in 2021, the developmental process is expected to be completed within 4-5 years, with production commencing shortly after. By 2030, India will begin the crucial process of inducting these advanced vehicles into its armored fleets.
As mentioned above, the T-72 tanks of the IA are more than four decades old. Considering the time required to design, develop, trials, production and induction in sufficient numbers of a new battle tank, the project for replacing the T-72 tanks should have been kick started at least a full decade earlier. Ironically, the government only woke up after the rude shock delivered by the Chinese aggression in eastern Ladakh during 2020, which led to the MoD issuing the RFI in June 2021. However, given the continuing standoff along the LAC and increasing China threat, it would be prudent to accelerate the FRCV project combining all our national resources. Planned to be deployed on the border with China, as well as along the Line of Control (LAC) with China, the FRCV would be an excellent force multiplier for the Indian Army.