Unraveling the web of Trudeau's allegations and the complex realities of India-Canada relations
| | |
| --- | --- |
| | The Author is Former Director General of Information Systems and A Special Forces Veteran, Indian Army |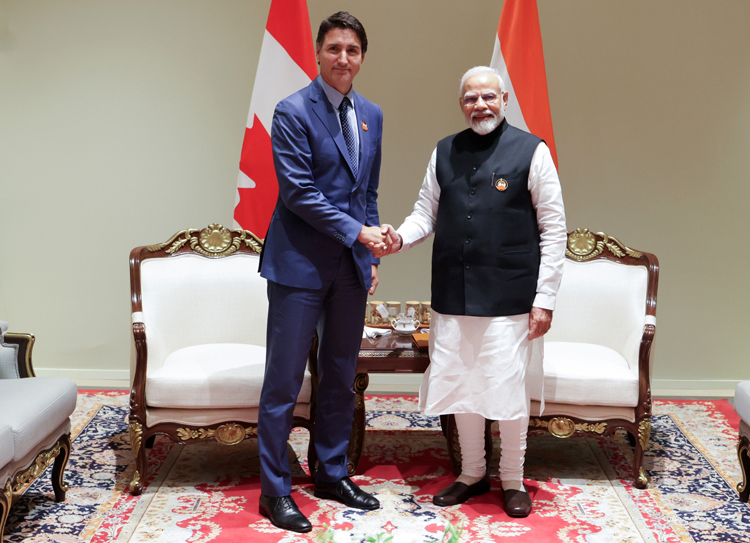 Prime Minister Narendra Modi meets with the Prime Minister of Canada, Justin Trudeau, in New Delhi on September 10, 2023.
Canadian Prime Minister Justin Trudeau remains adamant about an Indian link behind the killing of Khalistan Tiger Force (KTF) Chief Hardeep Singh support his accusations. He has not apprehended/produced the killers by design or default and has announced 'protection' for Khalistani supporters who are publicly threatening Indians/Indian-origin persons to leave Canada. India-Canada relations have plunged to the lowest levels with both sides expelling diplomats and issuing advisory for visiting the other country. India has stopped issuing visas and demanded downsizing of Canada's embassy in New Delhi.
Trudeau perhaps never imagined how his actions would expose not only the terrorist haven Canada has become but also his father Pierre Trudeau, then Canada's Prime Minister soft-pedaling the probe into the bombing Air India Flight 182 (Kanishka) killing all 329 on board over Canada on June 23, 1985, and the bomb planted in another Air India flight that killed two in Japan's Narita airport.
Stewart Bell's book 'Cold Terror' exposes Canada's deep-rooted involvement in global terrorism, with ties to extremist movements worldwide
Canada-based Babbar Khalsa was implicated in the bombings but eventually only one person was given jail term and all other accused acquitted. Later, an inquiry commission, headed by former Supreme Court Justice John C. Major, concluded that a "cascading series of errors" by the Canadian Government, Royal Canadian Mounted Police (RCMP) and Canadian Security Intelligence Service (CSIS) "allowed" the terrorist attack to take place. The report doesn't mention if these "cascading series of errors" were intentional, however, the possibility exists given Canada's terror history.
In his article published in The Economic Times on September 21, 2023, former Deputy NSA Pankaj Saran writes that aside from supporting Khalistanis, Canada's hand has been found in the Tamil war and even in the killing of Sheikh Mujibur Rehman.Interestingly, Stewart Bell, in his book 'Cold Terror – How Canada Nurtures and Exports Terror Around the World', highlights following among other issues:
Canadians received training in Afghanistan and many participated in Jihad from Chechnya to Kashmir and Iraq.
Hundred of Canadians are angry about sufferings of Muslims –they seek justice and revenge by attacking targets at home and overseas;
Terrorists/extremist groups have infiltrated Canadian political parties and have also penetrated migrant and diaspora community institutions. Operating through front, cover and sympathetic organisations, these groups have built networks for propaganda, recruitment, procurement and other support activities.
Canada became a source of international terrorism and an operational base for world terror long ago, where the planet's deadliest religious, ethnic and political extremist movements set up shop.
By 1998, every terrorist group in the world, including Al Qaeda, was operating in Canada.
India has suffered through years of Sikh terrorist violence originating in Canada.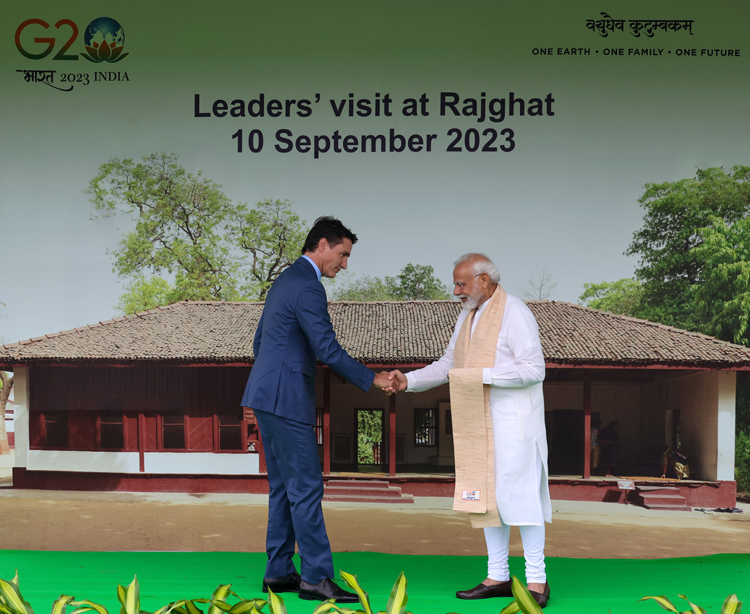 Prime Minister Narendra Modi and Prime Minister of Canada, Justin Trudeau visit at Rajghat, in New Delhi on September 10, 2023.
Stewart Bell's book is exhaustive covering Canada's terrorist activities around the world. The chapters dealing with Sikh separatists and Canadian activities in Sri Lanka should be of special interest to Indians.
Graeme Menzies, Director of Fulcrum Group, terms Trudeau's allegations bizarre, pointing out that -Nijjar came to Canada on a false passport and his refugee claim was rejected; 11 days after that, he married a woman who sponsored him for immigration, which was also rejected; yet Trudeau referred to him as a "Canadian" in the House of Commons? This shows that Trudeau deliberately lied in the House of Commons of Nijjar being a Canadian, unless he had given Prime Ministerial sanction for granting Canadian citizenship to Nijjar.
Canada hosts nine separatist organisations linked to global terrorist networks, including the World Sikh Organisation and Sikhs For Justice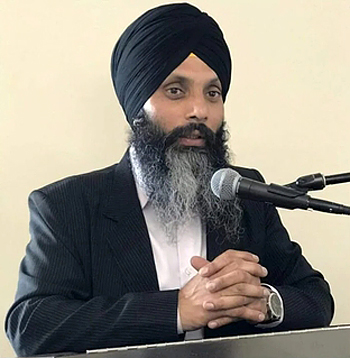 Canadian Sikh activist Hardeep Singh Nijjar
Trudeau had once remarked that he had more Sikhs in his cabinet than Prime Minister Modi but he did not reveal that his cabinet includes Khalistan sympathisers. That is why Canada permitted the so-called Khalistan rally calling to 'Kill India', eulogising 'Shaheed Nijjar' and targeting Indian diplomats on July 8, 2023 in Toronto under the garb of freedom of expression and democracy. Kalistanis have similarly protested and attacked Indian missions/Indians/Indian interests in Australia, Britain and the US. The Indian Consulate in San Francisco was set ablaze a second time by a group of Khalistani radicals in five months on July 2, 2023.
Canada hosts some nine separatist organisations targeting India, which are linked to global terrorist organisations. These include - World Sikh Organisation, Khalistan Tiger Force (KTF), Sikhs For Justice (SFJ) and Babbar Khalsa. India has been periodically warning Canada but latter has been brazenly supporting these separatists and refusing requests for their deportation.
The Khalistan movement has transformed more into capturing power, controlling the narcotics trade, terrorism and taking control of the Gurudwaras and internecine gang warfare is behind their killings including Nijjar, but Trudeau continues to blame India.
Pakistan's support for Trudeau's allegations hints at a larger geopolitical strategy, with Western powers aligning interests in a dual-front China-Pakistan war on India
The Canadian Broadcasting Corporation now says that Trudeau's accusations are based on the 'Five Eyes' network consisting of Australia, Canada, New Zealand, the UK and the US. Trudeau could be taking revenge for being chastised by Prime Minister Modi on sidelines of the G20 Summit for being soft on Sikh terrorists. But it is more likely that his outburst is the US-led western retribution against India for not allowing Russia to be accused in the Delhi Declaration for the Ukraine war, as also not letting Ukraine President Volodymyr Zelensky to address the summit, which the US has been managing at all international forums.
Why Trudeau has not provided the so-called credible evidence till now is perhaps because it is still being "evolved" by the West like the disinformation campaign on Ukraine. After all, neo-Nazis like George Soros, Josep Borrell and Victoria Nuland have been threatening India directly/indirectly to cut it down to size if it does not break up with Russia.
Pakistan is the only country which has supported Trudeau's accusations, which is hardly surprising given western largesse towards Pakistan. How the US helped Pakistan to get out of the FATF 'grey list' is in the public domain. Canada's Barrick Gold Corporation has signed a deal with Pakistan to mine the world's largest copper-gold deposits in Reko Diq mines in Balochistan. Britain has been lifting artillery/mortar shells from Pakistan for supply to Ukraine. Canada contributed $8 billion in aid to Ukraine over the last year and a half, including $1.8 billion in military assistance.
It is more likely that this is the US-led western retribution against India for not allowing Russia to be accused in the Delhi Declaration for the Ukraine war, as also not letting Ukraine President Volodymyr Zelensky to address the G20 summit
Pakistan's heightened proxy war on India, signaled by the recent twin terrorist encounters in Anantnag and Uri in J&K are perhaps part of western retribution against India. After all, the CIA, MI6 and the ISI have been bedfellows since ages. It suits Canada that Pakistan is promoting Khalistanis with a Sikhs For Justice (SFJ) office in Karachi and aligning the SFJ with the Chinese intelligence. A dual front China-Pakistan war on India apparently suits western national interest.
On a visit to Pakistan in October 2011, then US Secretary of State Hillary Clinton said in a press conference, "You can't keep snakes in your backyard and expect them to only bite your neighbours." Canada is in the same state. The question is does Trudeau realise this and climb down when his approval ratings are down to 33 per cent as per Angus Reid Institute? Khalistanis influence voters in regions like British Columbia and the Conservative Party Leader Pierre Poillievre could win the next election.
Finally, it is difficult to forecast whether Trudeau will work to diffuse the situation or damage India-Canada relations more through continued adamancy, especially when the strings controlling him are in Washington.