BRO's record-breaking projects spree is helping strengthen India's strategic borders
| | |
| --- | --- |
| | The Author is Former Director General of Information Systems and A Special Forces Veteran, Indian Army |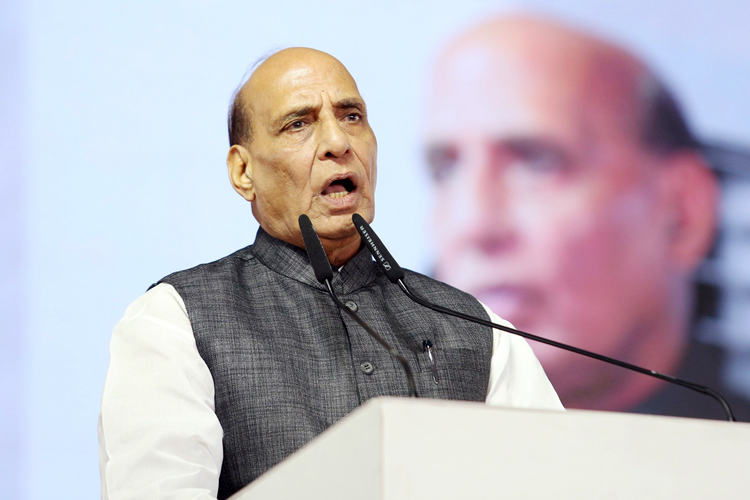 Defence Minister Rajnath Singh addressing the gathering at the inauguration of 90 infrastructure projects of Border Roads Organisation, in Jammu on September 12, 2023.
On September 12, 2023 Defence Minister Rajnath Singh dedicated 90 infrastructure projects to the country constructed by the Border Road Organisation (BRO) at a cumulative cost of 2,941 crore in Samba District of Kammu and Kashmir (J&K). According to an official statement, the projects have been constructed in 10 border States and Union Territories (UTs) of the northern and North-Eastern regions.
For the inauguration ceremony, Defence Minister Rajnath Singh was accompanied by Minister of State in the Prime Ministerís Office Jitendra Singh. Both were received at the Jammu airport by Lieutenant Governor Manoj Sinha and senior Army and Indian Air Force (IAF) officers. Singh inaugurated the state-of-the-art 422.9 metre Devak Bridge on the Bishnah-Kaulpur-Phulpur Road in Samba district. The other 89 projects were inaugurated virtually. These projects include 22 roads, 63 bridges, Nechiphu Tunnel in Arunachal Pradesh, two airfields in West Bengal and two helipads.
Defence Minister inaugurates 90 strategic projects in Northern regions, enhancing defence readiness
The Devak bridge is of strategic importance to the defence forces and will facilitate speedy induction of troops, heavy equipment and mechanised vehicles into forward areas. It will also boost the socio-economic development of the region. Of the 89 projects inaugurated virtually, 36 are in Arunachal Pradesh, 25 in Ladakh, 11 are in Jammu and Kashmir, five in Mizoram, three in Himachal Pradesh, two each in Sikkim, Uttarakhand and West Bengal and one each in Nagaland, Rajasthan and Andaman and Nicobar Islands.

Defence Minister Rajnath Singh dedicating to the nation Devak Bridge, constructed by Border Roads Organisation, in Jammu on September 12, 2023.
The BRO completed the construction of these critical strategic projects in a record time frame and many of these projects have been constructed in a single working season using state-of-the-art technology. A senior official from BRO said an important infrastructure project inaugurated is the 500 metre long Nechiphu Tunnel on Balipara-Charduar-Tawang Road in Arunachal Pradesh. This tunnel, along with under construction Sela Tunnel will provide an all-weather connectivity to the strategic Tawang region and will be beneficial to both the armed forces deployed in the region and the tourists visiting Tawang. Arunachal Pradesh Chief Minister Pema Khandu joined the ceremony virtually.
Defence Minister Rajnath Singh also inaugurated the reconstructed and revamped Bagdogra and Barrackpore Airfields in West Bengal on September 12. These airfields have been successfully reconstructed by BRO at a cost of 529 crore. These airfields will not only improve the defensive and offensive architecture of the Indian Air Force along Northern Borders but will also facilitate commercial flight operations in the region. The defence minister also laid the e-foundation of Nyoma airfield in eastern Ladakh which will be developed at a cost of 218 crore for wide-ranging strategic air assets. The construction of this airfield will tremendously boost the air infrastructure in Ladakh and augment the IAF capability along the northern borders.
Devak Bridge is a strategic triumph, paving the way for swift troop deployment in forward areas
According to a BRO spokesperson, the surge in road and bridge construction by the BRO in the last three years has led to the completion of several critical and strategic projects which has bolstered the defence preparedness. The BRO has also connected the farthest and most remote villages of the country like Huri in Arunachal Pradesh to the mainland. This connectivity has triggered reverse migration along the border villages.
The spokesperson further said that in the last two years, the BRO has dedicated a record 205 infrastructure projects to the nation at a cost of 5,100 crore. In 2022, 103 BRO infrastructure projects were completed at a cost of 2,897 crore while in 2021, 102 BRO infrastructure projects were dedicated to the nation at a cost of 2,229 crore.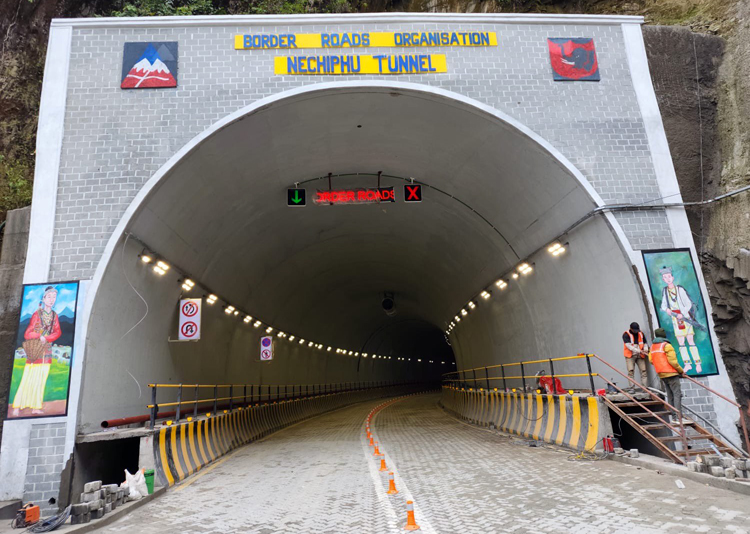 Defence Minister Rajnath Singh dedicated to the nation 90 infrastructure projects constructed by the Border Roads Organisation (BRO), worth over 2,900 crore and spread across 11 States/Union Territories.
The BRO is doing a good job. However, at the national level we need to examine how additional resources can be given to augment BRO to accelerate border infrastructure projects. Commendations for work completed are very much in order. However, at the same time, focus on requirements which are yet to be attempted is equally important, if not more considering that Chinese border infrastructure is far more developed compared to ours. For, example road connection to Huri village in Arunachal Pradesh is good but how many such remote villages are yet to be connected? The Vibrant Village program is well publicised but what is the progress and what is the schedule of completion, given that Union Home Minister Amit Shah had inaugurated the first such village sometime back.
Nyoma Airfield is a strategic milestone in Ladakh, elevating IAF capability along the borders
As pointed out in these columns earlier, our scheme of Vibrant Villages needs to be reviewed in comparison to Chinaís dual-use militarised villages on the border and some even across in India and Bhutan, which according to US reports also have integral air defence and electronic warfare elements. These villages have excellent road connectivity and are self-sustaining. In contrast, most of our villages in the Vibrant Village programme are quite far from the LAC and their self-sustainability is a question mark.
It should also set us thinking that since our standoff with China is more than three years old, how is it only now that the e-foundation of Nyoma airfield in eastern Ladakh is being laid after lapse of so much time, that too in September when construction is hampered in severe winter months? One way to accelerate border infrastructure development is to allot some of these projects to the private sector. When our private companies or consortiums are constructing ports-container facilities and undertaking other projects in foreign countries, they surely can undertake border infrastructure development within India.