By Lt. General P.C. Katoch (Retd)


Former Director General of Information Systems, Indian Army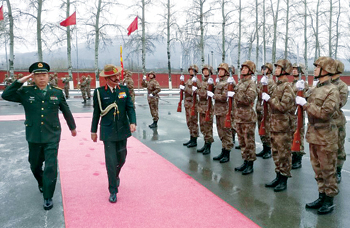 COAS General Dalbir Singh in Beijing, China, on November 21, 2016
India-China Joint Military Training exercise, 'Hand-in-Hand 2016', kicked off in Pune on November 27. The aim of this joint training is to share expertise in drills and practices while tackling insurgency and terrorism; promoting healthy military to military relations between the two armies, and; developing joint strategies for conducting operations in a counter terrorism environment.
The exercise is being conducted in three phases: Phase 1—familiarisation with the weapons and equipment; Phase 2—basic training including combat conditioning, firing of personal weapon, support weapon and practice of drills like establishment of covert observation post, house clearing, cordon & search and humanitarian and disaster relief operations, and; Phase 3—conduct of joint exercise. While this particular exercise was planned at the company level with respective battalion headquarters controlling the training, the overall aim of the series of 'Hand-in-Hand' exercises is to have different levels of the military to military engagement across the entire spectrum of operations to benefit both sides and further hone basic military skills. The first exercise was held in China at Kunming of Yunnan province in 2007 and the last exercise in China was held in October 2015 in Kunming Military Academy, Yunnan Province. This exercise is being supervised by a Joint Directing Panel comprising senior officials of both the countries.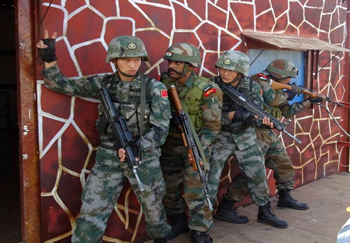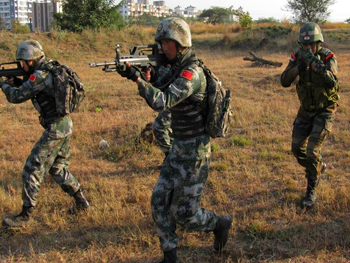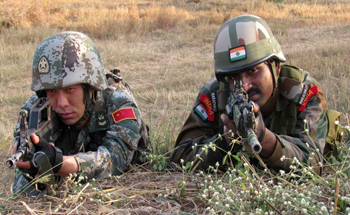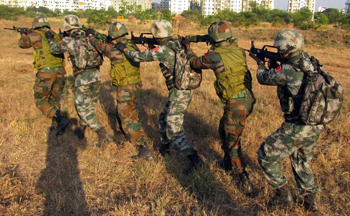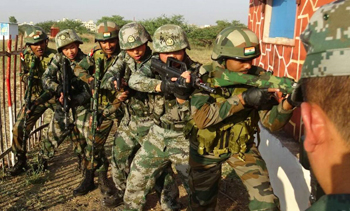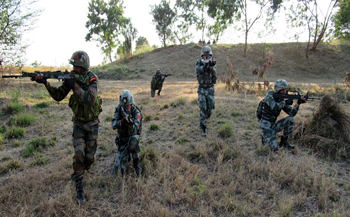 Soldiers of Indian Army and Chinese Army undertaking endurance exercises during Indo-China Joint Military Exercise Hand-in-Hand 2016
Just before this joint exercise began, Army Chief General Dalbir Singh Suhag undertook a four-day visit to China, where besides others he also met General Li Zuocheng, Commander PLA Army, and General Xu Qiliang, Vice Chairman of the Central Military Commission, the highest military body with President Xi Jinping as its Chairman. General Dalbir invited General Xu to visit India, which the latter accepted. Both reiterated their desire to keep up the momentum of defence exchanges and the need to keep the borders tranquil and peaceful. General Dalbir's visit was at a time when Pakistan has upped the proxy war on India, China has speeded up construction of the China-Pakistan Economic Corridor (CPEC), and Pakistan has announced that the China-built Gwadar port will be jointly guarded by Pakistani and Chinese naval ships. Both the CPEC and Gwadar have strategic implications for India. Besides, India naturally has concerns about the Chinese projects in Gilgit-Baltistan which is Indian territory under Pakistani occupation. General Dalbir visited major military commands in Xian and Nanjing and see installations connected to PLA's Infantry Division and Army Air Defence Brigades in these areas. His visit is to be followed by the visit of General Zhao Zongqi, Commander, Western Theatre Command of PLA, to India in December 2016.
But despite all the façade of camaraderie, China's Global Post showed the real face of China's stab-in-the-back policy through an article by Long Xingchun, Director of the Center for Indian Studies at China West Normal University, making the following points: India has applied many times to include Masood Azhar, Jaish-e-Mohammed's founder and leader, into the sanction list of the UN Security Council (UNSC) and Prime Minister Modi labels Pakistan as a supporter of terrorism and tarnishes Pakistan's international image, but isolating Pakistan will have limited effects; Modi refused to attend the South Asian Association for Regional Cooperation (SAARC) meeting scheduled in Islamabad in November and called for the other SAARC leaders not to attend; separatist movements in India as a result of chaos in Pakistan; a chaotic Pakistan will become a hotbed for extremism, which India will find more difficult to tackle. It may even incite separatism within India, especially in states and north-eastern regions where Muslims make up the majority, and; it is unfair to attribute the attacks on India to the Pakistani Government, because the government would like to solve the discrepancies with India through dialogue.
The long and short of Long's fallacious article, an obvious attempt to suck up to the Chinese Communist Party, should be viewed in the following context: by protecting Masood Azhar repeatedly at the UNSC, China is abetting terrorism, not that she isn't waging hybrid war against India in conjunction Pakistan; unlike Pakistan being a protégé of China, other SAARC nations are sovereign states who make their own decisions. Bangladesh Prime Minister Sheikh Hasina publicly stated why her country pulled out from the SAARC summit in Islamabad, which had nothing to do with any pressure from India; separatists movement in India are not because of the chaos in Pakistan but are being fanned by Pakistan's proxy war while China provides tacit support; since when has China become the judge that isolating Pakistan will make it more difficult to tackle, and; is it unfair to expose Pakistan's state policy of terrorism because it suits Chinese aggressive aims?
The China-Pakistan military and nuclear nexus over past several years is well known. According to Pakistan's Express Tribune, quoting a Pakistani naval official, China is sending naval ships to Pakistan's Gwadar port that opened on November 13, to protect regional security. However, Chinese Defence Ministry official Yang Yujun said on November 30 that China would deploy a submarine at the port (Gwadar) and establish a base there to provide maintenance for the Chinese naval fleet operating in the Indian Ocean. We may continue playing these 'Hand-in-Hand' joint games but the bottom line is that China considers India as an adversary and wants us to be subservient to Chinese domination in Asia.
The views expressed herein are the personal views of the author.