By Lt. General P.C. Katoch (Retd)


Former Director General of Information Systems, Indian Army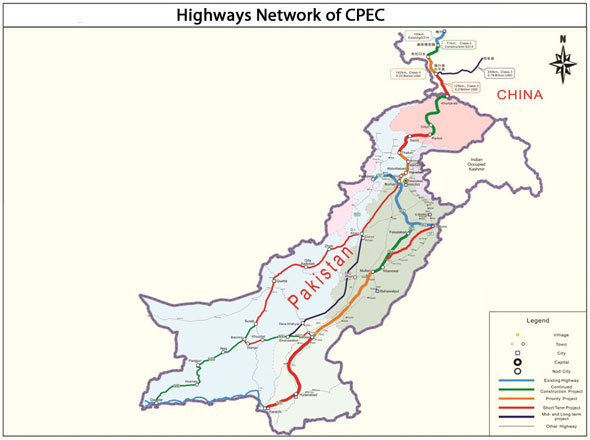 Khaled Ahmed, consulting editor, Newsweek Pakistan, in his recent article titled 'Corridor of Uncertainty' writes that Pakistan's General Aamir Riaz inviting India to join the China-Pakistan Economic Corridor (CPEC) is conditional on India calling off its Afghan proxy warriors mobilised expressly to disrupt CPEC because it "endangers India's security". Whether Riaz has been recruited by the Communist Party of China (CPC) as another joker in the Chinese pack is not known but Riaz calling his offer contingent upon India calling off its Afghan proxy warriors certainly is joke of the decade, considering the intense proxy war waged by Pakistan across its western and eastern borders. What Riaz does not realise is that India is never eager to join the CPEC.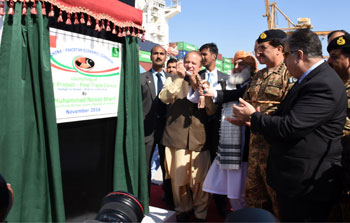 Pakistan Prime Minister Nawaz Sharif unveiling the plaque of CEPC pilot project at Gwadar in 2016
On November 13, 2016, the CPEC became provisionally operational with the first convoy of trucks laden with Chinese goods traversing the CPEC's 3,000-km journey from Kashgar in China arrivng at Gwadar and further seen off in a Chinese ship from Gwadar to Middle East and Africa. Pakistan's top civilian and military leaders were reportedly present at Gwadar to see off the Chinese ship. Prime Minister Nawaz Sharif stated that Pakistan will provide best possible security to foreign investors to enable them to use Gwadar for international trade.
The CPEC is to absorb $46 billion Chinese investment — $11 billion by Chinese Government and balance $35 billion by private companies of China. Pakistan expects its GDP to rise because of the CPEC and 7,00,000 jobs for Pakistanis. No Pakistani can enter Gwadar Port (guarded by PLA) without valid ID card. Pakistan is responsible for the security of the CPEC with all costs to be borne by Pakistan. Pakistan has raised additional forces for specifically guarding the CPEC, with major portion of this special security force deployed in Baluchistan. Obviously, Nawaz Sharif and Pakistan's military hierarchy received hefty bribes for bartering Pakistan's sovereignty to China in exchange of Gwadar and the CPEC.
As per analysts, economically it is 11 times cheaper to transport the same goods by sea even to and from China than through the CPEC, even though the sea journey is longer. But the CPEC is alterative to the Malacca Dilemma of China should the Straits of Malacca get choked. Under cover of economic activity for "mutual benefit" and "good for the region", what China would never admit is that the CPEC is China's Strategic Highway to the Indian Ocean. The CPEC became even more important when Myanmar denied China the use of its territory for similar strategic purpose. China keeps harping for India to join the CPEC but on the question of land access for India to Afghanistan and Central Asia, responds that CPEC is only bilateral arrangement with Pakistan. The obvious intention is to keep India restrained, plus if CPEC is only 'bilateral' arrangement then why the façade of asking India to join it? Clearly, Gwadar is a future Chinese SSBN base, which together with the Pakistani naval bases of Karachi and Omari to which China has access, would challenge India at sea.
China has deep links with Taliban even the ones based in Qatar, Pakistan has hold on both Taliban through the Haqqani Network chief Sirajuddin Haqqani, the ISIS in Af-Pak is the creation of Pakistan, and most importantly all Pakistani proxies also are Chinese proxies. That is why with the strategic though covert lodgment of PLA in PoK and Pakistan, terror attacks in Afghanistan and violence in Jammu and Kashmir including ceasefire violations by Pakistan have shot up exponentially. Pakistani objective of carving out more Afghan territory as strategic depth (implying influence at subconventional level) is in sync with China's strategic designs. Pakistan's growing hostility towards India suits China similarly. Repeated terror attacks in Baluchistan aids Pakistani designs to subdue the Baluch population and eliminate maximum non-Sunnis in the entire country.
Terror attacks against Baluchis suit China very well too as it desists Baluch rebels from any feeble attempts to disrupt the CPEC which anyway is guarded by the Pakistani Army.
India should never join the CPEC because:
It does not give land access to India to Afghanistan and Central Asia through Pakistan, which India has always wanted;
It may increase India-China trade but with the existing bilateral imbalance heavily in favour of China (according to information provided in Parliament, it stood at close to $45 billion in 2015-16 with India's exports amounting to only around $8 billion), it would result in increased imbalance manifold with increased Chinese belligerence, having conned India into such arrangement;
It would legitimize PLA lodgment and projects in Gilgit-Baltistan (Indian Territory) undertaken without any reference to India;
It would also indicate India's intransigence to Pakistan's genocide in Balochistam, fully backed by China, and;
Most importantly it will fit into Chinese plans to keep India boxed into South Asia.
The views expressed herein are the personal views of the author.