By Lt. General P.C. Katoch (Retd)


Former Director General of Information Systems, Indian Army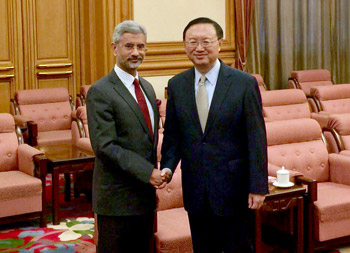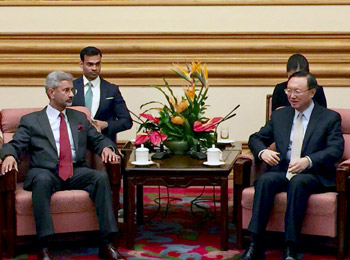 On February 22, India and China held their 'upgraded' strategic dialogue at Beijing. Just before the dialogue, Foreign Secretary S. Jaishankar held talks with Chinese Foreign Minister Wang Yi, who was to co-chair the dialogue. Significantly, the dialogue was being held in the backdrop of: one, China consistently vetoing the move at the United Nations to brand Pakistan's radical mullah and Jaish-e-Mohammed chief Masood Azhar as terrorist despite ample proof; two, consistently blocking any move for India to be given membership to the Nuclear Suppliers Group (NSG) unless same is accorded to Pakistan — that China is also smarting under India being admitted to the Missile Technology Control Regime (MTCR) while China has been denied the same also being a reason, and; three, China exhorting India to join the China-Pakistan Economic Corridor (CPEC) even as it impinges heavily on India's national security both on land and in the Arabian Sea being China's strategic highway to the Indian Ocean — since CPEC is not economically viable, luring India (despite adverse strategic ramifications) is a move to make it economically viable.
But despite all this Wang Yi wore his fake smile and showered diplomatic niceties while opening the 'upgraded' strategic dialogue referred to high-level talks held by officials from both sides on critical issues earlier said, "We have to have frequent meetings….The officiallevel meetings made very good foundation for the 'successful strategic dialogue.'" He added that the Chinese side attaches importance to "this reconstituted dialogue….I am certain by raising the level of this strategic dialogue the two sides will be able to enhance their strategic communication, reduce misunderstanding and build more trust and deepen our strategic cooperation. This way we can better tap into the potential of our bilateral relations and live up to our responsibilities for the regional stability".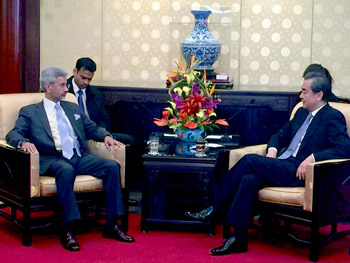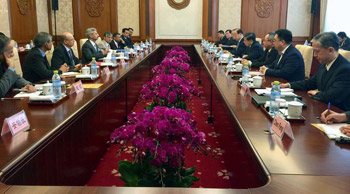 (Above all) Foreign Secretary S Jaishankar held talks with his Chinese counterparts during the India-China Strategic Dialogue held in Beijing in February 2017
Later, Jaishankar along with China's Executive Vice Foreign Minister Zhang Yesui held the strategic dialogue. In his opening remarks at the dialogue, Jaishankar touched upon: happening between India and China having global and regional significance; bilateral relations have acquired steady momentum over many years; growing economic engagement; cooperation on many international issues; and border areas have maintained peace and tranquillity. Zhang said: "I expect that we discuss the full range of issues that are important to our countries". The strategic dialogue was upgraded during Chinese Foreign Minister Yi's visit to New Delhi last year. China has deputed Zhang, also the head of the influential Communist Party of China (CPC) committee of the Chinese Foreign Ministry to co-chair the talks.
Jaishankar countered China's demand for "solid evidence" against Masood Azhar saying the "burden of proof" was not on India as Azhar's actions were well documented. He said, India had overwhelming support from the international community for Azhar to be sanctioned by the United Nations Security Council's (UNSC) 1267 committee, and that Beijing's may be a minority voice. "This time around, it's not India but other countries (that moved the plea for sanctions). So, there's a body of world opinion." Referring to a recent move by the US, France and the UK, Jaishankar said these countries "seem very well convinced, else they would not have taken the initiative to move that proposal....The burden of proof is not on India."
China in her devious ways has voiced an innocuous unofficial statement through Dai Bingguo that if Tawang Plateau is ceded by India, it could pave the way for a boundary settlement
Another reason cited by China for stopping the UNSC committee from censuring the Jaish chief is what it describes as a lack of consensus in the committee. To this, Jaishankar said, "There isn't a consensus because China hasn't joined it." There is no denying the fact that China is a revisionist power which in its ambition to 'Great Power' status and superseding US as the global superpower gives scant regard to its neighbours less Pakistan and North Korea that is her nuclear talons. Chinese scholars like Minxin Pei have made statements like, "If India thinks that China has a grand scheme of trying to contain India or prevent India from becoming a great power (it's not true)…It could be in some circles but China is preoccupied with the US, which China sees as a much more serious, external adversary." What Pei fails to elucidate are the "circles" he describes; are these not the Politburo and Central Military Commission (CMC)? Besides "much more serious, external adversary" doesn't rule out India as an adversary. The boundary talks have gone on endlessly.
Now China in her devious ways has voiced an innocuous unofficial statement through Dai Bingguo (former negotiator on the Sino-Indian boundary) that if Tawang Plateau is ceded by India, it could pave the way for a boundary settlement. Bingguo refers to the importance of Tawang to Tibetan Buddhists but it is much significant to Tibetans and Buddhists residing in India. Bingguo fails to outline what will China cede of the 38,000 sq km Aksai Chin and the 5,180 sq km Shaksgam Valley illegally occupied by China including Mount Kailash, so sacred to Indians being the abode of Lord Shiva? It certainly can't be in lieu of China's illegal claims in Eastern Ladakh and the central sector. But getting back to the 'upgraded' strategic dialogue, it was a case of agreeing to disagree. Finally, as the Frankenstein of terror devours mother Pakistan, how it devours the CPEC remains to be seen.