By Lt. General P.C. Katoch (Retd)


Former Director General of Information Systems, Indian Army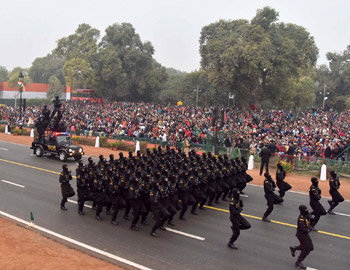 The National Security Guard (NSG) Marching Contingent passes through the Rajpath, on the occasion of the 68th Republic Day Parade 2017, in New Delhi on January 26, 2017
Media is agog with news headlines "Army on Shopping Spree, Commandos to Get Deadlier," reporting that after the successful 'surgical strikes', the Ministry of Defence (MoD) is fast-tracking some long-delayed modernisation of the Army's Special Forces to make them even more lethal and mobile for clandestine warfare. As per MoD sources, seven requests for proposals (RFPs) have been issued to the United States, Israeli, Swedish and other companies for acquisition of the specialised weaponry on a fast-track basis, fast-track basis being redundant hype as all RFPs have similar response period. Besides going by the earlier experience, it will take a number of 'years' before the weapons and equipment sought actually gets fielded. So let us keep the 'fast-track' business aside, even as news reports quoting MoD resources say "Restricted" tenders have been issued to select foreign arms companies for acquisition of new assault rifles, sniper rifles, general purpose machine guns, lightweight rocket-launchers, tactical shotguns, pistols, night-vision devices and ammunition.
In addition, trials are reportedly in progress to acquire some 120 light strike vehicles (LSVs), which can be carried by helicopters, for special operations. Incidentally, all the weapons and equipment mentioned have been authorised to Army's Special Forces units since year 2002. All the equipment promised to be acquired through the foreign military sale (FMS) route immediately post-9/11 has still not fetched up. Disregarding global norms, our Army also went in for rapid expansion of the Special Forces which created enormous deficiencies in Army Special Forces units. And, it is these criticalities that are being attempted to be bridged. That is why the more Tavor assault rifles ex Israel is just for 1,120 pieces for now. LSVs were offered by a Singapore defence firm more than a decade back but these were not even called for trials perhaps because the expected bribe was not offered. The media also talks of disposable rocket launchers, which have been in use by the Indian Army past decade. As significantly, the news reports say that there is no progress to establish a Special Operations Command, as proposed by the Naresh Chandra Committee.
Conventional response to asymmetric threats do not work and merely fortressing one's house is no answer. We need a well thought out coordinated proactive approach. Establishment of the ISFC and ICC will be vital steps towards this.
Special Forces are being used strategically world over to further national interests of their countries. Their employment is actually extension of foreign policy of the concerned country. Leading nations employing Special Forces proactively trans-frontiers are perhaps the United States, Russia, UK and Israel. US Special Forces (USSF) are operating in over 100 countries. This is in addition to almost all diplomatic missions in foreign countries having USSF presence. Since China has already positioned the People's Liberation Army (PLA) troops in her development projects globally included Pakistan, Pakistan-occupied Kashmir (PoK), Nepal, Myanmar, Bangladesh, Sri Lanka, Seychelles and other countries in garb of workers and technicians of development projects, we can safely posit a sizeable section being Chinese Special Forces. Pakistan has employed the Special Services Group (SSG) actively in Afghanistan, J&K, Nepal and Bangladesh, and is forging links with extremist/terrorist organisations in India.
What India needs is an Integrated Special Forces Command (ISFC) directly under the Prime Minister with parallel links to the Prime Minister's Office (PMO) and the National Security Advisor (NSA). The Prime Minister should have a Special Forces Cell under him manned by the Research and Analysis Wing (RAW) and Special Forces personnel, tasked w ith: evolving policy and doctrine for strategic employment of Special Forces at strategic level; oversee their manning, equipping, training, tasking, intelligence, inter-agency synergy; coordinate and monitor their operational employment, and; coordinate joint training and operations with foreign Special Forces. The balance Special Forces should be clubbed under the Chief of Defence Staff as an Integrated Commando Command (ICC) for supporting military operations; cross border tactical tasks and within border tasks beyond capabilities of regular infantry.
The case for raising of a Marine Brigade is gathering dust in the MoD for the last decadeand-a-half should be activated and the Marine Brigade clubbed with the ICC. Tasks of the IFSC and ICC would complement each other in specific situations. The main difficulty in establishing the ISFC will be the reluctance of the organisations and agencies presently controlling them, namely the Services, the Ministry of Home Affairs (MHA), the Cabinet Secretariat. However, the exercise is essential in the present context, akin to the efforts for integrating the nine major intelligence agencies, which is yet to fully take off in face of stiff opposition. Diplomacy and conventional war by themselves cannot contend with asymmetric wars of Pakistan and China. Conventional response to asymmetric threats do not work and merely fortressing one's house is no answer. We need a well thought out coordinated proactive approach. Establishment of the ISFC and ICC will be vital steps towards this.