By Lt. General P.C. Katoch (Retd)


Former Director General of Information Systems, Indian Army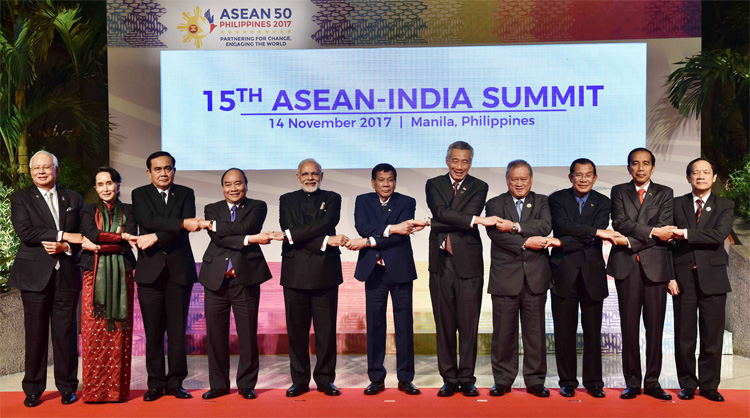 Prime Minister, Narendra Modi with other world leaders in a group photograph, at the 15th ASEAN-India Summit, in Manila, Philippines on November 14, 2017.
That Republic Day Parade 2018 will be special is probably an understatement. Never have 10 heads of states been invited to this event, which India has done this time by inviting heads of all the 10 ASEAN states. Whether all will attend, which logically should happen, is not known yet. But China's continuing efforts to draw as many counties into its geopolitical sphere of influence and deliberate efforts to keep India confined to South Asia may deter some ASEAN country heads to attend the event, or send junior representatives at some pretext. China has successfully diluted the ASEAN cohesion through its money power, buying out some member countries, to the extent that ASEAN is unable to even issue a declaration denouncing Chinese arbitrary aggressive actions and militarization actions in Western Pacific. Cultural tableaus from the participating ASEAN countries are likely to be showcased in the parade on January 26, 2018. It would have been good if military contingents from ASEAN member countries also participated in the parade, akin to participation by the military contingents of France (2016) and UAE (2017), but perhaps this have not been planned in consideration of the time limit of the parade. In November 2017, Philippines hosted the ASEAN-India and East Asia summits, as well as special celebrations marking the 50th anniversary of ASEAN, the Regional Comprehensive Economic Partnership (RCEP) leaders meeting and the ASEAN Business and Investment Summit. Attending these events, Prime Minister Narendra Modi stressed on India's commitment to deepening ties with the ASEAN member states and the wider Indo-Pacific region as part of India's Act East Policy (ACP).
The special significance of inviting heads of states of ASEAN-member countries for Republic Day 2018 is that it coincides with India celebrating dialogue partnership with ASEAN and 15 years of summit level partnership
The special significance of inviting heads of states of ASEAN-member countries for Republic Day 2018 is that it coincides with India celebrating dialogue partnership with ASEAN and 15 years of summit level partnership. India and ASEAN-member states put together amount to a population of some 1.8 billion humanity, and more significantly consist one of the largest economic regions. ASEAN is India's fourth largest trading partner, accounting for 10.2% of India's total trade. Conversely, India is ASEAN's seventh largest trading partner. ASEAN is not focused on military integration, but is a regional grouping focused on integrating trade and economy. Therefore, India inviting head of states of the ASEAN-member countries has no military orientation; but to do with trade, commerce, connectivity and the emerging ASEAN Free Trade Agreement (FTA). The manufacturing-based economies of ASEAN countries and India's service-oriented economy can complement each other increasingly, which together would continue contribute towards regional security in face of mounting security challenges. Unfortunately, China views any groupings where India is involved with suspicion. The recent preliminary quadrilateral dialogue between India-US-Japan-Australia, dubbed the 'Quad', albeit only a dialogue has been questioned by the China Morning Post, asking whether the Quad is the beginning of an 'Asian NATO'. No press being free in China, this obviously is the thinking of the Communist Party of China. China has also always been suspicious of the Malabar series of exercises hosted by India; as being aimed at China.
Why India has invited heads of ASEAN countries as guests for Republic Day 2018 is because India and ASEAN have mutual interests and share common concerns. Speaking at the 4th ASEAN Defence Ministers Meet at Philippines on 24th October, Defence Minister Nirmala Sitharaman had said, "India's relationship with the ASEAN is a central pillar of our Act East Policy. As Prime Minister Narendra Modi has noted, this is at the core of our dream of an Asian Century". At the same time the India-ASEAN relationship assumes greater significance because of China's One Belt One Road (OBOR) and the Maritime Silk Route (MSR), both to push China's strategic-military-economic agenda, even as the so-called MSR is adjunct to existing international sea trade routes. China's increasing belligerance towards international norms and conventions can be gauged from their announcement to even establish two "international courts of justice' of their own to resolve disputes in Western Pacific – which is cocking a snoot at the United Nations and the Hague-based International Court of Arbitration. This, coupled with Chinese double standards wheteher in terms of terrorism or economically trapping third world countries, and predominance in global trade, requires stronger regional groupings for not only trade, commerce and connectivity, but also maintaining the regional security balance, however indirect. Countries in the region need to integrate. The bilateral agreement between India and Singapore allowing Indian Navy ships logistical support including refueling, at Singapore's Changi naval base is a step in this direction. Post the US dumping the Trans-Pacific Partnership (TPP), its resurrection is being looked at without the US. The India-ASEAN partnership, therefore, gains more significance, with the Indo-Pacific region having become central to global politics and economics, being reinforced further every day. The Republic Day Parade 2018 would indeed be ery special, viewd globally with much interest.