By Lt. General P.C. Katoch (Retd)


Former Director General of Information Systems, Indian Army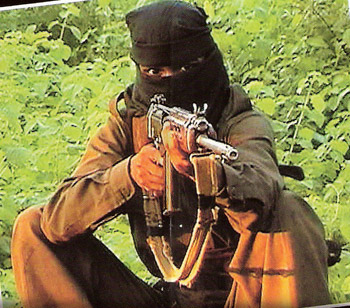 State Governments are claiming a significant drop in Maoist related violence
As per new reports of end November 2017, some 155 Maoists have been killed in the Dandakaranya region by security forces during 2017. This figure quotes the statement released by the Maoists' south sub zonal bureau just before the People's Liberation Guerrilla Army (PLGA) week commencing December 2, to mark the foundation day of CPI-ML (People's War Group), which was formed on 2 December 2000 after which it merged with the Maoist Communist Centre in September 2004. The 92,000 sq km Dandakaranya area encompasses parts of Chhattisgarh, Telangana, Maharashtra, Odisha and Andhra Pradesh. 45 Maoists, part of south sub zonal bureau covering Chhattisgarh were part of the 155 killed. Narayan Sanyal (member central committee) and four members of the state committee (Kuppu Deoraj, Raghunath Mahto, Himadri Rai and Ajita) were prominent Maoists killed. The list of killed also includes 30 women Maoists. The Maoists also claimed that in January-October 2017 period they killed 62 security personnel, injured 68 and looted 35 weapons. They also eliminated 20 civilians, who, they claimed, were working as informers for the security forces. However, as per the MHA records during 2017 up to October 31, 70 security personnel were killed by the Maoists and 122 were injured, while 98 Maoists were killed in the same period by the security forces.
The media quoting unnamed officials say that redrawing of the 'Red Corridor' is likely to take place in the near future. Some 20 districts are likely to be taken off the list of 106 Maoist-affected districts in 10 states of Bihar, Jharkhand, Andhra Pradesh, Maharashtra, Odisha, Telangana, West Bengal, Madhya Pradesh, Uttar Pradesh and Chhattisgarh. The reason being quoted is significant drop in Maoist related violence albeit out of 106 districts, 44 districts are said to be "worst affected". Here it must be noted that the highest concentration of security personnel (equivalent to about five and half infantry divisions of the army) had the following kill ratio: in 2015, 47 Maoists and 47 security personnel were killed; in 2016, 133 Maoists were killed versus 41 security personnel, and; in 2017 so far 45 Maoists have been killed. Full details of security personnel killed in Chhattisgarh are not available, however, according to the South Asia Terrorism Portal updated till April 16, 2017, 72 security personnel had already been killed in Chhattisgarh by that date. This is certainly should raise concerns rather than basing appreciation only on 'number of incidents'. The core of the Maoists is nested in the Abhujmad forest of the Dandkaranya region where aside from an odd temporary foray since 2012, replete with publicity blitz, no effort has been made to establish the rule of law in the numerous villages within. The jubilation over the waning Maoists militancy is, therefore, premature. Besides they continue to have external support both from China and Pakistan. The server hosting a Maoist propaganda website, popular among Maoist sympathizers in India, is located in China albeit In order to mask its true location, the administrators of the website, in connivance with the server operators, have tried to make it appear as if the server is hosted in Canada by using a proxy server. The website is used to share propaganda material, documents, and statements of Maoist leaders and views of Maoists justifying the killing of Indian security forces whenever they carry out such attacks. With the Change of government in Nepal and China drawing Nepal more and more into its ambit, it is axiomatic that Chinese intelligence will activate the Nepalese Maoists links with our Maoists to support the latter more vigorously. In our case, it appears that the two ghastly ambushes in Chhattisgarh on March 11 and April 24, both cumulatively resulting in the killing of 35 security personnel, injuring 12, and loss of 34 weapons, seven radio sets and assorted ammunition, have still not been learnt.
A major flaw conspicuous in these two ambushes was the missing officer leadership and the headquarters enjoying 'easy' life scores of km in the rear rather than being forward with their companies. But no changes have been effected. On November 16, 2017, a CRPF workshop was held at CRPF HQ, CGO complex attended by outside invitees also. What emerged from the workshop can be summarized as follows: security forces do not want to leave the road and occupy close by heights that dominate the road; the battalion headquarters will only move forward if suitable accommodation is given; battalions are against being allotted area of responsibility (AOR), which should have been the case from day one; they do not want to make friends with civil adivasis since all are hostile to them; they will not enter Abhujmad Forest since they are only "in support". Under these circumstances, the Maoist insurgency should be expected to continue for decades, with small scale attacks continuing as of now interspersed with major incidents like strikes in Sukma, Borkpal and Tarmetla. It may be recalled that four CRPF personnel were killed on December 9 when their colleague opened fire at them in the Basguda camp of 168 Battalion CRPF in Bijapur District of Chhattisgarh. No officer was present in the camp. 168 CRPF Battalion HQ is located at Bikaour along with another four battalion headquarters. Companies of 168 CRPF Battalion are 50 km away. The MHA needs to seriously address these issues; how to move the officers forward to operate with their command since it is directly related to combat efficacy; and, if central armed police forces are "in support", then who is responsible for establishing the rule of law in the Abhujmad Forest – clearly a situation that indicates that the MHA should have taken direct control of counter-Maoist operations rather than passing the buck by dishing out CAPF to States.