| | |
| --- | --- |
| | The Author is Former Director General of Information Systems and A Special Forces Veteran, Indian Army |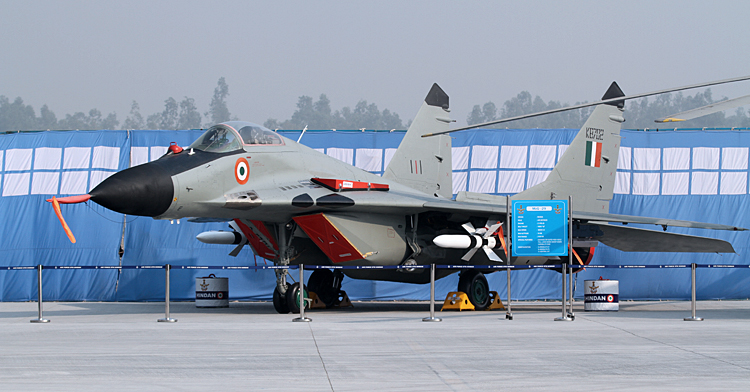 MiG-29 of the Indian Air Force
According to media reports, Russia has offered the Indian Air Force (IAF) 21 MiG-29 Fulcrum fighter aircraft airframes that have been 'stored' for decades but not used. These airframes were never flown, but reportedly subjected to periodic maintenance. Wings of these MiG-29s are also stored separately. These airframes were built in 1980s by Russia's RAC MiG, for the Russian Air Force, which could not muster the finances, and were not used even after breakup of Soviet Union in 1991. Russia stopped production of MiG-29 Fulcrum airframe in 2012 and the last customer was Myanmar Series production of MiG-29 Fulcrum that began in 1982. Overall, about 1700 of these fighters were produced, which in addition to the Russian Air Force, are in service with 27 countries.
The 21 MiG-29 airframes offered by Russia are skeletons, which will require new avionics, engines, and other parts, to make them fly. A team of IAF officials recently visited Russia to inspect these MiG-29 Fulcrum airframes and Wings, found them in good condition and have recommended their purchase. These airframe will be upgraded with latest SMT Upgrade package and delivered to India at roughly around $25 million per unit. Simultaneously, Russia has confirmed these will be upgraded to same standard as IAF's other three MiG-29UPG squadrons. That would add another $15 million or so to each fighter's price – overall cost becoming around $40 million per fighter. At the moment it is unclear whether this upgrade to SMT-cum-UPG version will be done by MiG in Russia or in conjunction HAL in India, but the latter is more likely considering Russia stopped production of these airframes years back.
The IAF received around 70 early model MiG-29s from Russia between 1986 and 1990, of which around 69 remain in service. A foreign publication puts India's holding of upgraded MiG-29 Fulcrums at over 110, including 45 MiG-29Ks with Indian Navy. Since the early 2010s, Hindustan Aeronautics Limited (HAL), in cooperation with MiG (Russia), has upgraded about half of IAF's 69 MiG-29s, whereas upgrading of all 69 was to be completed by 2013 to UPG standard. The UPG variant is similar to the Russian modernised MiG-29 SMT equipped with the Zhuk-ME electronically scanned slotted planar array radar, improved engine and expanded capability to conduct air-to-ground missions. NATO gave the codename 'Fulcrum' to the MiG-29 when the MiG-29s became operational in 1982. By the 1990s, Western pilots had ample opportunity to fly MiG-29s as the German Air Force incorporated the MiG-29s of East Germany. Later, the US bought 21 of these fighter aircraft from Moldova. Like Su-30, MiG-29 is highly maneuverable because of excellent handling characteristics following a stall and ability to attain very high angles of attack. But its operational record has not been as exciting, as seen from aerial engagements between Syria and Israel in 1989 and 2001, Iraq and US during the Gulf War, Ethiopia-Eritrea border conflict in 1990s, and Serbian Air Force opposing NATO bombing of Kosovo in 1999. With respect of the current Russian offer: did MiG manufacture 21 airframes without firm order from the Soviet Union; even after the breakup of Soviet Union, Russian Air Force has been flying the MiG-29 Fulcrum though reportedly of the "Myanmar Series" production – what is the difference between the two and why were these airframes not used; MiG-29 Fulcrum are being flown by many countries including prominent operators like Algeria, Iran, Belarus, Kazakhstan, Myanmar, Peru, North Korea, Turkmenistan and Uzbekistan – how come these were not offered to any of these countries; why has Russia made this offer at this stage when IAF's depleting strength is known to Russia, and; whether the offer is on India's behest? A cross-section of the uniformed fraternity feels latter could indeed be the case in order to ease pressure on the government due to the Rafale controversy, CAG report notwithstanding, and to deflect criticism of senior IAF officers for making political statements. Media states price offered per MiG-29 is about $25 million cheaper than the Tejas. The per unit price of the modified Tejas that IAF seeks has not been mentioned, but if the Russian offer is $25 million cheaper than the Tejas, then latter would at least be priced at $65 million or more? But in what time-frame will these 21 x Mig-29 Fulcrums be fully operational, and what will be the final cost? The skeleton MiG-29 Fulcrums require major upgrade, in addition to even changing the internal wiring.
HAL, like all entities of DRDO, OFB and DPSUs have the track record of being years, even decades behind the timelines they promise. Ultimately, the decision rests with the experts of the IAF and pundits of the MoD. There is no doubt that the IAF is woefully short of fighter aircraft and must be prepared to fight on two-fronts. However, cost of these 21 x MiG-29 Fulcrum of $840 @ $40 million per fighter should not be the only criteria when we are paying $9.5 billion for 36 Rafale fighters @ $263.88 million per unit cost. There is a definite case for the IAF to look around and see if there is a better choice available even if the conclusion finally is the present Russian offer.
The Rafale is a top line fighter but the deal should not be viewed in context of whether the Congress or the BJP were/are getting it cheaper, or what procedures were followed. Figures available publicly indicate that while India is procuring Rafale fighters at per unit cost of $263.88 million ($9.5 billion for 36 fighters), the US Air Force and Japan are procuring 141 and 100 fully equipped F-35 for $11.5 billion @ $81.55 million apiece and $8.8 billion dollars @ $88 million per fighter respectively. With the enlarging China-Pakistan threat, the Finance Minister needs to get out from his reverie to release more funds for defence of the country rather than playing into enemy hands by making successive defence budgetary allocations that are lower than 1962 in terms of percentage of GDP. Where there were no compunctions in paying $11.5 billion for 36 Rafale, the least that needs to be done is to get state-of-the-art fighters to make up IAF shortages, rather than the proposed arrangement which obviously would have long gestation period despite usual assurances.