| | |
| --- | --- |
| | The Author is Former Director General of Information Systems and A Special Forces Veteran, Indian Army |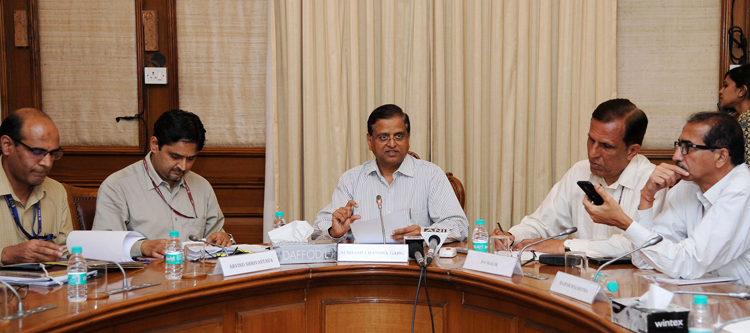 Image representative of senior bureaucrats at work. Niti Aayog has recommended lateral entry of experts "at the highest levels" of the government to usher in much-needed expertise.
There was extensive media coverage when in June 2018 government announced it would seek lateral entry from the civil into the government services at joint secretary level. Niti Aayog, in its report Strategy for India @75, had recommended encouraging lateral entry of experts "at the highest levels" of the government to usher in much-needed expertise. In the past, such recommendations were made but progress was limited. There is now more jubilation with the news on April 12, 2019 that government has selected nine professionals, largely from the private sector, as joint secretaries in various departments.
This is being heralded as first time that a large group of experts with domain knowledge will enter government through the lateral-entry process. However, earlier too experts from the private sector had joined the government through lateral-entry route in ministries like finance, power and sanitation; these included professionals like Manmohan Singh (later Prime Minister), Montek Singh Ahluwalia, Bimal Jalan, Vijay Kelkar (former Petroleum and Finance Secretary), R.V. Shahi (former Power Secretary), apart from Parameswaran Iyer, who is currently Sanitation Secretary, and Rajesh Kotecha, who heads the Ayush Ministry. The nine professionals selected now from the civil sector are to join departments like agriculture, civil aviation, finance, transport and shipping as joint secretaries on a contract basis. Since joint secretary-level officers are largely drawn from the pool of people who clear the civil services examination conducted by the Union Public Service Commission (UPSC), the entire process of selection of these nine professionals from the private sector was conducted by the UPSC to ensure the same standards. Two names of the nine selected include: one, Amber Dubey, presently working as a partner with consultancy firm KPMG as head of aerospace and defence is to join Ministry of Civil Aviation; two, Kakoli Ghosh, working with a multilateral farm sector-focused agency is to join the Ministry of Agriculture; three, Sujit Kumar Bajpayee, working with the state-run NHPC, is to join Ministry of Environment; four, Dinesh Dayanand Jagdale, CEO of Panama Renewable Energy Group, is to join Ministry of Renewable Energy; five, Saurabh Mishra is to join financial services department; six, Rajeev Saksena will join the economic affairs department; seven; Arun Goel is to join the Ministry of Commerce; eight, Suman Prasad Singh will join the Ministry of Road Transport, and, nine: Bhushan Kumar is to join the Ministry of Shipping. The selected candidates will be governed by the central government administrative rules and will enjoy the pay and perks of a joint secretary.
According to a government official, Niti Aayog has experimented with the concept and has hired several private sector experts through the lateral-entry process which had triggered a controversy but Niti Ayog backed the move saying it had enabled the government to get fresh and innovative ideas. He adds, "The entry of professionals will trigger competition in the services as those who have come through UPSC civil services will have to compete with the domain experts in order to remain relevant in their respective fields. Under the current rules, once you clear the civil services examination you have a tremendous amount of job security, which often leads to complacency." The idea no doubt is sound although not the first time such lateral induction is being affected. But the question is what will be the freedom of action of these chosen professionals? Delivering the concluding part of his lecture series as a guest faculty for the 'Public Policy for Inclusive Development of India' course at IIM Ahmedabad in November 2018, former President Pranab Mukherjee had said, "Bureaucracy is the biggest hurdle of our development, and we must rectify it. I do not mean that bureaucracy has not made its contribution but at the same time it has to keep in mind that the world is changing very fast and we shall have to keep abreast of this change; adjust ourselves, make it flexible so that we can formulate and articulate our policy. No system in the world can function without the appropriate institutional mechanism." He referred to the civil services as the one that find ways on how to put obstructions, how to find out excuses and not to move. It may be recalled that in February 2018, MoD admitted to floundering 'Make in India' and crippling delays in arms procurement. More significant was the scathing power point presentation by Subhash Bhamre, MoS (Defence) to Prime Minister Narendra Modi in end 2017 saying that arms procurement process is dogged by "multiple and difficult structures with no single-point accountability", duplication of processes, avoidable redundant layers doing the same thing again and again, delayed execution, no real-time monitoring and no project-based approach, among other things.
The fact remains that the IAS-lobby is very strong and dislike outsiders. Lateral entry of experts from the civilian field was recommended by Niti Ayog "at the highest levels" but the IAS lobby has circumvented that. By no stretch of imagination is a joint secretary "highest level". Ministries have more than one joint secretary. Besides, working under the Secretary from IAS, the ideas given by the lateral entry joint secretary will only go up if they suit the IAS lobby. If the government was serious about optimising the expertise of these technocrats, they should have been appointed as Officer on Special Duty (OSD) directly under the Minister concerned, even if given pay and perks of joint secretary. Arun Singh appointed OSD to Defence Minister Jaswant Singh during NDA had excellent understanding of matters military. But the IAS lobby succeeded in hounding him out before the government tenure ended. Considering all this, the chest thumping about lateral induction of these professionals is more of a charade. Besides, leaving out MoD from lateral entry of military professional confirms that the IAS lobby is holding the government by its jugular.