| | |
| --- | --- |
| | The Author is Former Director General of Information Systems and A Special Forces Veteran, Indian Army |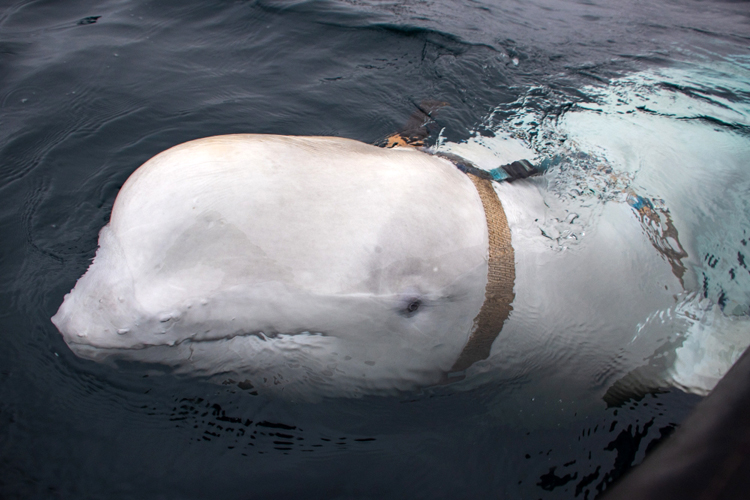 Beluga whale
Recent sighting of a Beluga whale in Norway sporting a harness with Russian markings has raised considerable alarm and speculation. According to Joergen Ree Wiig, the Norwegian Director of Fisheries, "Equipment St. Petersburg" is written on the harness strap, which features a mount for an action camera. One view is that the whale could have escaped from a Russian military facility, even as Norwegian Military has shown interest in the harness. A professor in the Department of Arctic and Marine Biology at the Arctic University of Norway believes that in all probability the Russian Navy in Murmansk is involved since Russia has major military facilities in and around Murmansk on the Kola Peninsula. Fishermen in Arctic Norway had reported the tame white cetacean with a tight harness swimming around. On Friday, fisherman Joar Hesten, aided by Joergen Ree Wiig, jumped into the frigid water to remove the harness.
According to Hesten, the whale began to rub itself against his boat when he first spotted it. As per official records, Russia does not have a history of using whales for military purposes but the Soviet Union had a full-fledged training program for dolphins. The Soviet Union used a base in Sevastopol on the Crimean peninsula during the Cold War to train the mammals for military purposes for tasks like searching for mines or other objects, plus planting explosives. The facility in Crimea was closed following the collapse of the Soviet Union, though unnamed reports shortly after the Russian annexation of Crimea indicated that it had reopened. Significantly, the Russian Defense Ministry purchased five dolphins for a training program in 2016.
There have been multiple protests on social media against the tight harness on the whale, citing 'cruelty to animals'. But use of animals and birds in warfare is nothing new. Besides, we are in an era of suicide bombers where powerful countries are also using terrorist organisations and mercenaries to further individual national interests. Animals and birds are easy to train, which is seen in all countries big and small albeit not necessarily for purposes of war. The mount for an action camera on harness of the Beluga whale indicates its use in monitoring submarines, ships, underwater drones and sensors, marine life, sea bed and suchlike tasks, if not more. During World War II, the Soviets successfully destroyed a number of German tanks and armoured personnel carriers (APCs). Training dogs for such tasks involved keeping them hungry and then releasing them behind slow moving tank/APC with meat-food kept atop. The dog would run and grab the food. The speed of the tank/APC was gradually increased and the dog 'armed' with explosives with a carrying harness. In war, the hungry dogs would attack the tank/APC presuming they were carrying food. The explosive would be detonated when the dog jumped on the tank/APC destroying both the dog and the vehicle.
China has taken surveillance to new heights with flock of robotic 'Doves' to monitor people across the country, at least in five provinces including Xinjiang, as per a report of June 2018. But there have been many instances of video surveillance with tiny cameras mounted on the head of falcons. For over a decade, filmmakers have been attaching extremely small and light HD cameras to the backs of birds to capture incredible point-of-view imagery of wild animals going about their day-to-day lives. In December 2015, cameras mounted on the tails of wild New Caledonian crows caught them in the act of creating the hooked foraging implements from plants.
Bomb attacks using animals like horses, mules and donkeys strapped with explosives, other than dogs, aren't new either. Bat-bombs and pigeon-bombs too have been used. Such attacks have happened even before the world wars, during the world wars and beyond, including in countries like the US (1862 and 1920), Lebanon (1985), Iraq (2003), Afghanistan (2009), and six times in West Bank and Gaza between 1996 and 2014. The oceans are destined to witness increased conflict; both above and below the surface. The Arctic Region too is heating up. During the Arctic Forum in St Petersburg on April 9, 2019, Russian President Vladimir Putin revealed plans of expanding Russia's icebreaker fleet from four to nine by the year 2035, Referring to a recent NATO exercise from Norway aimed at Russia, he said, "We will ensure the necessary defence capability in view of the military-political situation near our borders." Putin spoke of plans to expand Murmansk on the Kola Peninsula and Petropavlovsk-Kamchatsky on the Kamchatka Peninsula, located on either sides of the arctic shipping route. He expects the amount of cargo throughout the route to increase from last year's 20million tons to 80 million in 2025. Russia is launching its first nuclear-powered submarine capable of carrying the nuclear-capable underwater drone 'Poseidon,' alternatively referred to as an unmanned underwater vehicle (UUV), autonomous underwater vehicle (AUV), or simply an intercontinental-range, nuclear autonomous torpedo. During his annual address to the Russian Parliament on February 20, 2019, President Putin said, "Nothing has been said about this so far, but it is possible to do so today. "In the spring of this year the first nuclear powered submarine armed with this unmanned vehicle will be launched. The work is proceeding in accordance with the schedule." It is obvious that Russia is augmenting such high-end sub-surface capability with inexpensive measures like using whales and dolphins. One should expect China too doing similarly for underwater reinforcements.