| | |
| --- | --- |
| | The Author is Former Director General of Information Systems and A Special Forces Veteran, Indian Army |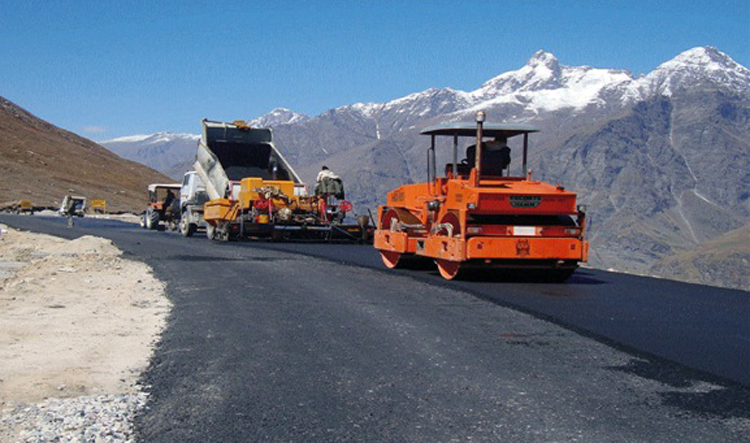 Border Road Organisation representative picture
Media reports that India has completed the 255-km Darbuk-Shayok-Daulat Beg Oldie (DSDBO) section of the road between Leh and Karakoram (KK) Pass. KK Pass is misnomer because DBO is eight km crow flight south of KK Pass which is considerable distance in that terrain. But it is a strategically vital road because DBO is a military base on the ancient trade route connecting the Ladakh to the Tarim Basin, with Chip Chap River flowing just south of DBO. DBO lies nine km northwest of Aksai Chin which is part of J&K and under illegal occupation of China. Significantly, DBO also has the highest airstrip in the world at an altitude of 5065 metres (16,614 feet). The DSDBO road is actually not new but large segments have had to be realigned. Construction of the DSDBO Road by the Border Road Organization (BRO) began 19 years ago in year 2000 under direct monitoring of the PMO and was required to be completed by 2012. However, in 2011, a CVC-instructed Chief Technical Examiner (CTE) inquiry found that the DSDBO Road had been laid on flatter terrain on the Shyok riverbed instead of on the mountainside, making it unfit for military use. Construction of the road in or near the riverbed, contrary to approved plans, resulted in damage every summer as melting snow from the upper reaches flooded the Shyok River.
During summer months from June to October, the road remained closed for up to 94 days due to rise in the water level, generally at km 99 to 105.50, 106.6, 112, 121.50, 124.32, 130.00, 138.8, and km 148 to 162. The inquiry estimated that half of the money spent in the 320 crore project, mainly for cutting 14,900 cubic metres mountain of had been "misappropriated". With BRO under the Ministry of Defence (MoD), it is quite obvious that the scam of some 160 crore with such blatant corruption benefitted officials of both PMO and MoD.
Post the inquiry orders were issued to realign large segment of the DSDBO Road with completion deadline extended to year 2014. But this road eventually took another five years to complete. What has been the additional cost and who is accountable for it remains unknown. As usual such scams will be kept under wraps because the bureaucrats can't be touched and don't the politicians share the loot?
Overall, the DSDBO road has some 37 bridges built across rivers. This road, which links DBO to Leh via Karu over the Chang La Pass, dominates the area where China undertook two major intrusions in April 2013 and September 2014 in the Depsang Plains, one 19 km deep in area of Raki Nala while Chinese premier Li Keqiang visited India. In September 2013, the then Defence Minister A.K. Antony conceded in Parliament that China was superior in terms of border infrastructure as India was late in deciding on building roads and other capabilities near the LAC because of the impact of 1962 war, describing it as a "collective failure" of all successive governments. Significantly, Antony stated that besides 73 roads being constructed, 14 strategic railway lines close to border with China and Pakistan are planned, and of these 14 planned railway lines, survey had been completed for 12. Notably, development plan for border infrastructure had been approved by the Indian government even 12-15 years before Antony made this statement.
The DSDBO road will help dominate the LAC and areas abutting Aksai Chin, Jiwan Nalla and Chip-Chap River etc. Nothing was heard about the 14 strategic rail-lines, till news reports of June 2018 stating that surveys were underway for four railway lines: Bilaspur-Manali-Leh railway line (498 km); Missamari-Tenga-Tawang (378 km); North Lakhimpur-Bame (Along)-Silapathar (249 km), and; Pasighat-Tezu-Parsuram Kund-Rupai (227 km), and that combined cost of Rupees 2,00,000 crore of these rail lines will be footed by MoD since these lines are to facilitate troop-armament movement at "short notice". The schedule mentioned was: final location survey (FLS) costing more than 2 lakh crore by Indian Railways to be submitted to MoD by March 2020; five years for constructing rail-lines after submission of survey reports, and; of approximate Rupees 350 crore surveys cost, MoD has already paid Rupees 150 crore to Indian Railways. Taxing the meager defence budget for funding these railway lines is absurd and raises a stink.
These rail lines are not for exclusive military use. Bulk of the time they will be used for civilian traffic including tourists. Besides, they will also be used for movement of para-military forces (PMF) and central armed police forces (CAPF). There is no reason why these rail lines should not be funded by the Indian Railways instead of the MoD. Besides, handling of the DSDBO Road between the PMO and MoD doesn't inspire much confidence. Not without reason General V.K. Singh, MoS (EAM) mentions in his autobiography that the "pipeline' goes right up to the PMO, which is perhaps why the decision to fund these rail lines by MoD against usual norms. The DSDBO road has been completed but going by news reports, has till now only been traversed by a motorcycle cavalcade. A military convoy has yet to test it. Of importance also is what will be the condition of the road after the next winter since of late the quality of surfacing in border roads leaves much to be desired. Next is the missing focus of border infrastructure in the northeast, particularly in Arunachal Pradesh which China claims as 'South Tibet'. Absence of border infrastructure will only enable China undertake 'salami slicing' of our territory.