| | |
| --- | --- |
| | The Author is Former Director General of Information Systems and A Special Forces Veteran, Indian Army |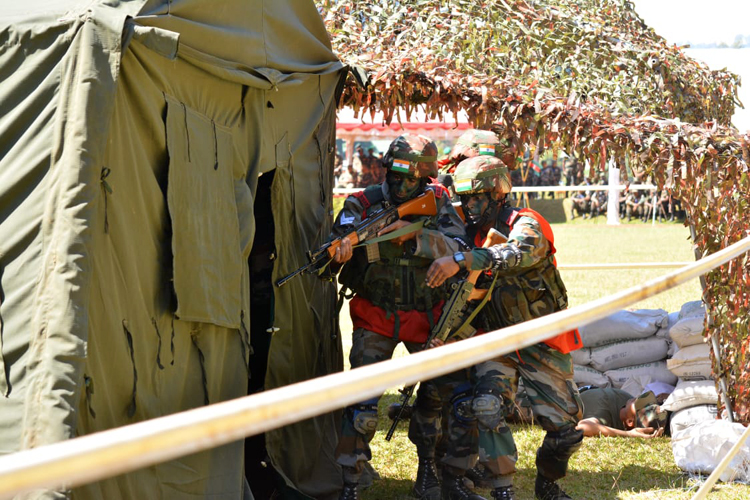 NDA-II failed to acknowledge it is the man behind the machine who is most important, and hurting the psyche of the soldiers weakens the Army no matter what weapon systems are bought.
According to news reports of May 9, 2019, the Armed Forces are close to finalising the package to make short-service commission (SSC) more attractive for eligible youth. The officer shortages reported in the news report are: Army – 7,924 deficiency against authorisation of 42,734 officers (17.06 per cent); Navy 1,538 deficiency against authorisation of 9,887 officers (15.5%) and; Air Force - 294 deficiency against authorisation of 12,310 officers (2.3 per cent). This indicates that the preference of youth is Air Force, Navy and Army in that order. The reasons are quite evident since it is the quality of life including deployments in no-war-no-peace that matter. Air Force is preferred over Navy because of life at sea in latter case.
However, the reasons for these officer shortages quoted in the media are as follows:
Military service is considered tough with high risks, poor promotional avenues, frequent transfers that disrupt family life and children's education;
Inadequate training capacity in military academies, and;
SSC officers, with very little post-retirement benefits, find it difficult to get good second career.
Media has not mentioned who is working out these plans to make SSC more attractive and who has provided these inputs to the media? But since a source from the 'Principal Personnel Officers' Committee' has been quoted, it apparently is being worked out by the Department of Personnel and Training (DoPT) of Government of India. Logically, DoPT should have taken inputs from HQ Integrated Defence Staff (IDS) which represents the Army, Navy and Air Force, or from the Services HQ, but did they? It is unlikely that HQ IDS or another Service HQ would have provided an absurd input like "inadequate training capacity in military academies" attributed to shortage of officers. It is well known that military academies have adequate capacities but are running under strength because there just aren't enough youth volunteering to join Armed Forces. And this is hardly surprising when former Service Chiefs have publicly stated that Armed Forces are no longer the preferred service.
The measures 'being examined' to make SSC attractive have been quoted in news as: grant of paid study leave to a golden handshake at the end of their tenures of 10 to 14 years; for SSC officers exiting after 10 years of service, two months of salary being counted for each year in uniform; payout of 38 lakh for officers leaving the force after 14 years, with two months of salary for each year for the first 10 years and four months per year for the balance four years being taken into account; SSC officers can also be sent to Defence Security Corps (DSC) or the National Cadet Corps (NCC) to ensure they can complete mandatory 20 years of service to become eligible for pension; fully-paid study leave for professional courses and grant of other benefits. The news report also says that such SSC package has been in the works for long but never but was never approved, and now it would be up to the next government to approve it. Obviously, the DoPT is working in isolation, for example how are SSC officers planned to be sent to say NCC to complete 20 years pensionable service when another study done by the Army is talking of NCC completely manned by veteran officers. Besides, how many SSC officers can be posted to the DSC on completion of 14 years and is that attractive to SSC officers being released? "If bulk of the officers exit after 10 or 14 years, it will help the promotional prospects of PC (Permanent Commission) officers as well as stem the greying profile of the armed forces. Different models for increasing the intake of SSC officers as well as making it attractive for them are being examined by the Principal Personnel Officers' Committee," according to a government source. The worry of "graying" is quite amusing in light of the recent news that service in all CAPF is being raised to 60 years. The news report also says that while ratio of around PC officers to SSC in Armed Forces is presently 4:1, aim is to achieve a ratio of 1:1. But has the DoPT done any analysis of what would be the effect on the Armed Forces in terms of say combat capability, efficiency and specialisation with 50 per cent officers leaving service in 10 or 14 years, or is age factor the sole criteria? Time and again reference is made to salary and pension budget of Armed Forces leaving little for modernisation.
This, despite the fact that while announcing the defence budget it is specified that allocation for salaries and pension is being made separately. A civilian defence employee on an average is five time more expensive than his counterpart in uniform or veteran. Besides, almost 70 per cent of defence fund are being consumed by the DRDO-OFB-DPSUs. Yet we avoid addressing these white elephants. Do we want the size, shape and capability of the Armed Forces to be relegated to the level of 1962; if not, then why are defence budget allocations lowest since the 1962 debacle? In 2018, data furnished by the MoD showed shortage of 7,679 and 20,195 JCO's and below – total 27,874. Navy had a shortage of 1,434 officers and 1,14,821 sailors – total 1,16,255. The Air Force had a shortage of 146 officers and 15,357 airmen – total 15,503. This means that Armed Forces did not have to pay 1,59,632 serving all ranks including 9,259 officers. But these statistics being apart, has the Ministry of Home Affairs ever been questioned including the pay, allowances and pensions of police forces, who are now better than the Armed Forces? These inputs to the media given at this juncture by DoPT perhaps is no more than 'gassing' to sway voters. There doesn't appear to be any real intent. But NDA-II failed to acknowledge it is the man behind the machine who is most important, and hurting the psyche of the soldiers weakens the Army no matter what weapon systems are bought.