| | |
| --- | --- |
| | The Author is Former Director General of Information Systems and A Special Forces Veteran, Indian Army |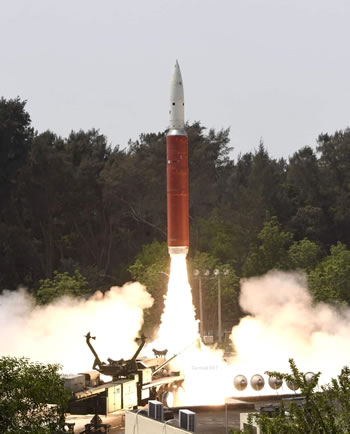 The Defence Research and Development Organisation (DRDO) successfully launched the Ballistic Missile Defence (BMD) Interceptor missile, in an Anti-Satellite (A-SAT) missile test 'Mission Shakti' engaging an Indian orbiting target satellite in Low Earth Orbit (LEO) in a 'Hit to Kill' mode from the Dr. A.P.J. Abdul Kalam Island, in Odisha on March 27, 2019.
Post successful demonstration of anti-satellite test (ASAT) capability by India in March 2019, the government has cleared setting up of a new agency called the Defence Space Research Agency (DSRO). With the ASAT test, India joined an elite club of four nations with such capability; providing deterrence capability against adversaries who may want to attack Indian satellites to cripple systems in times of war. As per news reports, the decision on DSRO was taken at the top most level by the government "some time ago", which indicates that this decision was possibly taken before the general elections – under Prime Minister Narendra Modi during the previous government. The report goes on to say that the DSRO has started taking shape under a Joint Secretary-level scientist. The agency would be provided with a team of scientists which would be working in close coordination with the tri-services integrated defence staff officers. DSRO has been entrusted with the task of creating space warfare weapon systems and technologies.
India's space program over past six decades is acknowledged globally for its standout achievements. Many more satellite launches are planned in the current year. Chandrayaan 2 is slated to take off next month, in July. Minister of State MoS in the Department of Space (DoS), Jitendra Singh, while speaking to the media about India's space plans over next five years also spoke about India's next big space mission, the maiden human spaceflight 'Gaganyaan that is planned to be launched by or before year 2022. Gaganyaan will send two to three astronauts in space. The selection process for the mission is in its final stage and training is planned to be completed in one to two years. In addition to existing ISRO facilities, a space research centre is being set up on the premises of Central University of Jammu and another space hub in the complex of NIT Agartala, Tripura. There are also plans to set up a hall of space technology in Pragati Maidan in New Delhi, to create awareness in public about ISRO's space activities. The Defence Space Agency (DSA) is already being set up in Bengaluru under an Air Vice Marshal-rank officer and will gradually take over the space-related capabilities of the services. The DSA has been created to help the country fight wars in the space. The DSRO would be providing the research and development support to the DSA which comprises members of the three services.
Interestingly, the Directorate of Indian Defence University (IDU) organised a two day workshop on "Space Warfare and Technology" for senior and middle level officers from the three Services on May 2-3, 2019, at New Delhi; covering Weaponisation and Militarisation of Space, preparation for Absorption of High-End Technology for Self-Sustenance in Space Operations, Space Innovations and Technology Exploitation, Inertial Navigation Systems and Sensors, legal aspects of military use of space, Building Capacity - Training, Human Resource and Research & Development, Adversarial Capability in Space Domain & Way Forward for Indian Armed Forces. The speakers included eminent members from the industry, academia, IITs, ISRO, DRDO, think tanks and Services, sharing their pragmatic knowledge and research on various aspects of space warfare and technology. The workshop was well timed; coinciding with the setting up of the DSA and the three service energising respective capabilities. Space warfare is combat that takes place in outer space. The scope of space warfare therefore includes ground-to-space warfare, such as attacking satellites from the Earth, as well as space-to-space warfare, such as satellites attacking satellites. Now there is news that India's first ever simulated space war exercise named 'IndSpaceEx' under aegis of HQ Integrated Defence Staff (IDS) is scheduled to take place in July 2019.
All military stakeholders, including those from the scientific community, are to participate in IndSpaceEx, the purpose of which is to understand the possible challenges in space warfare and to counter China's growing influence in this domain, which poses a major threat to India's national security interest. The news report reads, "The main aim of the exercise, to be held in the last week of July under the aegis of the Integrated Defence Staff (IDS) of the defence ministry, is to assess the requisite space and counter-space capabilities that are needed by India to ensure we can protect our national security interests in this final frontier of warfare." Defence experts suggest that India also needs to focus on protecting our space assets, and that IndSpaceEx could pave way for more clarity on understanding challenges in this domain. India's focus on space has accelerated at the right time, even as China is much ahead in the game. However, if government maintains the right momentum, creating an effective deterrent should not take much time, including demonstrating its credibility to devious adversaries.