| | |
| --- | --- |
| | The Author is Former Director General of Information Systems and A Special Forces Veteran, Indian Army |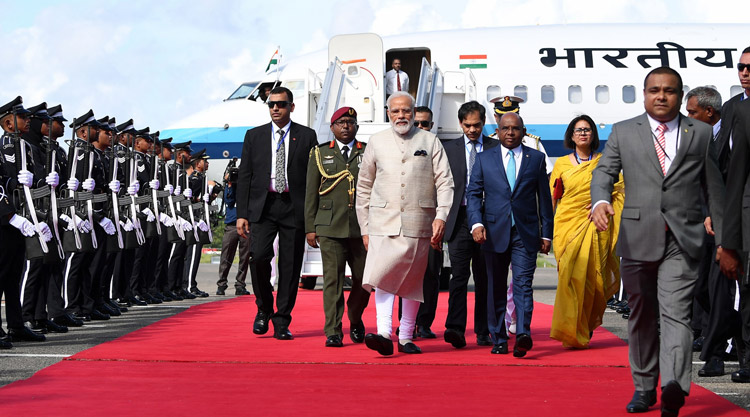 The Prime Minister, Shri Narendra Modi being welcomed by the dignitaries, on his arrival, in Maldives on June 8, 2019.
Close on the heels of oath taking of Modi-led NDA government on May 30, 2019 attended by heads of BIMSTEC nations, re-elected Prime Minister Narendra Modi made his first overseas visit to Maldives and Sri Lanka on June 8-9, providing further boost to BIMSTEC and in line with India's SAGAR (Security and Growth for All in the Region) Doctrine and policy of 'Neighbours First'. Latter was reinforced with External Affairs Minister S. Jaishankar having visited Bhutan as his first foreign trip. PM Modi's visit provided occasion to review recent developments in bilateral relations and exchanging views on issues of mutual interest to further strengthen the special relationship with these two countries."
After a ceremonial welcome at Male, PM Modi and Maldives President Solih held one-on-one talks followed by delegation level talks on June 8. PM Modi was conferred with the Maldives' highest honour "Rule of Nishan Izzuddeen" by President Solih during a ceremony in Male. Modi addressed the Maldives Parliament, outlining his vision for a democratic, just and equitable world and his desire to see sustainable peace and progress in the Indian Ocean Region (IOR). On the issue of terrorism, Modi said, "Terrorism is a danger not just for a country or region but entire civilization. State sponsored terrorism is the biggest threat today. It is time for a global conference on terrorism". President Solih expressed deep appreciation on PM Modi's choosing Maldives as his first overseas destination during his second term in office. Solih reaffirmed his government's "India-First Policy" and pledged his government's full support towards deepening the multifaceted, mutually beneficial partnership between India and the Maldives. Modi stressed the high importance that India attaches to its relationship with Maldives and reiterated his determination to work together with Maldives to realise his vision of inclusive development. The two sides signed following MoUs/Technical Agreements: Cooperation in Hydrography; Cooperation in the field of Health; Establishment of Passenger and Cargo Services by Sea; Cooperation in Customs Capacity Building; Training and Capacity Building Programme for Maldivian Civil Servants, and; Sharing White Shipping Information. Both leaders jointly inaugurated the Composite Training Facility of Maldives National Defence Force in Maafilafushi, and the Coastal Surveillance Radar System by remote link.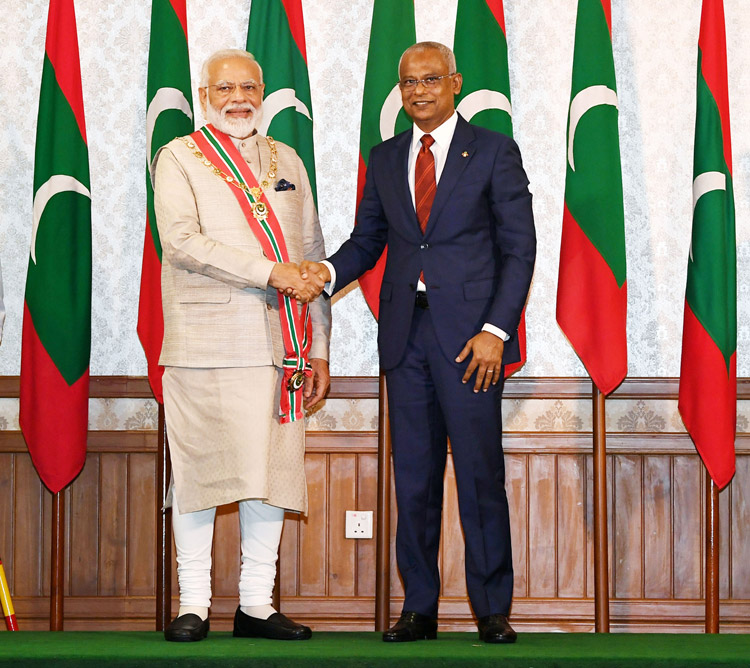 The President of Maldives, Mr. Ibrahim Mohamed Solih presenting the Maldives Highest Honour Order of the Distinguished Rule of Nishan Izzuddeen to the Prime Minister, Shri Narendra Modi, in Male, Maldives on June 8, 2019.
In March 2019, India had extended financial support for T-bills, currency swap, $800 million Dollar Line of Credit Agreement assisting Maldives achieve sustainable social and economic development, $5.5 million for implementation of High Impact Community Development Projects, Solih thanked Modi for the $6.9 million cash for grant for socio-economic development projects. Both leaders agreed that dynamic people to people contact formed the backbone of the relationship between the countries. Both leaders agreed to enhance cooperation in the field of youth and sports, particularly in cricket. President Solih thanked the Government of India for its offer to construct a cricket stadium of international standards at Hulhumalé under the Line of Credit, and for its gracious offer for comprehensive development of cricket in the Maldives. Both leaders emphasised the need to improve connectivity between the two countries through the establishment of enabling infrastructure and in this regard, directed their concerned officials to expeditiously work towards starting a regular passenger-cum-cargo ferry service between Kochi (India) and Kulhudhuffushi and Malé (Maldives). Both sides agreed to enhance bilateral cooperation on issues of common concern including piracy, terrorism, organised crime, drugs and human trafficking. They agreed to set up a Joint Working Group on Counter Terrorism, Countering Violent Extremism and De-radicalisation. Both sides recognised the need to pursue reform of the main UN bodies, including the UNGA and UNSC.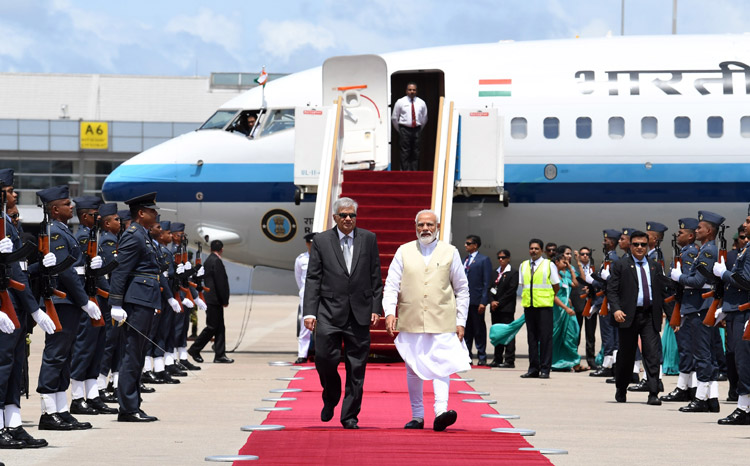 The Prime Minister, Shri Narendra Modi being welcomed by the Prime Minister of the Democratic Socialist Republic of Sri Lanka, Mr. Ranil Wickremesinghe, at Colombo, Sri Lanka on June 9, 2019.
Solih reiterated his country's support for India's candidature for permanent membership of an expanded and reformed UNSC and for India's candidature for a non-permanent seat for the year 2020-2021. The ferry service between Kochi (India) and Kulhudhuffushi and Malé in Maldives will greatly boost India-Maldives relations, as will the cricketing ties. The Coastal Surveillance Radar System, inaugurated through remote link by both leaders, operationalised the 10 Coastal Surveillance Radars recently set up by India in Maldives, linking a Central Control Station at the Maldives Maritime Rescue Coordination Centre in Villingili island near the national capital Male. This radar system will assist Maldives safeguard its sovereignty in its Exclusive Economic Zone (EEZ), by monitoring movement at sea. The system would also be a strategic asset to India in detecting and responding to threats to its national security and sovereignty. From Maldives, PM Modi went to Sri Lanka at a time when Sri Lanka is facing the aftermath of the horrific Easter Sunday Bombings claimed by the Islamic State that claimed over 250 lives. He met with Sri Lanka President Maithripala Sirisena and went to pay homage at the at St Anthony's Shrine, Kochchikade which had been hit with the serial bombings. Modi's visit for paying homage at the shrine indicated India's solidarity with the people of Sri Lanka in their war against terror and boosting diplomatic ties between both nations for collective global counter terrorism effort.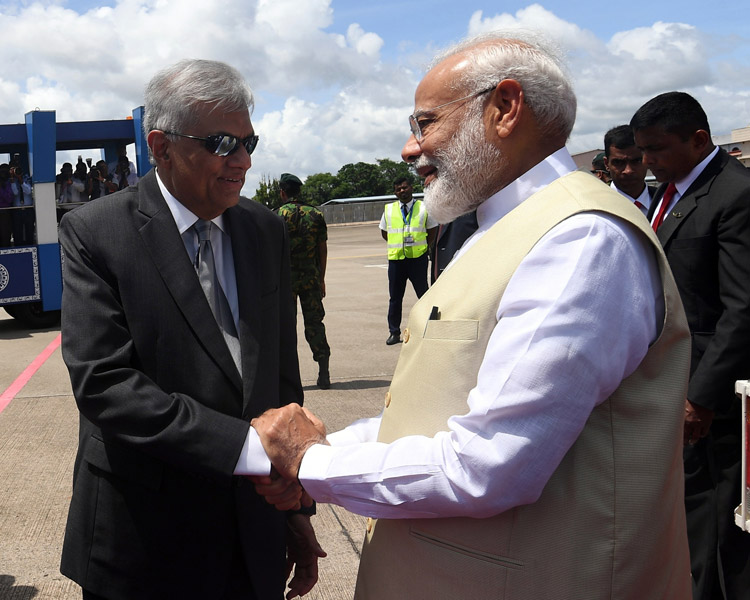 The Prime Minister, Shri Narendra Modi being welcomed by the Prime Minister of the Democratic Socialist Republic of Sri Lanka, Mr. Ranil Wickremesinghe, at Colombo, Sri Lanka on June 9, 2019.
India is the lead country for cooperation in four priority areas of BIMSTEC, one being: counter-terrorism and transnational crime. Sri Lanka assumed chairmanship of BIMSTEC in August last year, and this year BIMSTEC meeting in Sri Lanka is likely to focus on trade, customs facilitation, grid connectivity, and counter-terrorism. Modi planted a sapling at the Presidential Secretariat in the presence of Sirisena and while addressing the Indian Community at India House in Colombo said that India's position in the world is getting stronger and a large part of that credit goes to Indian Diaspora. Sirisena said that India's role is vital for peace in the India Ocean. All in all Prime Minister Modi's visit to Maldives and Sri Lanka was strategically important and well prioritised, which also sent a strong message to the world for a global conference on terrorism.