| | |
| --- | --- |
| | The Author is Former Director General of Information Systems and A Special Forces Veteran, Indian Army |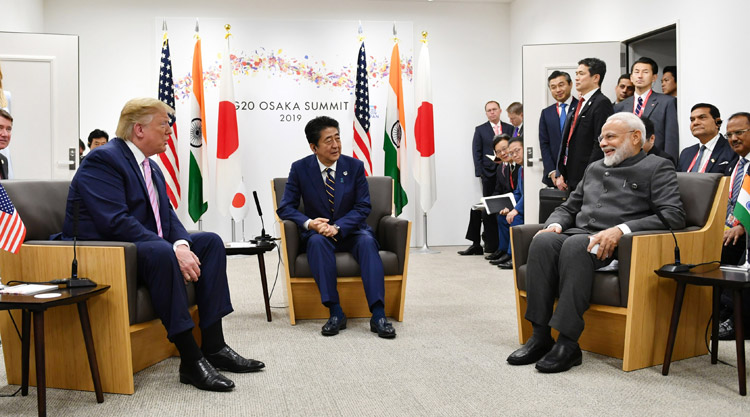 Prime Minister Narendra Modi with the Prime Minister of Japan Shinzo Abe and the President of United States of America (USA) Donald Trump in a Trilateral Meeting of JAI (Japan-America-India), on the sidelines of the G-20 Summit, in Osaka, Japan on June 28, 2019.
During the first ever meeting of JAI (acronym for the Japan-America-India Trilateral coined by Prime Minister Narendra Modi using first alphabet of each of the three nations in Hindi) held on sidelines of the G-20 summit, held in Buenos Aires, Argentina on December 1, 2018, Modi had said while addressing the summit, "I think this is a very good occasion for our three countries, which have shared democratic values, Japan, America, India together will be playing a big role together for world peace, prosperity and stability. I am also happy that both the countries are our strategic partners, both of them are very good friends, and it is a matter of good fortune that we will work together." The second JAI Trilateral was held at Osaka, Japan on June 28, 2019, again on the sidelines of the G-20 summit also in Osaka. Before the JAI trilateral meeting commenced, Modi had emphasised the need for peace and stability in the Indo-Pacific region and said, "We are committed to democracy, and therefore we would like peaceful development and security in this region". Japanese Prime Minister Shinzo Abe had said, "Free and open Indo-Pacific is something that we would like to strive toward, and I'd like to have closer coordination among three countries going forward". The growing salience of the Indo-Pacific construct and threats to peace and security of the region were discussed between the three leaders at the trilateral.
During the meeting, Modi highlighted the importance India attaches to the grouping and commitment for a better future. China was clearly the focus with the three leaders discussing how their countries can work together to ensure peace and security in the Indo-Pacific. After the trilateral meeting, Modi tweeted: "Today's meeting of the JAI (Japan, America, India) Trilateral was a productive one. We had extensive discussions on the Indo-Pacific region, improving connectivity and infrastructure development".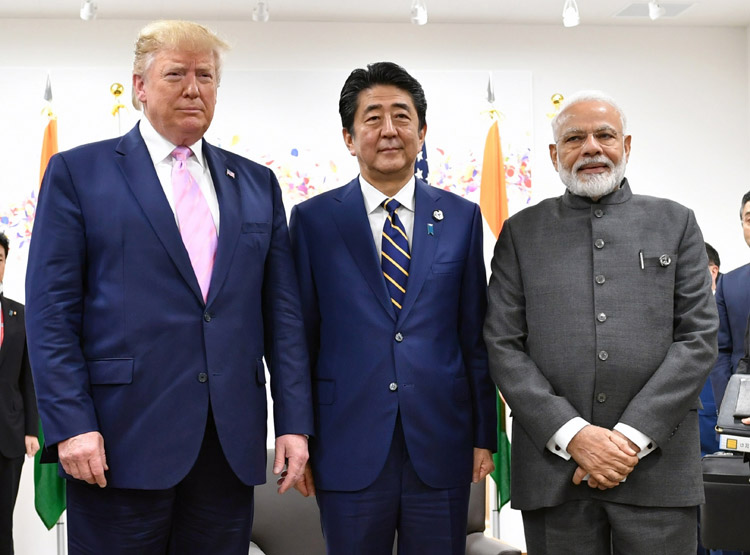 Prime Minister Narendra Modi with the Prime Minister of Japan Shinzo Abe and the President of United States of America (USA) Donald Trump in a Trilateral Meeting of JAI (Japan-America-India), on the sidelines of the G-20 Summit, in Osaka, Japan on June 28, 2019.
A White House statement of the trilateral meeting said the leaders "reaffirmed the critical importance of strengthening US-India-Japan cooperation to reinforce shared core democratic values, which promote global security and prosperity. They agreed to meet every year to ensure successful cooperation in multiple areas, including maritime security, quality infrastructure, and advancing peace and prosperity in the Indian Ocean and Pacific region and beyond." As a continental and a maritime power, India has interests both in Eurasia and the Indo-Pacific. This is why India's focus through participation in the RIC and SCO grouping as well as JAI and the Quad (US-India-Japan-Australia Quadrilateral Security Dialogue). None of these are any military alliances, but considering the China threat, JAI and Quad are perhaps more significant and consequential grouping, in order to maintain an effective balance of power. For US and Japan, this balance of power leans on to Western Pacific and Southeast Asia. However, with China's growing economic and military thrusts in the Indian Ocean Region post militarisation of the South China Sea (SCS), the need to balance power in the IOR is as important as Western Pacific and Southeast Asia. During the fourth quadrilateral meet of the Quad held at Bangkok on May 31, 2019, the focus again was centred on the Indo-Pacific, mainly implying free passage for ships and a free and open Indo-Pacific. India's statement at the conclusion of the Quad meet had said member states "reaffirmed their commitment towards a free, open, prosperous and inclusive Indo-Pacific region based on shared values and principles."
India has multiple mutual agreements with the US, termed 'foundational' by the latter. Australia has recently mooted a logistics support agreement with India to widen defence partnership in Indo-Pacific region. According to Australian Ambassador to India Harinder Sidhu, Australia and India can do more in global and regional response to the threat of terrorism besides widening the scope of their Indo-Pacific partnership to stabilise Indian Ocean Region through Mutual Logistics Support Agreement that would smooth the path towards closer defence cooperation. The trade war and increasing apprehensions about China's Belt and Road Initiative (BRI) may be temporary setbacks to China, but the manner in which she is going about establishing ports in the Indo-Pacific beyond Gwadar and Djibouti, indicate it has no intension to give up its aggressive stance.
Orchestrating review of KRA canal by the Thailand Government, developing ports of Kyaukpyu (Myanmar), Jiwani (Pakistan) and Papua New Guinea, besides granting Sri Lanka additional $295 million in 2018 after already acquiring Hambantota port for 99 years, and indebting Maldives to the tune of $1.3 billion, all point towards this. Despite the ongoing US-China trade war, China presents clear and present danger to the world. Not only does China back Pakistan for cross-border attacks against India and support to Taliban, China itself uses terrorist as proxies, for which it has no inhibitions. China's strategy of unrestricted warfare unabashedly professes the use of guerillas and terrorists. While the world is threatened by terrorism also at sea, China's boat militia which also has regulars is no less a menace. Groupings like JAI and the Quad are fairly new and in nascent stages. But they are important in nudging China into a rule-based international order.
However, this would only happen if China is convinced of their credibility to upset its aggressive designs. For this, cooperation must be at multiple levels. China continues to debt trap smaller nations, though understanding of its consequences is dawning slowly by target nations. Alternatives to BRI are being put in place. China's Digital BRI too needs to be addressed similarly. China has its hands full with the agitation in Hong Kong and possible repercussion on her designs with respect to Taiwan. It would be debating how much force to be used and whether to deploy PLA to enact Tiananmen 2.0. Hopefully the US will not provide a distraction by attacking Iran.