| | |
| --- | --- |
| | The Author is Former Director General of Information Systems and A Special Forces Veteran, Indian Army |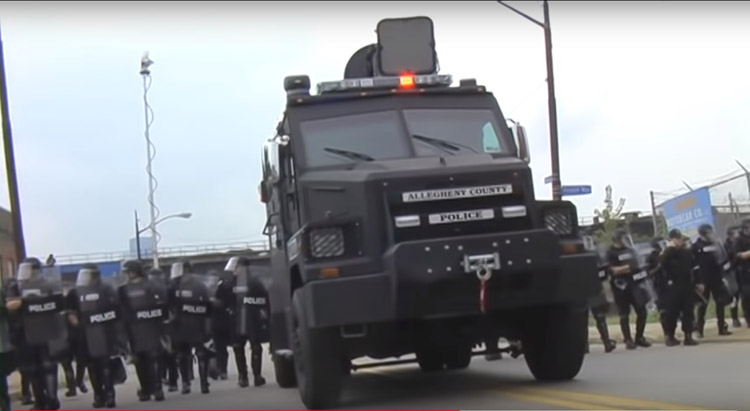 Long Range Acoustic Device (LRAD) G20 Pittsburgh
Going by news reports, the Ministry of Home Affairs (MHA) has approved the use of 'sound cannon', devices that can emit pain-inducing sound waves, on rampaging mobs in the Valley. This is because of the hue and cry with respect to the use of pellet guns against stone-pelters. The Israeli penal code treats stone throwing as a felony, with a maximum penalty of up to 20 years, depending on the circumstances and intentions: a maximum of 10 years for stoning cars, regardless of intent to endanger passengers, and 20 years for throwing stones at people, without proof of intent to cause bodily harm. India unfortunately does not treat stone pelting mobs enabling terrorists to escape as felony or crime.
On the contrary, FIRs are filed against soldiers even forced to open fire in self defence under threat to lives and government property. The paid media and the so called human rights organisations have been having a field day. Ironically, the judiciary is quite ignorant about the operating environment in countering insurgencies and terrorism. The Long Range Acoustic Device (LRAD) is slated to replace pellet guns as per media reports. This sonic weapon was reportedly usedfor the first time in Pittsburgh, USA, to control an agitated crowd during a G20 summit in 2009. Police used the device to emit a painful shrill that forced demonstrators to cover their ears and withdraw while police threw tear gas and stun grenades. "Other law enforcement agencies will be watching to see how it was used," Pittsburgh's police bureau chief had then told the New York Times. "It served its purpose well. "As a non-lethal weapon (NLW), sound canons have been mounted on vehicles by the US Army, installed on American warships to warn incoming vessels, defended private cruise ships against Somali pirates, and were at the ready (though not used) at the 2004 Republican National Convention in New York. Media has quoted a senior IPS officer, without naming him, in saying, "It is much needed. During an encounter with terrorists, locals start pelting stones at the forces. LRAD will help us immediately disperse the crowd and also take terrorists off guard, giving a strategic edge to our forces in action." He also said that security personnel who often face off with stone-pelters and civilians during crucial anti-terror operations in Kashmir will no longer depend on pellet guns to disperse the human obstacles. Media reports that MHA has directed the Central Armed Police Forces (CAPF) to start the process of procuring LRADs while stressing the need for development and manufacture of the 'sound cannons' in the country. In an internal note, the MHA has said, "The manufacturers must mention the threshold impact of equipment output on human ears and have to have certification from Indian and medical organisations." The ministry has sought detailed information about the equipment from the manufacturers. The note read, "Previous implementation of the subject project in other sectors may also be brought out to ascertain the credibility of the product." A report in The Guardian had pointed out that the use of LARD by the Pittsburgh police in 2009 during the F20 summit was severely criticized by civilians. According to another news report the use of LRAD has been criticized world over as the sound can cause pain in humans and permanently damage hearing. Significantly, the video clip showing the use of LARD by Pittsburg Police in 2009 (https://gizmodo.com/lrad-sound-cannon-used-on-pittsburgh-g20-protesters-5369190) starts with the warning: "The LRAD can emit a warning tone higher than the normal human threshold of permanently damaging hearing". LRAD emergency communication systems were demonstrated to city and county officials in Muskogee, Oklahoma in February 2015. "A warning system doesn't do much good if there's devastation and you can't communicate after that warning," said Muskogee Mayor Bob Coburn. "If your cell phone is down, your land line phone is down, [and] your power is out then you still have access to communicate and this [LRAD] has that potential. But LRAD communication system is different from its application against stone-pelting mobs. According to MHA officials, they are clear that the warning tone won't cross the human threshold of pain and that the forces should be able to control its intensity.
However, there are a host of issues that would need to be considered, like:
If the intensity is less than the threshold of pain of human ear, would it disperse stone-pelting mobs;
Why would stone-pelters not use ear muffs to protect their ears given that the LRAD atop a vehicle can be identified from a distance;
Will the CAPF and police forces all be issued earmuffs within the range of LRAD;
What about Armed Forces operating in the area – will they be informed in advance where the LRAD is to be used and for what period;
What about civilians in the area other than stone-pelters;
What about old people and children who have weak eardrums that can be damaged partially or permanently by LRAD use, and; will the LRAD suffer the same end as pellet guns – damaged ears versus damaged eyes?
It should also be noted that along with using LRAD, Pittsburgh Police also fired smoke grenades and stun grenades. Our CAPF and police may also use smoke grenades, but would they be allowed to use stun grenades against stone-pelting mobs. It may be prudent for the Home Minister to declare stone-pelting a terror act concurrent to examining use of pellet guns and LRAD.