| | |
| --- | --- |
| | The Author is Former Director General of Information Systems and A Special Forces Veteran, Indian Army |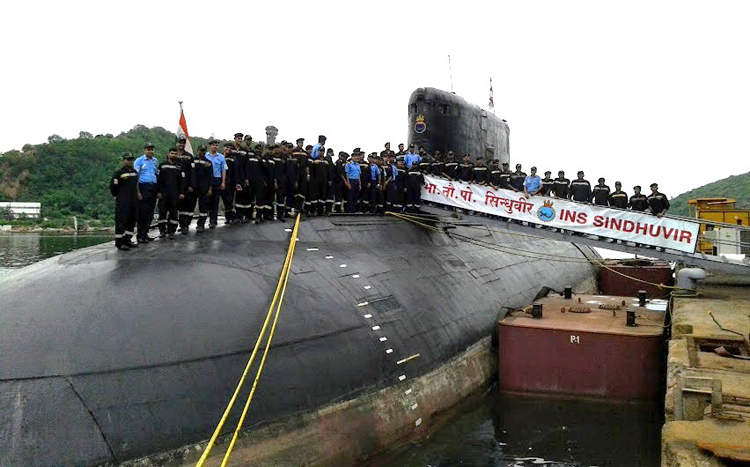 INS Sindhuvir
India is to transfer INS Sindhuvir, a Kilo-class submarine, to Myanmar later this year after being refitted indigenously. Sindhuvir will be used by Myanmar for training purposes, while the country concurrently plans to acquire its own submarine fleet. In March this year, Commodore Moe Aung, Chief of Staff (Myanmar Navy) had announced that the nations would soon have a submarine arm. The senior officer said that acquiring submarines was part of a long term plan that includes training of crew that would need at least four years. Senior Myanmar officials have visited Russia in recent months for talks on acquiring new submarines.
India had acquired this Kilo-class submarine from Russia in the 1980s. It is currently being modernised at the Hindustan Shipyard Limited (HSL) in Vizag, and the retrofitting is likely to be completed by end 2019. Going by news reports, required permissions has been obtained from Russia, which is the original equipment manufacturer (OEM) of the submarine, for it to be fitted with indigenous systems to train the Myanmar Navy. As part of a series of high level exchanges and meetings between India and Myanmar, General Min Aung Hliang, Myanmar Commander-in-Chief of Defence Services (CDS) visited India in August 2019. MoD has said that that talks with the General Hliang were aimed to "enhance defence co-operation, review joint exercises and training provided to Myanmar Defence Services, strengthen maritime security by joint surveillance and capacity building...and developing new infrastructure".
The transfer of INS Sindhuvir is likely to be affected with a line of credit (LoC) that has been extended by India to Myanmar for enhancing military capability. The Indian initiative has come after extensive talks with the Myanmar leadership over the past four years to understand their defence needs. In 2017, Bangladesh received two refurbished Type 035G-class submarines (Ming class) from China as part of a $203 million deal. China has also been in talks with Myanmar for the supply of its older submarines. However, Myanmar has taken the decision in favour of INS Sindhuvir. The Kilo class (Project 877) INS Sindhuvir being transferred to Myanmar by India has been in service with the Indian Navy since 1988, has already undergone a deep refit in 1999 and is undergoing advanced modernisation now. It is far superior than the Ming class submarines being sold by China, and is better suited for operations in the region as has been demonstrated by the Indian Navy. The deal with Myanmar also includes a significant training package to prepare the neighbouring nation for induction of a larger fleet in the coming years.
In early August 2019, India supplied Myanmar with advanced light torpedoes named 'Shyena' as part of capacity building of that country. Both countries had signed a deal worth $37.9 million in 2017 for supply of these Shyena torpedoes. The Shyena torpedoes have been developed and manufactured by DRDO's Naval Science and Technological Laboratory and Bharat Dynamics Limited (BDL) respectively. Several warships of the Indian Navy are already armed with these lightweight torpedoes. The torpedo is an electrically propelled, self-homing underwater weapon and can be launched from a submarine, surface warship, helicopter and an aircraft. Myanmar's own quest to acquire an undersea capability picked up pace after Bangladesh acquiring the two old Type 35G Ming-class submarines from China in 2017. Over the years, Myanmar military officials have voiced concerns about the quality of Chinese equipment supplied to them.
Although Myanmar set up its key naval dockyard with Chinese input, Myanmar has adopted a more diverse approach than Bangladesh on sourcing equipment for its naval modernisation, turning to India and Russia for sensors and weapons to equip the warships being constructed there. Myanmar is wary of Chinese intentions of meddling in the Rohingya issue and would like to get better platforms than Bangladesh. Myanmar has to contend with the China-backed Arakan Army. On July 18, 2019, the Arakan Army had stated that they welcome foreign investors including the Chinese investments in the Rakhine region and would support all those who wanted to work for mutually beneficial multisectoral projects in the region. They have also announced that they will not participate in peace talks unless the lawsuits against its leaders are closed. The progress of progress of India's Kaladan Multi Modal Transit Transport Project is directly affected by belligerence of the Arakan Army. China is past master in supporting and controlling militant-terrorist organisations to further its own national interests, and is cleverly doing so in Myanmar and northeast India. Signing of the MoU on Defence Cooperation between India and Myanmar on July 29, 2019, during the visit of Senior General Hlaing is a significant step in India-Myanmar defence cooperation. Details of the MoU have not been made public but will likely cover enhancement of military training, joint surveillance, and maritime security. India and Myanmar are strategically important to each other and share common a vision. The geopolitical environment requires Myanmar to reduce dependency on China and diversify, which Myanmar appears to have embarked upon. Enhancement of India-Myanmar defence cooperation will be mutually beneficial for both.