| | |
| --- | --- |
| | The Author is Former Director General of Information Systems and A Special Forces Veteran, Indian Army |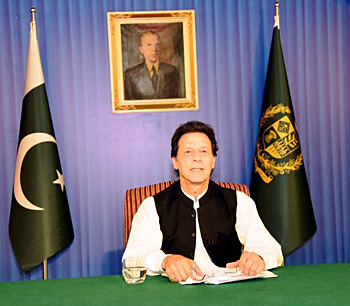 Pakistan's Prime Minister Imran Khan
Frustration is writ large on the face of Imran Khan, Pakistan's Prime Minister; pleading, begging world over. His decree of granting three year extension to army chief Qamar Javed Bajwa flashed all over cannot hide the fact that had he not signed it, he would have found himself by now lying at the bottom of Tarbela Dam's reservoir with a ton of bricks. After India dropped the bombshell of withdrawing the special status of J&K and reorganising the state, Imran has been running from pillar to post to garner support. His ex-wife Rehmat Khan had disclosed that Imran is on narcotics, which he must have doubled with the mounting stress. But apparently that hasn't helped as evident from his flustered looks. He tried pleading with the UN, US and China to 'intervene', without success. Pleas to China helped Beijing taking up the case for closed door meeting of the UNSC but results were the same – Pakistan told to discuss the matter peacefully with India, this being a bilateral issue. Shah Mahmood Qureshi, his foreign minister has been visiting Beijing and other Muslim countries to garner support but eventually had to make a public announcement that people should not expect the UN to meet Pakistan with garlands and not expect support of Muslim ummah since India has realigned its relations with Saudi Arabia and UAE. Announcements like 'all options are being considered', 'Pakistani military will provide full support to Kashmiris', and wagging the nuclear tail has not worked either. Pakistan cannot afford to wage conventional war either. To top it all, India has reiterated that talks are only possible if Pakistan gives up terrorism, and that talks if at all, would be about Pakistan occupied J&K (PoJK). This was also reiterated by Defence Minister Rajnath Singh recently, who has also mentioned that India could have a relook at its No First Use (NFU) policy. The adroitness with which the Modi Government has shifted the focus all these years on J&K, to PoJK has delivered another knockout punch to Pakistan. A trio of wasted-out diplomats, Ashraf Jehangir Qazi (former Pakistani ambassador to the US), Abdul Basit and Shahid Malik (former Pakistani high commissioners to India), in a televised programme, anchored by Hamid Mir have justified armed struggle against India in J&K and terming seeking international support for the armed struggle justified under international law. The script was obviously provided by Pakistan's ISPR after approval by Qamar Javed Bajwa. These are desperate measures to boost the only thing the Pakistani military can resort too – terrorism, which it is going full hog. The state of distress in Pakistan can be gauged from the fact that Shireen Mazari, Pakistan's federal minister with proven credentials of a woman-jihadi, has gone to the extent of appealing to the UNICEF Executive Director that Priyanka Chopra should be relieved of the appointment of UN Goodwill Ambassador for Peace because of India's actions in Kashmir. This is some convoluted logic but then her jihadi colleague Maleeha Lodhi, Pakistan's permanent representative to UN is already famous for her lies and officially showing evidence of brutalities and human rights violations from anywhere in the world as those perpetrated by India in J&K. Imran has, however, managed to jigger Mommy Beijing in full support, who is trying to lecture India on human rights while refusing to look herself in the mirror; Tibet, Xinjiang, Tiananmen Square massacre, Tiananmen 2.0 it is poised to enact in Hong Kong, not to talk of severe curbs on freedom of Chinese citizens.
Pakistan, supported by UK (BBC and Guardian in particular) and New York Times has launched vicious propaganda against India. Social media is also being used for this with hundreds of Pakistani bots and fake accounts. In this, China's money power may back Pakistan since China has bought over social media like Twitter to block the Hong Kong protesters and enhance own psychological campaign.
Prime Minister Narendra Modi recently had a telephone conversation with US President Donald Trump about Pakistan's rhetoric on Kashmir, following which Trump spoke to Imran advising him to tone down. However, Trump has again offered to mediate, also calling it a Hindu-Muslim problem, which is preposterous, and amounts to interfering in India's internal affairs. India has already informed the US that Kashmir is India's internal affair. Besides, Trump is unlikely to have any knowledge of the demographics of J&K, and other states of India that have large Muslim population. On India's part, there is great need for caution. Aside from countering Pakistan's fake news campaign and psychological war, the 'enemy within India' siding with Pakistan must be speedily investigated and dealt with; these include politicians, separatists, so-called scholars, activists, journalists, media houses and the like. Terror money is in abundance which will continue to be used effectively. Few months back, NIA had discovered that Hurriyat separatist leader Syed Ali Shah Geelani was in direct communication with Pakistan's foreign minister. He even had a special communication antenna on his roof which no one had noticed. Now it is revealed that Geelani continued to enjoy internet and landline access despite the lockdown in J&K. Two BSNL officials have been suspended in the case for providing such access. In another shocking revelation in media on August 20, three officers of the NIA have been 'shifted' for demanding a 2 crore bribe in a Hafiz Saeed-linked case. An investigation is reportedly on but these are very serious lapses which hardly can be taken lightly. Finally, India cannot afford to ignore anymore developing pro-active sub-conventional capability and paying Pakistan back in the same coin.