| | |
| --- | --- |
| | The Author is Former Director General of Information Systems and A Special Forces Veteran, Indian Army |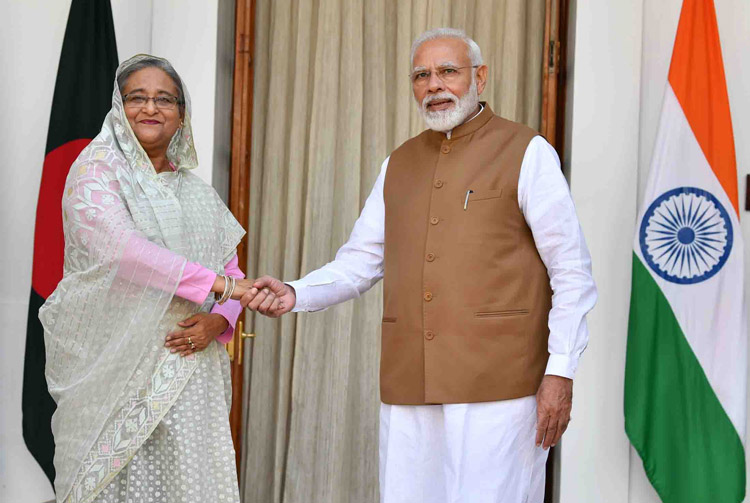 Prime Minister Narendra Modi with the Prime Minister of Bangladesh Sheikh Hasina, in New Delhi on October 5, 2019.
Bangladesh Prime Minister Sheikh Hasina arrived in India on October 3 on a four day visit. Her first engagement was as Chief Guest in the India Economic Summit by the World Economic Forum (WEF) on October 3-4. During the visit, PM Hasina called on President Ram Nath Kovind and held bilateral discussions with Prime Minister Narendra Modi on October 5.
On September 27, Hasina and Modi had met on sidelines of the UNGA summit in New York where they reiterated their zero tolerance approach against terrorism and violent extremism and noted that strong ties in the security sector had built trust and mutual confidence between the two countries. During Hasina's recent visit to India, Modi and Hasina held detailed discussions on wide ranging issues, exchanged views on regional issues and reviewed the bilateral relationship, which is based on historical and fraternal ties reflecting an all-encompassing bilateral partnership based on sovereignty, equality, trust and understanding transcending the strategic partnership. Then they presided over the ceremony to exchange MoUs and Agreements, which included:
One, MoU for providing Coastal Surveillance System;
Two, SOP for use of Chattogram and Mongla Ports for movement of goods to and from India,
Three, MoU on withdrawal of 1.82 cusec of water from Feni River by India for drinking water supply to Sabroom in Tripura;
Four, Agreement for Implementation of Lines of Credit (LoCs) committed by India to Bangladesh;
Five, MoU for renewing Cultural Exchange Programme, and;
Six, MoU on Co-operation in Youth Affairs.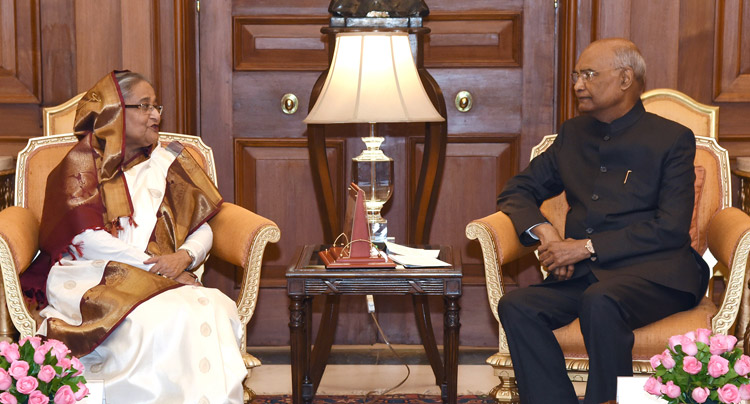 Prime Minister of Bangladesh Sheikh Hasina meeting the President Ram Nath Kovind, at Rashtrapati Bhavan, in New Delhi on October 5, 2019.
Both leaders jointly inaugurated three projects via radio link: LPG import from Bangladesh; Bangladesh-India Professional Skill Development Institute, and; Vivekananda Bhaban at the Ramakrishna Mission in Dhaka – boys hostel. These were in addition to nine Indian projects completed in Bangladesh over past one year.
A joint India-Bangladesh Statement was issued, highlights of which are: recalled shared bonds of history, culture, language, secularism and other unique commonalities that characterise the partnership; paid tribute to the martyrs in the Liberation War of Bangladesh; recognising terrorism one of the most significant threats to peace and stability of both countries and the region and strong commitment to eliminate terrorism in all its forms and manifestations; simplifying people-people movement between the two countries and remaining restrictions on entry/exit from land ports in India for citizens of Bangladesh travelling on valid documents to be removed in phased manner; effective border management and cooperation to ensure tranquil, stable and crime free border, and completion of border fencing at the earliest; enhance cooperation in disaster management; expedite commissioning of the Joint Study on the prospects of entering into a bilateral Comprehensive Economic Partnership Agreement (CEPA); review of restrictions and duty on products including anti-dumping/anti-circumvention duties; appreciated exports from Bangladesh to India crossing $1 billon in 2019 52 per cent growth over previous year; urged early finalisation of MoU for textiles; recognised potential of movement of cargo using the inland water and coastal shipping trade under Protocol on Inland Water Transit and Trade; early operationalisation of the BBIN Motor Vehicles Agreement for movement of goods and passengers between the member countries or work towards a bilateral India-Bangladesh Motor Vehicles Agreement; Hasina highlighted need for early signing and implementation of the Framework of Interim Agreement for sharing of the Teesta waters as agreed upon by both governments in 2011; recognised potential of cooperation in railways sector and expressed satisfaction over discussions between the Railways Ministers of both countries in August 2019; greater cooperation to commemorate Bangabandhu Sheikh Mujibur Rahman's Birth Centenary in 2020 and 50 years of Bangladesh's War of Liberation, and the establishment of India-Bangladesh bilateral diplomatic ties in year 2021; India to supply fifth tranche of humanitarian assistance Bangladesh for sheltering Myanmar Rohingyas in temporary camps, and; commitment to work closely in the UN and other multilateral organisations including BIMSTEC. PM Hasina invited PM Modi to visit Bangladesh, which he accepted. Of the 4,095 km of international border shared between India and Bangladesh, 1,116 km fall under riverine boundaries. The 54 trans-boundary rivers involve livelihood including agriculture, fisheries and tourism. The agreements on passenger and cruise services signed during Hasina's visit in 2017 has already been operationalised, with the first trip carrying 19 passengers from Kolkata to Dhaka via the Sundarbans early this year. Before Hasina's visit, Bangladesh Foreign Minister A.K. Abdul Momen had briefed media on October 2, saying, Exactly, I can't confirm it right now that how many bilateral agreements will be signed but I can say that we are supposed to ink at least 10 to 12 instruments.
Narendra Modi and Sheikh Hasina at the delegation level talks in New Delhi.
All bilateral issues between Bangladesh and India will be discussed during the meeting (between Hasina and Modi) including framework agreement, overall Trans-boundary rivers with Teesta, Indian cooperation on Rohingya repatriation, and reducing border killing to zero." According to Syed Munir Khasru, Chairman, Institute for Policy, Advocacy and Governance (IPAG) if Bangladesh, the most pressing outstanding issue is the Teesta Water Sharing Agreement which has resulted in lack of water affecting 100,000 hectares of land, with contamination affecting the soil because of which increased costs in terms of pesticides and irrigation has made farming less profitable. Khasru recognises that the impasse in Teesta Water Sharing is on account of West Bengal Chief Minister Mamta Banerjee. The second outstanding pressing issue quoted by Khasru is that of National Register of Citizens (NRC) which has left out 1.9 million Assamese from the list with a group labeled as "illegal immigrants from Bangladesh" living in Assam since 1971. He further writes that Bangladesh remains firm that no migrants travelled to Assam illegally during the 1971 war of independence and that the controversial NRC risks hurting relations. Sheikh Hasina met Congress leaders in New Delhi on October 6. Given the fact that it was the Congress Government that had imposed the Illegal Migrants (Determination by Tribunal) or IMDT Act 1983 on Assam that changed that drastically altered the demography of Assam (till struck down by Supreme Court in 2005), they would have 'fanned' the NRC issue with Hasina. The number of "illegal Bangladeshi immigrants" is likely to increase with other states also adopting NRC. Whether Bangladesh with its galloping population and coping with large number of Rohingya refugees would take back any "illegal Bangladeshi immigrants" or whether India will only take away their voting rights which too would have repercussions, remains an open question. But all said and done, India-Bangladesh relations are historic and extremely important to each other. Governments on both sides will need to keep elevating the relationship in mature manner.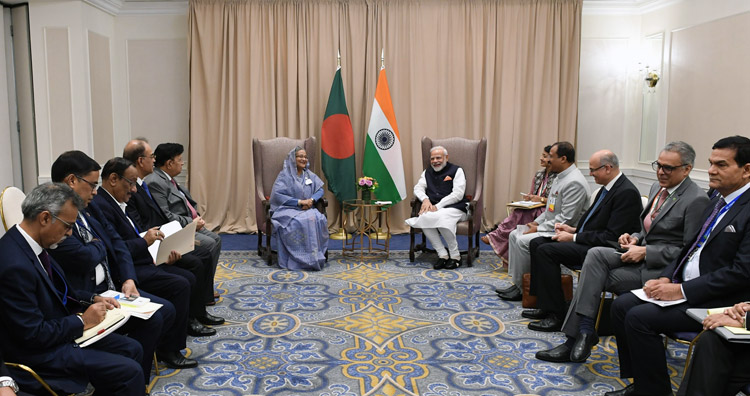 Narendra Modi meeting Sheikh Hasina, in New York, USA on September 27, 2019.