| | |
| --- | --- |
| | The Author is Former Director General of Information Systems and A Special Forces Veteran, Indian Army |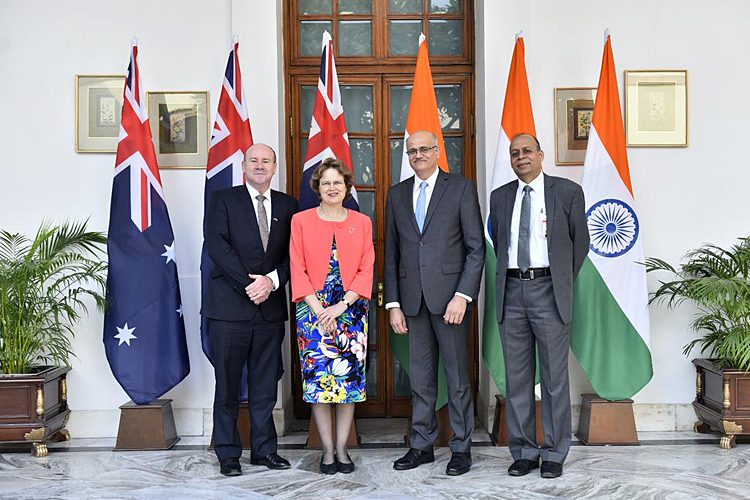 Defence Secretary Dr Ajay Kumar and Foreign Secretary Vijay Gokhale with their Australian counterparts Greg Moriarty and Frances Adamson at the 3rd India-Australia Secretary level 2+2 Dialogue in New Delhi on December 9
The third edition of India-Australia Foreign and Defence Secretaries' Dialogue (2+2) was held on December 9, 2019, in New Delhi. Foreign Secretary Vijay Gokhale and Defence Secretary Ajay Kumar led the Indian delegation for 2+2, while the Australian delegation was led by Frances Adamson, Secretary, Department of Foreign Affairs and Greg Moriarty, Secretary, Department of Defence. Before the dialogue, the Australian delegation also called on Dr. S. Jaishankar, Minister of External Affairs. At the 2+2 Dialogue, both sides welcomed the recent progress made in deepening bilateral, political, economic, security and defence cooperation.
The Secretaries discussed recent regional and global developments. They also exchanged views on achieving their shared objective of peace, prosperity and progress in the Indo-Pacific region. The two sides emphasized the need for enhanced collaboration to counter the threat of terrorism and violent extremism through increased information sharing. The 2+2 meeting provided opportunities for the two sides to review the status of their bilateral relationship in the context of emerging scenarios. The dialogue progressed closer towards finalizsing the Mutual Logistics Support Agreement (MLSA) — a bilateral pact to facilitate military of each country reciprocal access to food, water, fuel, spare parts and other components. The MLSA will remove the need for protracted negotiations for reciprocal access to logistics support every time a joint exercise is held.
Defence Secretary, Dr. Ajay Kumar, the Foreign Secretary, Vijay Gokhale, Defence Secretary of Australia, Mr. Greg Moriarty and Foreign Secretary, Ms. Frances Adamson during the third India-Australia Secretary level 2+2 Dialogue, in New Delhi on December 9, 2019.
India currently has Logistics Exchange Memorandum Agreement with the United States and is also negotiating Acquisition and Cross Service Agreement with Japan. The Secretaries also discussed the situation in Afghanistan and Pakistan. Later the Australian delegation had a meeting with Pankaj Saran, Deputy National Security Advisor and Vijay Thakur Singh, Secretary (East) to discuss bilateral issues. India-Australia relations are growing stronger with the changing dynamics of the Indo-Pacific region. India and Australia have a long history of military relations going back to fighting together in campaigns in World Wars. Every two years, Australia and India also conduct a joint naval exercise in the Indian Ocean, called AUSINDEX. Australia participated in the joint naval exercise 'Malabar 2007' in the Indian Ocean along with India, US and Japan. There is plenty scope for enhancing defence and security cooperation between India and Australia through joint maritime exercises, maritime border protection and maritime domain awareness, search and rescue, and disaster relief operations. Australia has a Submarine Escape Training facility in Fremantle. During his address to the Australian Parliament on November 18, 2014, Prime Minister Narendra Modi during his first premiership had stated, "This is a natural partnership emerging from our shared values and interests and strategic maritime locations...Security and defence are important and growing areas of the new India-Australia partnership for advancing regional peace and stability and combating terrorism and transnational crimes." Speaking at the Chanakya Chakra Forum on Foreign and Security Policies on December 4, 2019, on the theme 'Towards Secure and Prosperous Indo-Pacific', Rod Hilton, Australia's Deputy High Commissioner to India stated that India is a natural partner for Australia and its growing and strategic heft is being felt beyond the Indian Ocean, creating new opportunities for bilateral cooperation based on shared values and outlook.
India's voice will be particularly consequential in regional order building and along with Indonesia and Vietnam should have more say and a greater stake in institutions and norm-setting in the Indo-Pacific region. He said, "Australia also strongly supports India's ongoing economic integration into the region.... The convergence in our strategic outlooks has also underpinned a deepening of our defence and security ties. The third iteration of our bilateral naval exercise, AUSINDEX, held this year (April 2-16), represented the largest-ever Australian defence deployment to India... The first area is our joint efforts to shape an open, inclusive and rules-based maritime order in the Indo-Pacific. Australia and India both have large maritime zones in the Indian Ocean and significant naval capabilities. Both countries are strong supporters of UNCLOS. We are working together to strengthen the rules-based order in regional forums such as IORA, the ASEAN Regional Forum and the East Asia Summit. We look forward to working with India as it develops this initiative in consultation with other countries in the region. Our bilateral defence relationship can also help shape the regional order, especially as we move towards greater interoperability and alignment of our defence diplomacy," noted Hilton. The second area is our cooperation on cyber and critical technologies. Our countries have a shared view that emerging and critical technologies will shape the security and prosperity of our citizens. A third area of cooperation is responding to the threat of terrorism. The fourth area is our increasing support for economic governance and infrastructure across the Indo-Pacific. We see a role for both of us to promote the principles of free and open trade, grow prosperity and support trade liberalisation and shape the region's economic rules and institutions." Australia was one of the first countries to come out in support of India's 'Indo-Pacific Oceans Initiative' which Prime Minister Narendra Modi announced at the East Asia Summit.
Concurrently, Australia has announced its new initiative in the 'Southeast Asia Economic Governance and Infrastructure Initiative'. In January 2019, Australia also launched the new South Asia Regional Connectivity initiative (SARIC). Australia is also a votary of India being included in Asia-Pacific Economic Cooperation, a forum of 21 Pacific Rim countries. Australian Prime Minister Scott Morrison is set to visit India during January 2020. Addressing the Lowy Institute in Sydney, Morrison stated, "My visit will be another step in cementing India in the top tier of Australia's partnerships," So I am honoured to accept the invitation of my friend, Prime Minister Modi, to visit India in January, including to deliver the inaugural address at the Raisina Dialogue, This will bring the government and business together to pursue our India economic strategy that has captured the attention of our Indian partners and must now be realised." In the years to come, the India-Australia 2+2 Dialogue may possibly be upgraded to ministerial level.