| | |
| --- | --- |
| | The Author is Former Director General of Information Systems and A Special Forces Veteran, Indian Army |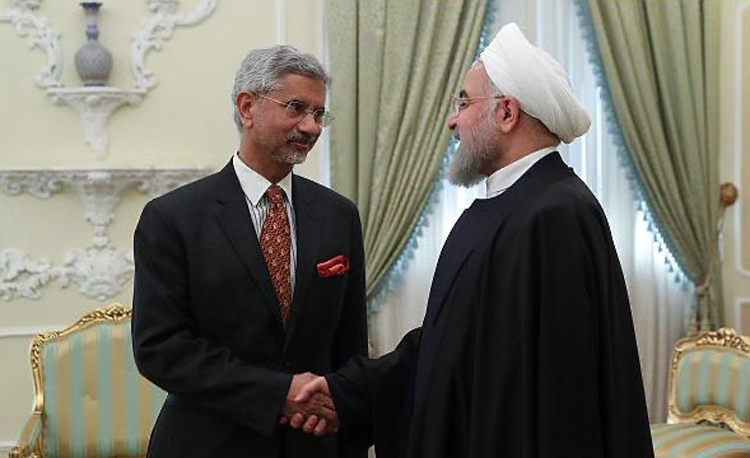 External Affairs Minister S. Jaishankar calls on Hassan Rouhani, President of Iran in Tehran on December 23, 2019.
External Affairs Minister S. Jaishankar visited Iran last month, December 2019, and met Iranian President on December 23. Rouhani referred to brotherly relations between the two countries and said they should bolster these ties in the face of mounting pressure from the US and its unilateral sanctions. Referring to India-Iran bilateral cooperation for Chabahar port, Rouhani called for "accelerating Chabahar-Zahedan railway (line) that will benefit regional trade relations". Jaishankar's visit to Iran was primarily for co-chairing the India-Iran Joint Commission Meeting with foreign minister Javad Zarif on December 22. The Joint Commission Meeting reviewed bilateral cooperation, including connectivity projects and trade and commerce.
The two sides expressed satisfaction at progress in operationalizing Shahid Beheshti terminal at Chabahar port, recognising that it has a potential to act as a gateway between the Indian subcontinent, Iran, Afghanistan, Central Asia and Europe. Besides using the port for exports from Afghanistan, the two sides discussed ways to promote it for enhancing regional connectivity. India and Iran also agreed to finalise a preferential trade agreement (FTA) and a bilateral investment treaty. Iran's Islamic Republic News Agency (IRNA) quoted Jaishankar as saying that boosting of banking ties "could benefit economic cooperation while speeding up implementation of the joint projects in Iran". There has been news past several months of India and Iran working out rupee trade instead of other currencies.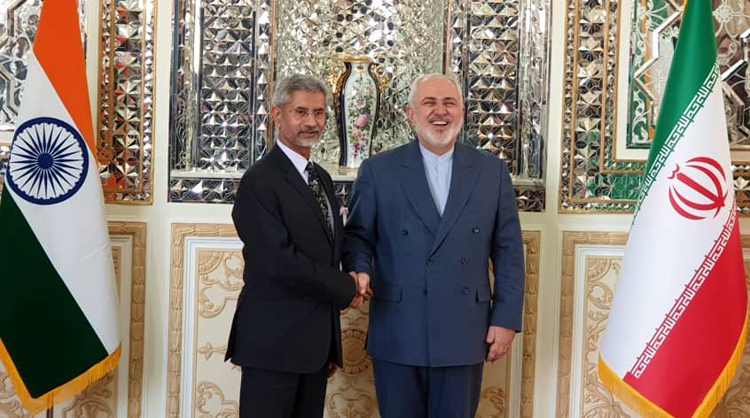 External Affairs Minister S. Jaishankar meets Mohammad Javad Zarif
The trilateral engagement between India, Iran and Afghanistan during the visit of Prime Minister Narendra Modi to Iran in May 2016 expanded avenues of trade for India with Iran, Afghanistan, Central Asia and Russia through the International North South Transportation Corridor (INSTC). The trilateral agreement included India refurbishing one of the berths at 'Shahid Beheshti' of Chabahar, and reconstructing a 600 meter long container handling facility at the port. Chabahar, Iran's only oceanic port, consists of two separate ports named 'Shahid Kalantari' and 'Shahid Beheshti', each of which have five berths. India and Iran first agreed upon plans to further develop 'Shahid Beheshti' port in 2003, but India was deterred by sanctions against Iran.
The bilateral agreement between India and Iran gives India the right to develop two berths of the Chabahar port as agreed in 2015, allowing them to be operated for 10 years by India Ports Global; joint venture between Jawaharlal Nehru Port Trust and Kandla Port Trust, in partnership with Iran's Aria Banader. The 'Shahid Beheshti' port has since been operationalised. India's development of 'Shahid Beheshti' at a cost of around $85 million has increased Chabahar's capacity to handle eight million tons from the earlier 2.5 million tonne capacity. In context of the overall development of Chabahar Port, the eight tonne handling capacity has been achieved on completion of Phase-1 of development. This is expected to rise to 33 million tons handling capacity on completion of Phase-2, which is currently 30 per cent complete. Chabahar can berth the vessels with the capacity of up to 1,00,000 tonnes. However, under the trilateral India-Iran-Afghanistan trilateral agreement of May 2016, India is also to construct a railway line linking Chabahar with Zahedan on the Iran-Afghanistan border, which beyond Zahedan will be linked to the Iranian Railway running west and then north close to the Iran-Afghanistan border, avoiding the volatile Helmand Province of Afghanistan. Faced with denial of land route to Afghanistan by Pakistan, construction of the rail link Chabahar-Zahedan together with Chabahar port and the INSTC give India the strategic access for trade with Afghanistan and Eurasia.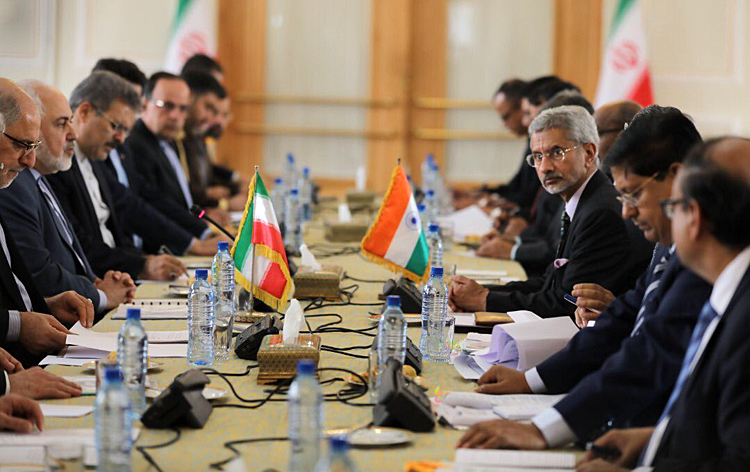 External Affairs Minister S. Jaishankar attends Joint Commission Meeting
After the US re-imposed sanctions on Iran, the future of many Iranian projects including Chabahar port was shadowed by the consequences of the sanctions. But following several rounds of negotiations and discussions with New Delhi, the US administration finally exempted the Chabahar project from the sanctions, as reported in Tehran Times. No doubt this has been good for India and the region but the strategic gain for India is not much since work on the Chabahar-Zahedan railway link continues to be hit by sanctions slapped on Iran by the US. Threat of US sanctions made India completely stop oil imports from Iran even as India used to pay for the oil in rupees, which Iran used to buy Indian goods. Iran was among the top three suppliers of crude oil to India and being the closest meant minimum transportation costs. While India is losing strategic advantage in absence of the Chabahar-Zahedan rail link, US is making billings of dollars by selling arms and crude oil to India. India needs to convince the US to exempt the Chabahar-Zahedan rail link from sanctions or take an arbitrary decision to construct it.